When the Aroha Te Rangi Robin whānau moved into papakāinga homes in Kohupātiki they didn't anticipate all the intangible gifts they'd receive.
Published: Thursday, 19 November 2020 | Rāpare, 19 Whiringa ā-rangi, 2020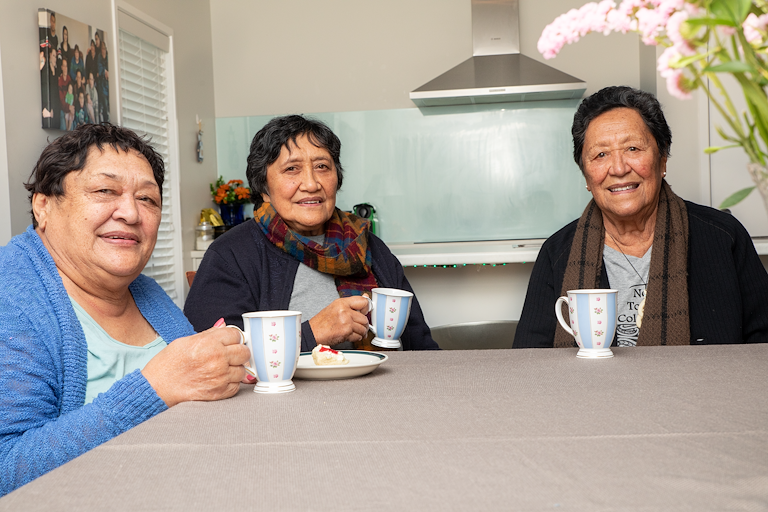 At first it didn't occur to Shalom Haenga to move into a home on her whānau papakāinga. Despite helping to steer the development in Kohupātiki, she thought others came before her, her son and mother.
"One of our aunties said I should put our names down for this whare. I guess we came to that realisation after experiencing extreme grief with the passing of my brother and my sister, and also my grandparents," says Shalom sitting in her living room with her whānau.
"We were looking for something. The driving force for us to moving here was healing. My whānau - my brother, my sister in particular – are just buried up the road at the urupā. So just a short walk and we're there with them."
The Hawke's Bay papakāinga opened in December 2019, the four whare a mix of individual ownership and collectively owned rentals. Te Puni Kōkiri invested $1.02 million into the infrastructure and construction.
The addition of a two-bedroom rental home with a separate room for whānau gatherings like wananga will complete the project. Eleven whānau across four generations live here, on about an acre of their ancestral whenua.
Looking out for each other
That sense of healing, of security in togetherness, is a strong thread running through the life of this papakāinga. Small interactions like catching the sun over a morning cup of tea or sharing fresh vegetables from the communal garden are constant sources of joy and gratitude.
"I love looking out the window and seeing Aunty Rose and Uncle Cliff heading off to town, seeing my cousins Aroha and Sheree and hearing singing coming from their garage. You couldn't put a price on what we experience," says Shalom's mother Alexia Robin.
Sheree White takes care of her husband Aroha who has dementia. "We're all wobbling, we all need help, operations," she says with a laugh. "But whānau is here for us and it's great."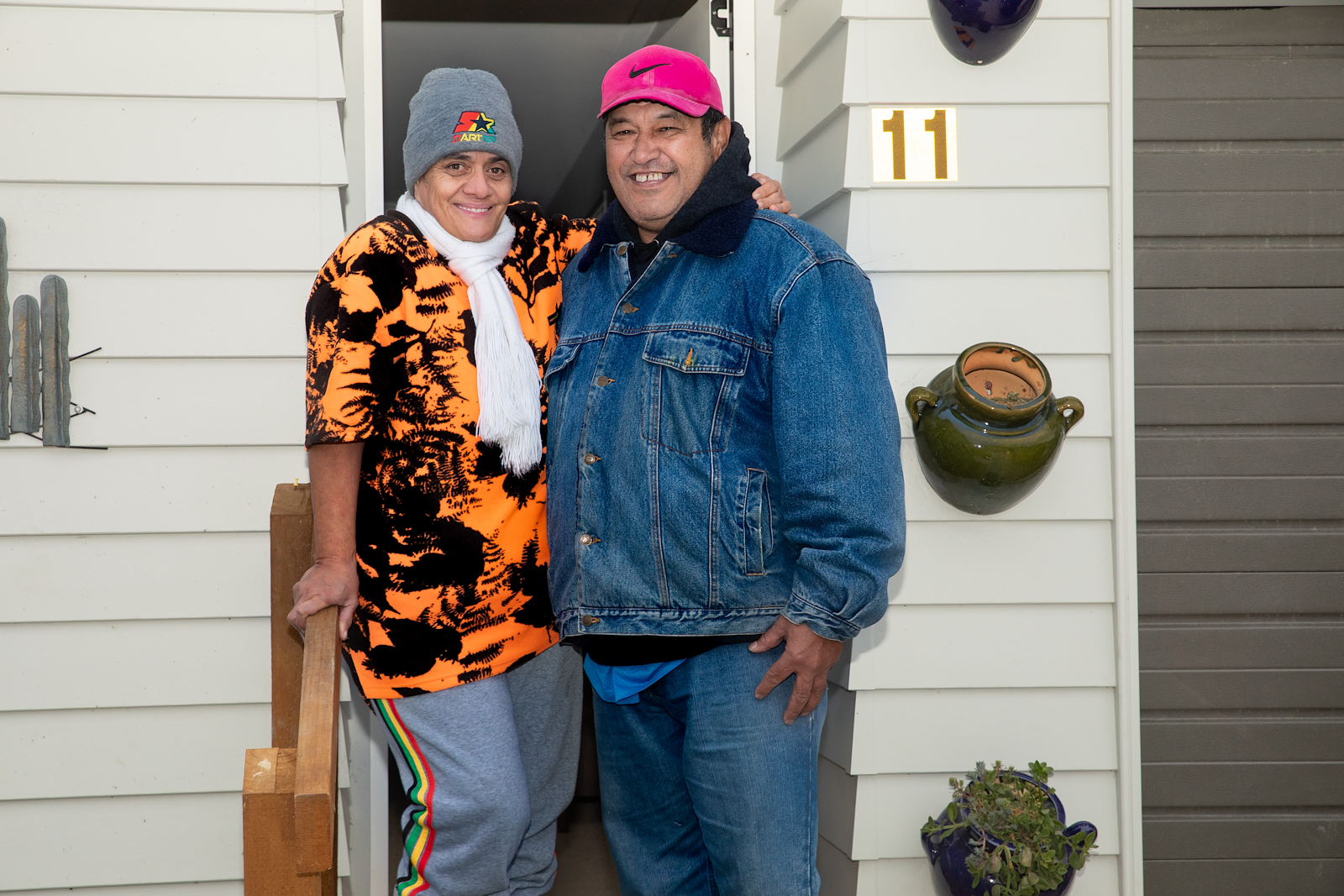 Aroha looks after the garden, providing kai for all the whānau, sometimes more kamokamo than they can possibly eat. Halo, Shalom's teenage son, is "the tech guy" and Aunty Rose White is always sending over baking.
"We do have our moments, but you just have to get over it," says Joanne Rowe, a trustee whose daughter and three tamariki are in one of the whare.
"We might have a snarl but it doesn't last. We might shut ourselves away for a while but we're still family at the end of the day," Aunty Rose agrees.
Seeing the big picture
The whānau has learnt from developing plans for the papakāinga over several years that working through differences was key to agreeing and achieving their goals.
Aunty Bessie Manaena is a trustee on the Aroha Te Rangi Robin Trust which owns the land and manages the rental homes.
"The main thing is getting whānau together to see the bigger picture. I am really proud to be part of this even though I don't live here. We're close to our marae and that was the purpose of coming here," she says.
After gaining experience as the whānau-appointed coordinator to help them through the process, Shalom now works as the housing advisor in the Te Puni Kōkiri Hastings office.
She supports the planning and construction of other papakāinga in the region and identifies three main challenges in the journey from aspiration to completion.
"Whānau is number one. Getting them on the same page from the start, agreeing that papakāinga is what they want for their whenua, will mitigate a lot of delays and potential issues.
"Many whānau haven't been connected for years. Some blocks can have as many as 1000 owners. In some cases they need to succeed to that land. Whānau can need support to navigate through that process.
"Learn about your whakapapa, learn about your whenua, get familiar with it. Once you establish those two things you can create a vision, plan together what you want and build from there."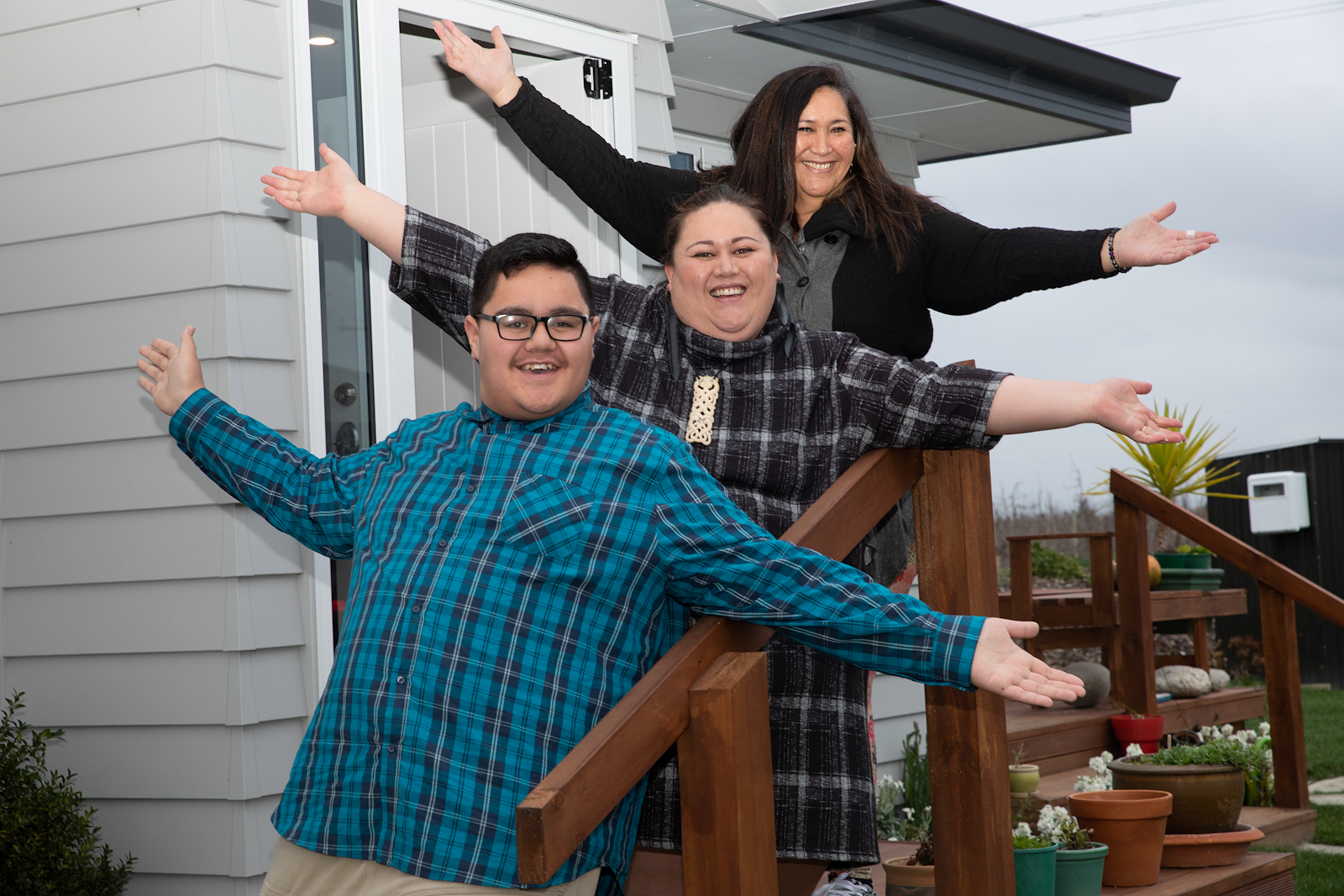 Knowing the past, securing the future
The Aroha Te Rangi Robin whānau knew about their whakapapa and whenua but were keenly aware of how difficult it was for previous generations to aspire to building or owning houses.
Alex Robin passed away in 2011. His daughter Alexia recalls as a child, standing with her father on the land that then ran sheep.
"I said, 'Wouldn't it be lovely to build on here. He said, oh babe that's a dream. It would be wonderful if we had the money'. My dad would be in tears now to see his dream come true and every time I walk in the door I feel his presence," she says.
Mei Whaitiri, a landowner/beneficiary with a moko and "moko mokos" in one of the homes, sees the legacy reaching into the future.
"We have younger generations who are going to see this papakāinga through and I'm proud for them. The future is our children being educated here – going to the kura, learning what to do on the marae (sweep the floors first, peel the spuds next).
"It's a great opportunity to be educated both in the Pākehā world and in our Māori world. We're all grateful to Te Puni Kōkiri and the papakāinga scheme."
"It's the knowledge, the stories that get told, we learn something every day from somebody on this whenua that you can't put a price on," is how Alexia sums up some of the more intangible gifts of living as they do.
Photography: Josie McClutchie
Videography: Te Amokura Productions