Mere has been a public servant all of her working career with the last 23 years as Te Puni Kōkiri Regional Manager for Ikaroa-Rāwhiti. Although being a public servant wasn't her first career choice.
Published: Wednesday, 22 April 2015 | Rāapa, 22 Paengawhāwhā, 2015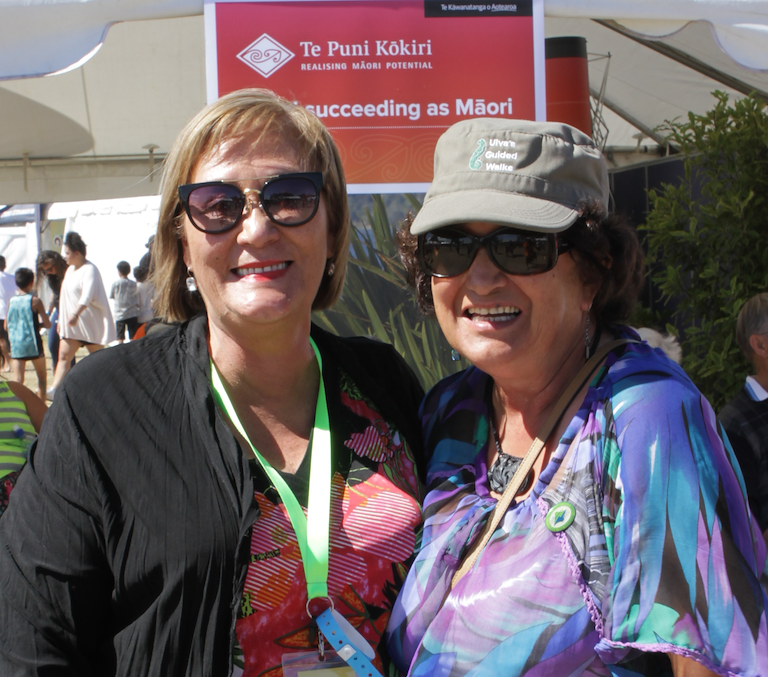 Mere was born in Gore and grew up on the family sheep and beef farm.  Her father decided to sell up and buy a larger farm, so as a teenager Mere moved north with her whānau to Ruatōria.
"As a young school girl in Ruatōria, I had the opportunity of meeting some really inspirational women including Lady Lorna Ngata and Professor Ngāpare Hopa-Kuila," said Mere.
Lady Lorna Ngata – a former school teacher – was the wife of Sir Henare Ngata, the youngest son of Sir Apirana Ngata. She was renowned for sharing her skills in weaving and poi-making with local schools and other community organisations on the East Coast.
Professor Ngāpare Hopa-Kuila was the first Māori woman to gain a PhD from Oxford University. She has written extensively and her research includes ethnic identity, Māori families, Māori urban organisations, and more.
"I decided I wanted to be a teacher so I went to Teacher Training College in Hamilton. I soon discovered it wasn't for me and returned to Gisborne to find a job. I was lucky enough to start working at the Post Office Savings Bank".
Mere also met Emarina Manuel who was involved with the Wairoa community and also held significant positions on a number of Māori and non-Māori organisations, including the Māori Women's Welfare League, the Wairoa Māori Trust Board, the New Zealand Māori Council and New Zealand Historic Places Trust.
"I was one of a group who started the second kōhanga reo in Gisborne City and went on to work in COGS (Community Organisation Grants Scheme), Social Welfare then the Housing Corporation. When the role for Regional Manager at Te Puni Kōkiri came up, it was Emarina who supported my application. "I have been Regional Manager for more than 20 years and I am still as passionate today as I was when I first started. Te Puni Kōkiri seemed the right fit for my values and it still remains so.
To me whānau is the most important thing in the world so we do try and support one another as we can. We all love mutton birds so most mutton bird season someone in the whānau travels back south to Tītī Island to gather enough for everyone. The art of eating the mutton bird takes us all back to the time of our grandparents and their values. It reminds us how fortunate we are. I also love spending time with my three and four year old mokopuna, Haromi and Tamati. I am amazed by their thinking and reasoning and learn new things from them every day.
"As a child growing up there were many eclectic personalities in the home including Dad's WW2 spitfire buddies and their families.  Listening to their stories and being around such different people was so inspiring."
Mere says it's much like the communities in her Ikaroa-Rāwhiti region.
Each has their own personality and differences and I and the regional team will work in a way that best suits each of them in order to facilitate possibilities, inspire development and support growth.
Being involved in the community and engaging with iwi, Māori groups and youth is essential.
As the American Field Scholarship (AFS) contact in Te Tairāwhiti, Mere is always on the lookout for young people looking to step outside of their comfort-zone to experience an international exchange.
"It's hard to say exactly how many youth we have put through the AFS programme but within that number a good many would have been Māori. This programme has enabled them to travel overseas and experience new and exciting things. I hope to follow up with some of them so we can share their experiences with other youth in the region.
Mere is the longest serving Regional Manager and still finds her role stimulating and rewarding after more than 20 years of service.
Her devotion to the communities within Ikaroa-Rāwhiti is unquestionable. We are lucky to have her.
Ehara tāku toa i te toa takitahi. Engari, he toa takitini
"No matter where in the world, whatever the circumstances, a person with tikanga and values, takes their responsibilities seriously." – Mere Pohatu
Photo caption: Mere Pohatu (right) pictured with her 'tribal-sister' Maria Korako-Tait at Te Matatini 2015, Christchurch.
Mere Pohatu is Ikaroa-Rāwhiti Regional Manager and is based at the Gisborne office – her contact details can be found here.