The three finalists for the 2022 Ahuwhenua Trophy Māori Excellence in Farming Award for sheep and beef farming have now each hosted their Field Day event.
Published: Friday, 23 September 2022 | Rāmere, 23 Mahuru, 2022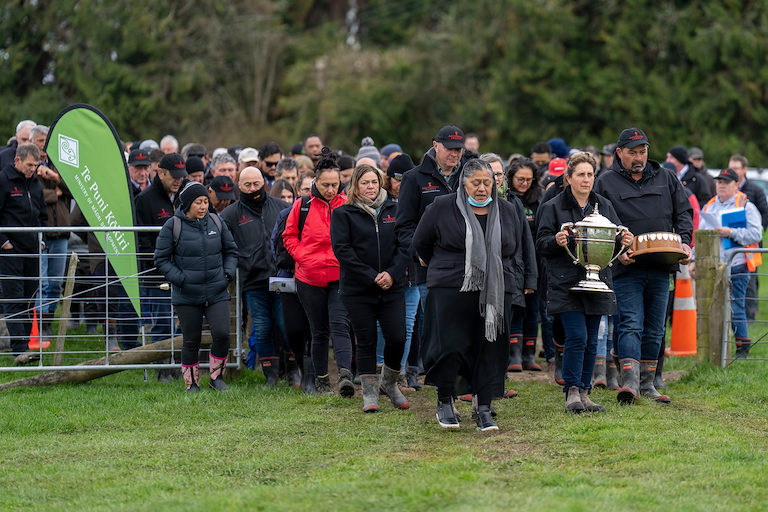 Field Days are the second part of the judging process for the competition and an opportunity for the public and others in the agricultural sector to see the whenua first-hand the whenua.
Onuku Māori Lands Trust, near Rotorua was first up, and despite the mud and rain, hundreds flocked through the gates to attend.
Te Puni Kōkiri Deputy Secretary, Regional Partnerships and Operations, Paula Rawiri addressed the crowd during the presentation ceremony.
"Onuku runs four dairy farms: a dry stock farm, forestry, dairy and a manuka plantation," said Paula.
"Their dedication to caring for te taiao and creating employment opportunities is a prime example for whenua Māori operations throughout Aotearoa," she added.
Te Tairawhiti 'turned it on' for a sunny field day at Wi Pere Trust in Te Karaka, Gisborne. Chairman Alan Haronga said the interest in the field day was beyond the Trustees' expectations.
"The sector needs energy, and it needs uplifting, and we are happy to put our shoulder to the shovel to make a contribution," said Alan.
The final field day was hosted at Hereheretau Station in Wairoa. It is the major asset of the Māori Soldiers Trust, set up in 1917 by Sir Āpirana Ngata and others, to help Māori veterans returning from the First World War.
Te Puni Kōkiri Ikaroa-Rawhiti Regional Director, Mere Pohatu was in attendance.
"The Ahuwhenua Trophy is a brilliant field of learning in best practice, governance, animal welfare, environmental and pasture management as well as Māori land law," said Mere.
The winner will be announced at the Ahuwhenua Trophy Awards Dinner in Taradale, Friday 21st October 2022.
Te Puni Kōkiri is a proud platinum sponsor of the Ahuwhenua Trophy, the oldest agricultural competition in Aotearoa, now in its 89th year. 
The cup is the twin to the Bledisloe Cup; both were commissioned by Tā Apirana Ngata and Lord Bledisloe at the time.
Caption: Hundreds flock through the Onuku Māori Lands Trust gates to attend the first Field Day. Photo credit: Alphapix Photography