The Government announced the establishment of a short-term funding package of $15 million to accelerate the Māori-led response to Cyclone Gabrielle.
Published: Tuesday, 28 February 2023 | Rātū, 28 Huitanguru, 2023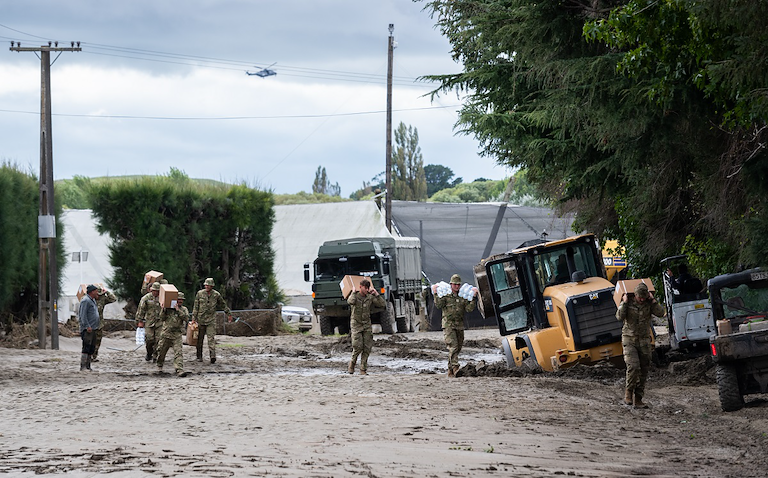 Minister for Māori Development, Hon Willie Jackson, along with the Minister for Whānau Ora, Hon Peeni Henare made the announcement on 28 February 2023 while meeting with whānau at Waipatu Marae in Hastings.
This interim, immediate investment will support our people with their ongoing recovery and will be distributed between the Māori Development Fund, administered by Te Puni Kōkiri, Whanau Ora and Te Arawhiti.
$9 million will be distributed through the Te Puni Kōkiri Cyclone Gabrielle Māori Communities Response Fund to provide:
Capacity support such as relief staffing, clean-up expenses, generators and communication equipment
Recovery planning and co-ordination costs
Marae infrastructure and support costs such as securing temporary storage for taonga and food.
Iwi, hapū and marae trusts and incorporations, plus other Māori entities and providers in affected areas are eligible for this funding.
For information about the fund, eligibility, kinds of projects which can be funded, how to apply, and other information, download and read our frequently asked questions information sheet.
For enquiries about funding, contact your local Te Puni Kōkiri office.


$3 million will be distributed through Whānau Ora directly funding Commissioning Agencies to manage communications and coordination and to augment and deploy workforce to impacted regions.
Whānau Ora Commissioning Agencies have been working with affected whānau from the beginning of the response, linking them to all forms of support including temporary accommodation, access to medication, the coordination and distribution of donations and supplies, mental and physical health support, and assistance with accessing insurance and applicable relief support funding.
$3 million will be distributed through Te Arawhiti to support direct iwi partnerships and relationship activities, strategic leadership and coordination. For more information Te Arawhiti website. 
Today's package sits alongside a suite of supports that Government has put in place, including:
Civil Defence payments - Whānau based in Te Tai Tokerau, Tāmaki, Waikato, Hauraki, Matamata, Te Tairāwhiti, Takitimu, Manawatu, Wairarapa and Horowhenua may be able to get a Civil Defence Payment to get help to pay for food, bedding, clothing, or temporary accommodation. Visit WorkandIncome.govt.nz to apply for funding.
Temporary Accommodation Service is working with whanau across all flood and cyclone affected areas. Visit Temporary Accommodation Service to register your details and a temporary accommodation coordinator will call you in a few days to discuss helping you find temporary housing.
Farmer and grower recovery funding – is available to whenua Māori owners and other farmers significantly affected by Cyclone Gabrielle. This is to help kick-start recovery efforts including undertaking urgent work such as fencing, clearing silt to save trees and vines and repairing water infrastructure for livestock. Visit MPI.govt.nz to apply for funding.
Business support package – is available to businesses in parts of the North Island, affected by the January flooding or Cyclone Gabrielle to enable them to keep operating and position themselves for a successful recovery, and to maintain cashflow.  You can find out more information about this grant here.
Community Support Packages are available to help supplement the existing work of community groups and social sector providers of food and other services to whānau in affected areas. For eligibility information and to apply for funding, visit the Ministry of Social Development website. 
END