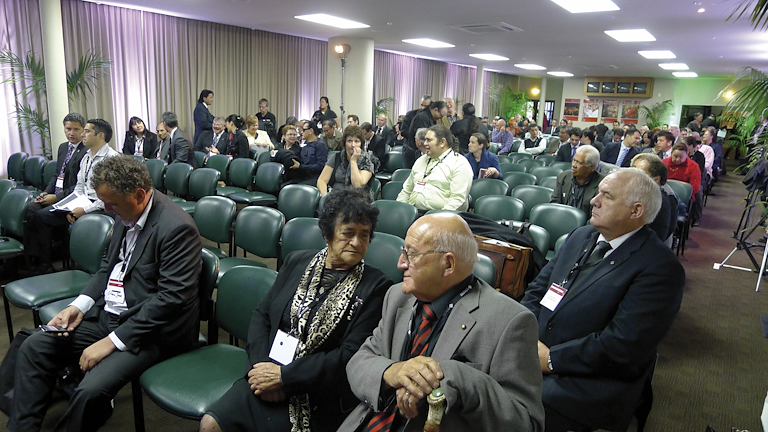 The report, which revealed the new figures, was commissioned by the Māori Economic Taskforce and prepared by one of the country's leading economic research companies – BERL.
At the Summit hosted by the Minister of Māori Affairs, Deputy Prime Minister and Finance Minister – Hon Bill English – congratulated Māori on our contribution to the economy and pointed out that many of our endeavours were in the production of food – which is a good place to be.
Māori have a significant interest in the primary industries. These interests are enduring investments underpinned by the principles of kaitiakitanga but also recognising the commercial value and returns.
The BERL report also looked to the future and predicted that if we are able to lift the productivity of our current assets with new scientific inputs and innovations, by 2060 Māori could be contributing a further $12 billion per annum to the economy; in the process we would have created work for a further 150,000 people – over 50,000 of them professional jobs and 30,000 in skilled trades.
But there is work to do. We need to lift our game, invest in our people, improve governance, management and the regulatory framework. According to the BERL research, entrepreneurs will play an important part of future growth for Māori in the economy.
Taking Māori to the world is an important part of growing the Māori share of the economy. One of the initiatives undertaken by the Māori Economic Taskforce, which looks set to bear considerable fruit, was the Māori business delegation – led by the Minister of Māori Affairs – to China. The cultural link the Māori group managed to forge with the Chinese government was a winner. This 'cultural edge', was a key element in the success of the Minister of Māori Affairs led business delegation. The value of the Māori cultural dimension towards future trade activity was highlighted through a variety of formal and informal channels.
In his address to the Summit the Hon Dr Pita Sharples said, "What is positive for Māori will be positive for all New Zealanders. Māori economic development is important not only for Māori, it is important for New Zealand's overall performance. For the country to achieve its long-run potential growth, it must make the best use of all available resources. Māori and iwi are recognised as playing important roles in the New Zealand economy now and in the years ahead".
Focusing on the future and building on the work of the Māori Economic Taskforce, Minister Sharples announced his intention to develop, in concert with Māori and government, a Māori Economic Strategy.