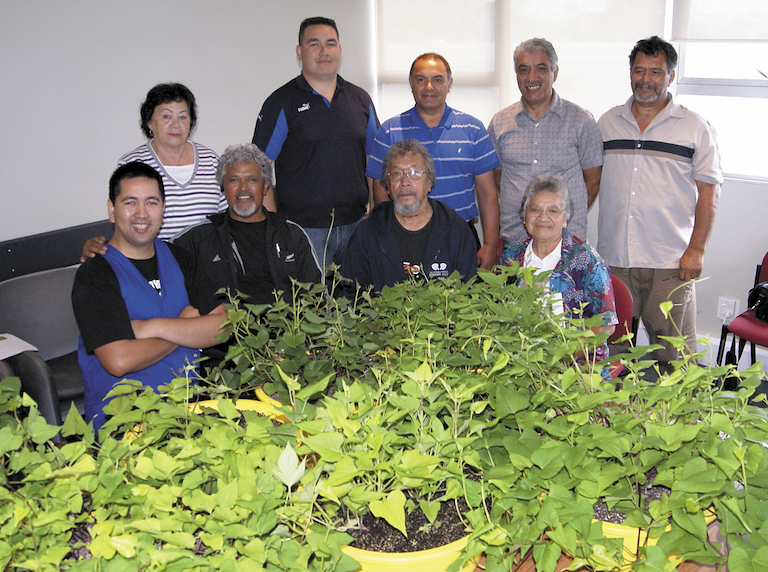 Several Taitokerau gardeners have been gifted with traditional Māori kūmara cultivars in a rewarding effort to re-build seed stocks.
The kūmara network was brought together to assist Ngāti Wai to sustain and increase seed stocks so that the treasured varieties can be enjoyed.
The varieties – Hutihuti 1, Hutihuti 2, Waina, Taputini 1, Taputini 2, Tauranga Red, Ōwairaka Pink, and Gisborne Red – were among a collection of hundreds of South Pacific varieties that were stored in a germplasm bank in Japan in 1969. In 1988, Te Rarawa kuia Del Wïhongi was amongst a party that travelled to Japan to retrieve nine cultivars of interest. Del is remembered for leading the Wai 262 Flora and Fauna claim and before her passing in 2008, the cultivars were gifted to Ngāti Wai (and other hapū).
At a hui lead by Ngāti Wai rangatira Hōri Parata, manuhiri were reminded of the spiritual and physical values of the kūmara, its connection to atua Rongomātāne as atua of the kūmara and cultivated foods, and the wider cultural values of the kūmara.
GROWING FAITH AND HEALTHY LIVES THROUGH MAARA KAI
The Maunu Garden project is a Salvation Army Employment Plus success story that's nourished the body, mind and spirit and generated employment opportunities in the Whāngārei community.
On three acres of district council owned land, young people have flourished learning new skills, practiced whakawhānaungatanga and enjoyed positive transformations harvesting and sharing the abundant produce of their new found gardening skills.
The project helped fulfil a variety of needs of the participating youth and their whānau, it strengthened the connections between the roopu and wider community, encouraged healthier lifestyles and instilled strong sense of community pride. Two young people gained permanent employment at the end of the project.