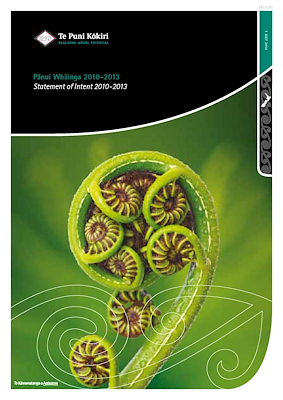 Statement of Intent 2010-2013
Table of contents
Strategic Direction
Government priorities
Within the context of improving economic conditions, and the overriding priority of growing the economy to deliver greater prosperity, security and opportunities for all New Zealanders, the Government is shifting its emphasis from a focus on supporting New Zealanders through the recession, to achieving a step-change in economic performance, through higher, more sustainable, economic growth. To progress this, government has identified six key areas that present opportunities to lift growth. These are:
investment in productive infrastructure;
removing red tape and improving regulation;
supporting business innovation and trade;
lifting skills;
lifting productivity and improving services in the public sector; and
strengthening the tax system. 1
Our outcome framework has, and continues to, align closely to the priority of economic growth, most especially in terms of our key outcome of Māori prepared for future opportunities. Alongside this, there are two further whole-of-government key priorities of particular significance for Te Puni Kōkiri: the aim to settle all historical Treaty of Waitangi claims by 2014; and the establishment and implementation of Whānau Ora. Together with the additional priorities agreed between the Prime Minister and the Minister of Māori Affairs of progressing the repeal and replacement of the Foreshore and Seabed Act, reviewing New Zealand's constitutional arrangements, and Māori language excellence, these priorities signal a sharpened medium term direction for Te Puni Kōkiri.
1 2010 Budget Policy Statement
Our outcome framework and key priorities
The outcome framework described in our 2009-12 Statement of Intent, aligns closely with the evolving priorities of government. Accordingly, the main components of that framework remain for the period of this Statement of Intent. We have, however, refined our focus to ensure that our efforts and resources are directed towards supporting the priorities of government as a whole, and the Minister of Māori Affairs in particular.
The diagram on page 15 presents our refined outcome framework, and identifies key work areas we will progress to support those priorities.
Our outcome framework reflects key dimensions of the Treaty of Waitangi: he aha te mea nui o te ao.... and tino rangatiratanga.
He aha te mea nui o te ao? He tangata, he tangata, he tangata reflects the principal importance of Māori people, and our focus on optimising the combined cultural, social and economic wellbeing of them, and the kinship and other collectives to which they belong, according to their own preferences and norms.
When viewed from the perspective of a government agency with a core role as principal adviser on Crown-Māori relationships, Tino Rangatiratanga is expressly provided for in the Treaty, and through the interpretations of the Waitangi Tribunal and Courts is required to be actively protected by the Crown as part of the 'essential bargain' through which the Crown acquired the authority to govern. Active protection extends beyond the Article 2 dimensions to which it is specifically ascribed, to all matters which Māori consider to be important to their development, quality of life and culture.
The emphasis shift in the key outcomes identified in our outcome framework reflects the changing economic conditions and government priorities. While our immediate emphasis has recently been on supporting Māori during a difficult economic climate, we have shifted that approach to building whānau resilience and self-reliance. We have retained our on-going emphasis on being future focused and building on the inherent cultural strengths of Māori people and communities. Underpinning these priorities is the continued focus on the Treaty of Waitangi as the constitutional basis for New Zealand society, and securing and enhancing the rights and interests, and reciprocal obligations, of whānau, hapū, iwi and Māori as tangata whenua, and as partners in the Treaty.
More detailed information on our outcome framework, our work programme, and how we will measure progress can be found in the Operating Intentions section of this Statement of Intent, and in the Information Supporting the Estimates for Vote Māori Affairs.
Contributing to Government's priorities, including achieving positive outcomes for Māori, is the responsibility of every agency of state. All New Zealanders want to have good health, be well educated, live in a healthy environment, have adequate housing, have access to meaningful employment, feel secure, have their culture accessible and utilised by themselves and valued by others, and enjoy a state of well being. Our interest in all of these areas is to work closely with agencies that have the primary responsibility for these outcomes to ensure that outcomes for Māori are equitable, and enable them to fulfil their aspirations and realise their own potential. Working co-operatively with other agencies is a key platform for our combined success, as the public sector continues to strive for more efficient public services that achieve value for money.
The outcome indicators we have selected reflect critical information that we are interested in with respect to each outcome. In some cases, government has not set targets for these indicators: accordingly, we have limited our expression of outcome targets to those that have already been agreed by Government. We will continue to work with other agencies to achieve more explicit articulation of outcome targets in the future. Figure 2 on page 16 depicts the baseline data (2006-09) for key outcome indicators, and shows recent trends in these indicators (progress since 2000-02).
2 It is important to note that this analysis reflects comparisons based on data obtained at two points in time. It provides a simple trend analysis that reflects relative change rather than the absolute status of the indicators.
Figure 1: Outcome Framework - He Aha te Mea Nui o te Ao? He tangata, he tangata, he tangata. Tino Rangatiratanga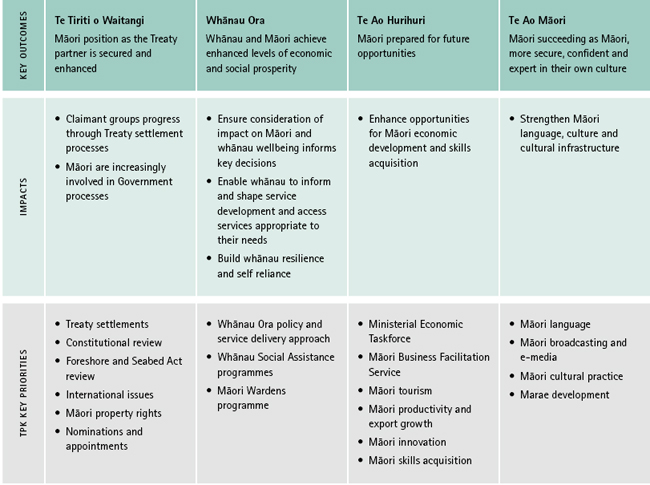 KEY OUTCOMES
Te Tiriti o Waitangi
Māori position as the Treaty partner is secured and enhanced
Whānau Ora
Whānau and Māori achieve enhanced levels of economic and social prosperity
Te Ao Hurihuri
Māori prepared for future opportunities
Te Ao Māori
Māori succeeding as Māori, more secure, confident and expert in their own culture
IMPACTS

Claimant groups progress through Treaty settlement processes
Māori are increasingly involved in Government processes

Ensure consideration of impact on Māori and whānau wellbeing informs key decisions
Enable whānau to inform and shape service development and access services appropriate to their needs
Build whānau resilience and self reliance

Enhance opportunities for Māori economic development and skills acquisition

Strengthen Māori language, culture and cultural infrastructure

TPK KEY PRIORITIES

Treaty settlements
Constitutional review
Foreshore and Seabed Act review
International issues
Māori property rights
Nominations and appointments

Whānau Ora policy and service delivery approach
Whānau Social Assistance programmes
Māori Wardens programme

Ministerial Economic Taskforce
Māori Business Facilitation Service
Māori tourism
Māori productivity and export growth
Māori innovation
Māori skills acquisition

Māori language
Māori broadcasting and e-media
Māori cultural practice
Marae development
Figure 2: Key Outcome Indicators: Baseline Data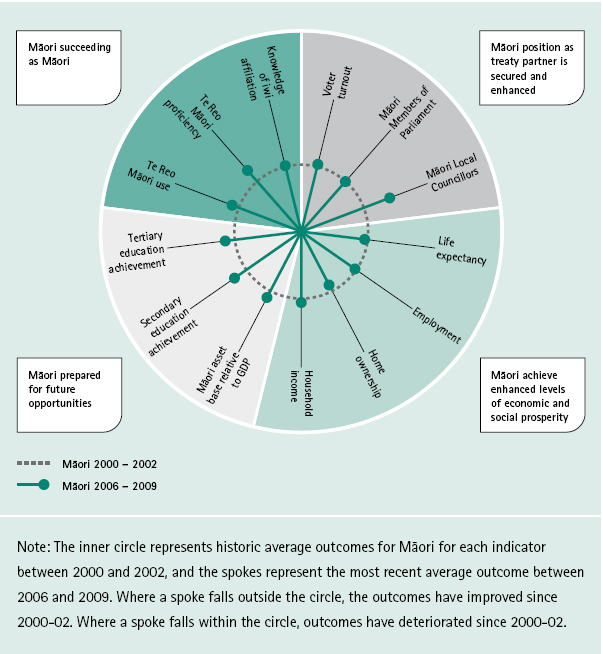 Our policy approach asserts our view that, in all circumstances, Māori themselves are best placed to express their own development needs and aspirations, have the capability to achieve those aspirations, and that this is best supported in ways that build on the strengths evident in Māori cultural constructs. We therefore seek to develop public policy in ways that reflect these strengths and aspirations, and we are moderated by kaupapa Māori values to ensure that our advice is anchored in not just what is important to Māori, but also is developed in ways that are respectful of and appropriate to Māori.