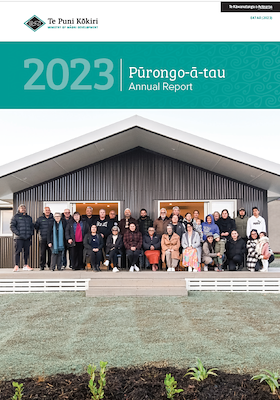 This Annual Report looks back over the past year, recognises our achievements, and reports on our progress towards the goals and targets we have set.
This year we've highlighted our leadership role in promoting and supporting whānau-centred, locally led, government enabled approaches.
Whānau-centred, locally led, government enabled strategies has proved successful in delivering to whānau and communities government might otherwise have found hard to reach, and whose wellbeing on a range of measures is likely to be compromised, for example, housing and corrections, and recently the crises of the North Island weather events.
Sharing the stories of these successes through the Annual Report is one way we will grow the influences of whānau-centred policy and approaches, and we will also continue to support partners and other agencies' investment in Whānau Ora across government and into our communities.
The Annual Report is one of our key accountability documents which all New Zealand Government agencies are required to produce. Usually, the Annual Report isn't released until it has been tabled in Parliament but this year the general election has changed the usual timeline. Printed copies of the Annual Report will be available once it has been tabled, later in the year once Parliament recommences.