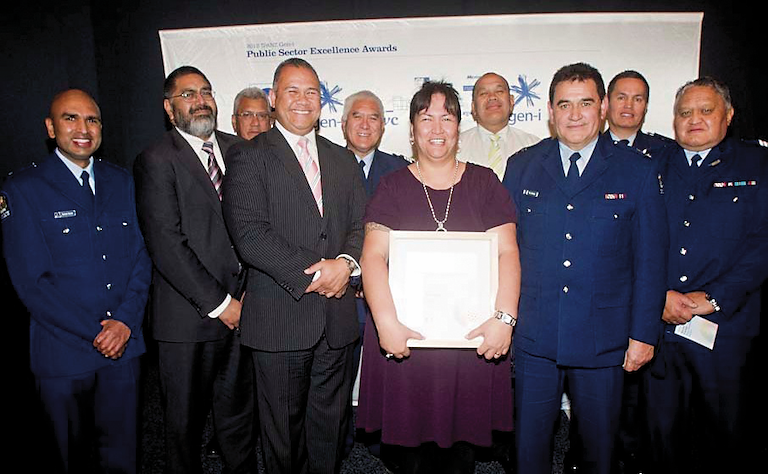 Dubbed the Rugby World Cup's unofficial "United Nations", last year saw volunteer Māori, Pacific and Ethnic (MPE) Wardens deployed together for the first time. Their professionalism, cultural expertise and diplomacy won them a nationwide IPANZ, Public Sector Excellence Award for Crown-Māori Relationships.
"Māori Wardens have been making our communities stronger for decades, volunteering their time and expertise. More recently they have been working alongside our Pacific and Ethnic Wardens," says Te Puni Kōkiri Project Manager, Te Rau Clarke.
"We are thrilled to see our Wardens honoured and their valuable mahi celebrated. Many don't realise they are all volunteers who donate their time and skills to make their communities safer and better places to live in."
A team of 114 wardens worked alongside Police patrolling four RWC 2011 fanzones across the Auckland region as 95,000 visitors converged on the city.
The MPE Wardens Deployment project was a partnership between Te Puni Kōkiri, NZ Police (via its MPES Office) and Auckland Council.
Working voluntarily at fan zones and entertainment sites, the MPE Wardens interacted with rugby fans and dealt with many minor incidents, allowing Police to focus on serious issues and crowd control. In one instance an Ethnic Warden overheard a group of intoxicated visitors arguing in their own language. The Warden calmed a situation that could have turned ugly by simply talking with them in their own language.
"This is about policing for the future - making communities safe through great partnerships and ensuring fewer victims and less crime," says Superintendent Wally Haumaha, General Manager of MPE's.