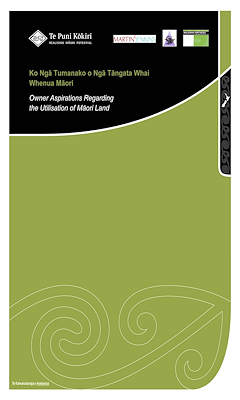 Owners' Aspirations Regarding the Utilisation of Māori Land
Table of contents
Disclaimer and Copyright
This publication is intended to provide information on the matters contained herein. It has been written, edited and published and made available to all persons and entities strictly on the basis that its authors, editors and publishers are fully excluded from any liability or responsibility by all or any of them in any way to any person or entity for anything done or omitted to be done by any person or entity in reliance, whether totally or partially, on the contents of this publication for any purposes whatsoever.
The views quoted in this report are those expressed by those Māori land owners who attended hui across the country. They are based on the recollections of the participants and no attempt has been made by the authors to verify these recollections. The authors have recorded their views as accurately as possible and have drawn on these to inform the conclusions of the report.
Please note the perceptions of owners and the conclusions of the authors are not government policy. The report is intended to be a starting point for further discussion on Māori land aspirations and the actions required to facilitate these.
© Te Puni Kōkiri ISBN 978-0-478-34515-5 April 2011