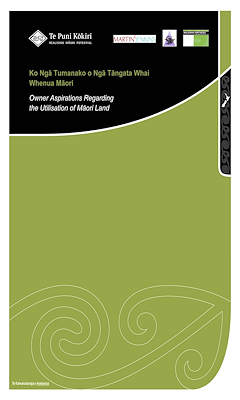 Owners' Aspirations Regarding the Utilisation of Māori Land
Table of contents
Part Six: The Need For and Nature of Review
In Parts 1-4 of this report, the results of research among Māori owners have been summarised in relation to their land utilisation aspirations and the influences that form these. In addition, the nature of barriers against the achievement of aspirations has been identified as having non-regulatory enablers that have assisted some groups towards the achievement of aspirations. Part 5 considered the results of research and identified a series of implications that arise when these results are compared with the existing regulatory environment.
a. Implication of Research Findings for Regulatory Review
The research results and their comparison with the existing regulatory environment raise a number of implications which should be the subject of review:
TTWMA is currently structured and heavily reliant on the exercise of discretion across all of its clauses. The question arises as to whether this is ideal or whether any alternate approach is better suited. Where discretion needs to be retained, the question arises as to whether further criteria should be included in the legislation around discretionary powers in the interest of promoting more transparent and even decision making
TTWMA currently deals differently with its two key principles of retention and utilisation using clear, proscriptive language to achieve the former whilst discretionary provisions, where the outcome is less certain, tend to apply to the latter. When compared with retention, however, TTWMA does little to ensure the utilisation objective is achieved. The question arises as to whether TTWMA should contain specific provisions or use new wording which promotes land utilisation.
research suggests that enablers to land utilisation currently exist outside regulation. TTWMA, and the practices which emerge from it, either have a neutral influence or offer potential barriers. The question arises as to whether a range of externalities that have emerged within ownership groups (see below) require a close audit of existing provisions to assess the extent that they undermine or frustrate the forming of or carrying out of land utilisation aspirations.
a further question that arises is the extent that emergent externalities which lessen the commonality amongst ownership groups (due to the numbers involved, their location away from the land, their increasingly varying priorities), come to undermine the ability to easily identify and locate owners or the ability of owners to reach consensus (assumptions on which TTWMA proceeds) and whether owners, as individuals, are given a potentially disproportionate role in governance
the range of inherent and long standing difficulties in working with the trust structure raises the need for a thorough consideration as to the viability of ahu whenua trusts or whether a wide ranging variation of management entities is needed to support owner land utilisation aspirations
the way in which whānau trusts have proliferated and the informal roles which they have come to play in collectivising whānau opinion and decision making raises the question of whether they represent risk or opportunity for Māori land administration
the very limited uptake of whenua tōpū trusts raises the question of whether the collectivisation of title is a suitable objective for regulation and, if so, whether other regulatory vehicles can be identified to achieve this objective.
b. Need for Review and Guiding Principles
The breadth of owner aspirations, the range of influences that have shaped them, the fundamental barriers which exist to their achievement and the role played by the regulatory environment essentially forms the case for recommending that a broad review should proceed of the regulatory framework and other regulatory and non-regulatory areas that influence and impact on Māori land and Māori land tenure. The factors arising from the research also provide guidance on the principles that should shape the review. Therefore, any review should:
recognise and build towards the realisation of owner aspirations
recognise and take into account the wide variations that exist in relation to owners, land and management entities
seek to develop a menu of solutions to be applied in varied circumstances
ensure that available resources being directed at Māori land are targeted effectively
remove regulatory barriers for those ownership groups who are already taking action for the utilisation of their land and the achievement of their aspirations
identify ways to actively assist those owners who are beginning to work towards the utilisation of their land and the achievement of their aspirations
identify and limit risks of cost or loss for those owners who are unable at this point to utilise their lands or move towards the achievement of their aspirations.
c. The Structure of Review
Considering the above principles, and acknowledging the research results obtained on owner aspirations, there are several evident areas of review:
consider the benefits and risks of exempting from certain regulatory oversight any Māori land management entities that have met a set of benchmarks relating to governance, financial management and capacity: A small group of Māori land management entities already have sufficient internal capacity and infrastructure and are already actively utilising land and addressing ownership aspirations. For these entities, the requirements of TTWMA provide little advantage and, if anything, needlessly increase the cost and timeframes of doing business.
identify and ameliorate clauses which potentially present barriers to Māori land management entities, and other ownership groups, working towards the utilisation of land and achievement of aspirations: Whilst many clauses within the TTWMA are protective and aimed at ensuring land retention, the uniformity of these clauses does not allow for the varying and changing circumstances facing Māori ownership groups. Where such groups are working towards the utilisation of their land and the achievement of their aspirations, such protective clauses can present as barriers that inhibit development. Once identified, such clauses can be reworked in such a way that they maintain protection, when required, but can be eased or temporarily suspended in certain circumstances where development planning is being worked through.
review the wider legislative, regulatory or administrative context to ascertain and ameliorate any existing or latent risks facing those owners who are unable at this point to utilise their lands: The research of owners' aspirations has identified that there are a large range of circumstances that effectively combine to prevent land utilisation or the fulfillment (or even formation) of ownership aspirations. Whilst other aspects of the review will consider how this situation can be addressed, an analysis of the risks associated with lands that are not yet being utilised is important to ensure that the land and ownership group are not put to costs or loss associated with inaction and to allay ownership fears which may currently act as a driver towards unplanned or ill-advised development.
evaluate the effectiveness of the range of resources available and in use that assist owners towards the fulfillment of their aspirations: Currently, state sector agencies, at national, district and local levels are either undertaking or planning a range of initiatives in relation to the utilisation of Māori land by providing improved information, achieving title improvements, providing advice and capability building at the governance level and working locally with owners to identify new commercial opportunities. Considering the wide range of owner aspirations identified by research, as well as the barriers that exist to the taking of effective action, it will be important to assess the suitability and effectiveness of the initiatives that are in use or being adopted.
consider ways in which the fragmentation of Māori land titles might be addressed: Although TTWMA and the requirements surrounding partitions have dramatically slowed title fragmentation over the last two decades, the residual impacts of fragmented titles are increasingly being felt in a modern land use context which is orientated towards larger land units to ensure economic viability. Whilst any review should not seek to change existing entitlements of owners or the nature of existing titles, options to address the fragmentation both within and outside of the regulatory environment should be explored.
consider ways in which the fragmentation of Māori ownership might be addressed: The ongoing fragmentation of ownership occurring creates impacts such as prohibitive costs for any management entity seeking to inform or work with the wider ownership group and the potential dilution of aspirations as the ownership group increases. The collective title opportunities offered in TTWMA through the use of Whenua Tōpū trusts have not really been taken up by owners. The desirability and viability of collectivising titles needs to be closely looked into during the review.
evaluate the concepts behind and the roles of owner representatives: The assessment of barriers to owner aspirations often identified problems associated with owner representatives: trustees with insufficient powers to act although with wide responsibilities to acknowledge; claims of disinterested trustees whilst other trustees desperately sought assistance on how to take action; claims about the limitations of trustee training whilst others expressed the need for more. The variation of response is not surprising when the fundamental barriers to effective action are considered. The review needs to examine concepts and roles associated with owner representatives.