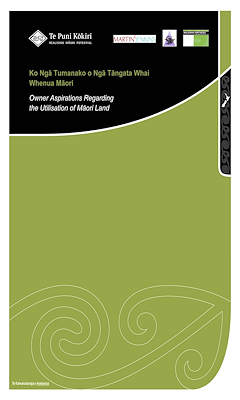 Owners' Aspirations Regarding the Utilisation of Māori Land
Table of contents
Foreword
Case Study Research and Implications for Regulatory Review Whaimutu Dewes; Tony Walzl; Doug Martin. April 2011.
Whatungarongaro te tangata, toitū te whenua - As man disappears from sight, the land remains.
Māori identify ourselves by the relationships our tupuna formed with the lands from whence we came. We are the people of this land. We are born of this land and we need to look at what we can do for the land. It is this intimate connection which gives meaning to what it is to be tangata whenua. It is a relationship which transcends arguments of ownership in a commodity sense; a relationship which reinforces a sense of belonging shared between those who have passed on, the living and those yet to be born. It is a sacred connection; represented through the dual meanings of whenua to both nourish the people, and to nurture the growing new life of the unborn child.
With this sense of identity as a foundation, it is important to understand what other aspirations Māori have for their land and how these can best be supported. This report represents a new approach in that it asks the people what they want to achieve. The consensus was that Māori land should be retained and used to enable it to be passed onto future generations. The use of the land should balance commercial and cultural imperatives. The report also outlines a number of case studies where Māori are successfully advancing both of these imperatives for the benefit of their whānau now and in the future.
I look forward to working with Māori land owners to build on these successes in order to assist them to achieve their aspirations for their Māori land.
Hon Dr Pita R Sharples
Minister of Māori Affairs