I was part way through my diploma studying civil engineering and I felt I needed practical experience.
Published: Wednesday, 7 August 2019 | Rāapa, 07 Hereturikōkā, 2019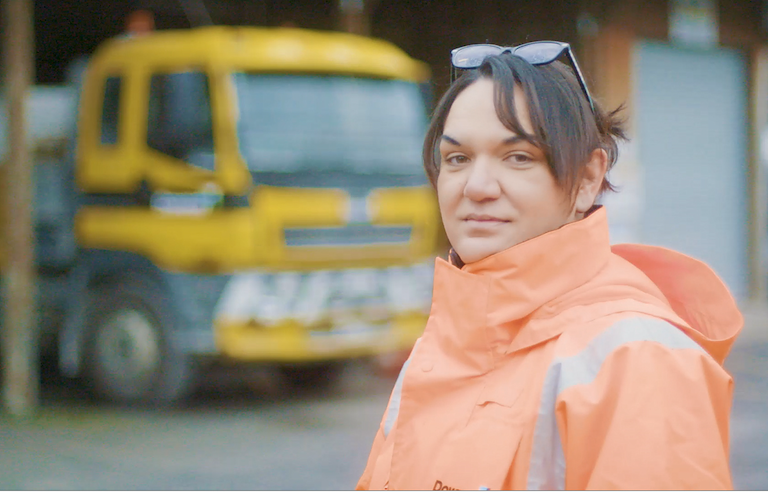 At 39, Kaycee's list of must haves in deciding her career included job satisfaction, job security, and salary. She chose Downer.
Kaycee Thompson (Ngāti Tūwharetoa / Ngāpuhi) is employed as a Downer Cadet. She will spend four years doing three-monthly rotations in the many different aspects of the company so that she can gain an in-depth understanding of the business.
"I never expected to gain the level of experience over such a short amount of time," says Kaycee.
So far she has learned the reasoning and correct process of digging trenches, and the correct way to apply road safety management. She has operated plant and received all the necessary tickets along the way.
"While I am here, I want to develop and have as many experiences as possible, which is why I wanted to do the Te Ara Whanake programme. It's set up to support Māori staff members' shift into senior positions."
200 Māori staff members have gone through Te Ara Whanake, including Kaycee. The programme aims to:
develop Māori capability and leadership within the business
support Māori staff to progress into managerial roles and smash the glass ceiling
encourage staff to view themselves holistically and look after their taha wairua, taha hinengaro, taha tinana and taha whānau
build positive identity through reconnection to Te Ao Māori.
"Māori essentially are a community, and Downer is a community.  I feel our people [Māori] work quite effectively within our own rōpū and I think we can bring that into a place like Downer, which can only be of a benefit to everybody.
"I think in this day and age, Māori women need to bring themselves into a space where we can be independent and we can support our whānau in a practical way. I feel programmes like the Cadetship are quite important and gives us our confidence.
"My experience as a Māori woman in this industry, it's quite special. Māori women, actually all women in general, bring a lot to the table in terms of adding better dynamics in the workplace and on the worksite.
"You leave guys to their own devices sometimes they get a bit too blokey. But if you put a woman into the mix, you just have a better balance, I feel, across the team.  We have a different approach to the way that we carry out our work.
"I think it's encouraging to see more Māori women in this industry. Not only encouraging for Māori women but for our tāne as well.  If they see us Māori women in positions like this then it gives them something to strive for, and to see that things are achievable. It's all about being able to uplift one another, and if we can do that in this role then great.
"Since being on the cadetship programme it's helped me to develop confidence in my skills and have the experience to be able to not only carry out by job, and know that I'm doing that well, but also its helped me plan for the future. It's given me a goal to strive for in my career."
Currently Kaycee is on a laboratory rotation.  The purpose of this rotation is to understand how the materials used out on the road behave and how they're best utilised.
"So I'm down here in Kaikōura, all the way from the mighty Waikato, helping out on the Kaikōura rebuild from the damage that was caused from the earthquake.
"Part of my role here is to go out and collect samples off the back of the concrete trucks when they're placing that out on site.  I bring it back here to the lab where we cure it, crush it, and test it for compressive strength. This gives us an indication of how that material will behave out on site in a natural environment.
"We also go into the quarries and collect samples, AP65, AP40 and AP20, and bring it back here to sample it, to test the materials in terms of how it weathers and its strength.
"Essentially when we place that material we want to know how to work that material so that it's at its optimum.
"I did not think I would be doing any of this work.  If you asked me two years ago did I think I'd be down in Kaikōura working on the earthquake rebuild project? No. Would I be out there using MDMs, would I be operating plant? No.
"Definitely the exposure that I've had and the experiences that I've had in the short amount of time on the programme, you can't get that in a career having just stepped into it. This programme definitely delivers.
"What I've gained personally from being on the Cadet Programme, it's definitely made me look more into my future and what's in store for me.
"I have a plan and Downer has supported me right through that."
"In terms of my progress it's taken me beyond my limits, and it's actually made me recognise that the only limitations on me are the ones I set on myself.
The Downer Te Ara Whanake programme supports Māori, helping to develop their careers and progress into leadership roles.
Te Puni Kōkiri has partnered with Downer for over five years through the Cadetships programme. The partnership has supported 200 Māori staff to undertake the Te Ara Whanake programme but also another 200 in other Downer programmes.
The Te Puni Kōkiri Cadetships programme supports employers to develop, mentor, train and grow full-time permanent Māori staff in order for them to take on more senior roles within an organisation.