Two and a half years in to their settlement Maungaharuru-Tangitū Trust were ready for some fresh ideas and the new governance training course, developed by Te Puni Kōkiri in partnership with the Institute of Directors (IoD), was a perfect fit.
Published: Thursday, 8 December 2016 | Rāpare, 08 Hakihea, 2016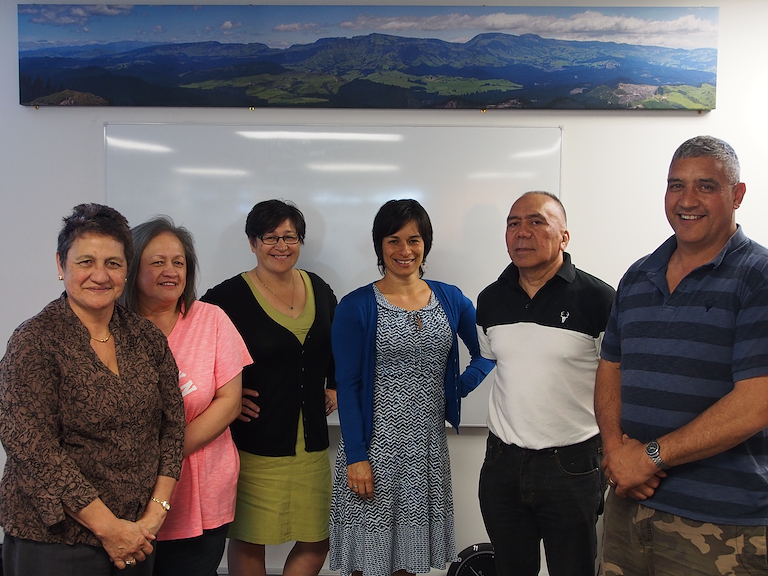 Eighteen participants from Maungaharuru-Tangitū Trust attended the course held in September. The group included the Trust's company directors, business partners, management staff and board members. "We heard about it from one of our TPK partners," says Trust CE Shayne Walker (Ngāti Kahungunu). "We wanted to build capability and grow everyone together. The IoD training gave us that opportunity."
The Institute of Directors (IoD), has a membership of almost 8000 members across the country, and as a founding member of the Global Network of Directors, has a strong track record of delivering high quality governance services and were an easy partnership choice for TPK.
Susan Huria (Ngāi Tahu, Ngāi Tūahuriri) is a chartered fellow with IoD and has facilitated training programmes for the Institute in the past. With over 20 years board experience including current positions on Ngāi Tahu Property and Marsden Maritime, Susan helped to develop the programme for Māori governance entities and is one of a group of facilitators who delivered the training to Maungaharuru-Tangitū Trust.
"The great thing is that we can tailor the examples to real-life issues that iwi are dealing with," says Susan. "So, if we're looking at strategy, it's their strategy we are talking about not some other company's that they have no connection with."
Context is key in the delivery of the course and the programme highlights issues that are most significant to Māori. It draws on the aspirations as well as the needs of each entity while covering the three key areas of governance, strategy and finance.
Susan says that the issues Māori entities are grappling with are fairly generic across the range of organisations she has worked with. "Things like getting the right mix of culturally competent and commercially savvy people on board and director tenure – how long is too long and how do we ensure we retain the institutional knowledge?"
Three facilitators delivered the Napier-based training and Susan's focus was strategy. "Most of the rōpū we are working with are really strong on vision and purpose. It's the nuts and bolts of how to achieve those things that I am most interested in them figuring out."
Currently involved in a range of initiatives, from environmental restoration projects to driver's licencing programmes for rangatahi, Shayne Walker says that for Maungaharuru-Tangitū Trust Susan's facilitation style was spot on. "It was great how she cut straight to it. Basically, a key message for us was just 'slow down'. We don't have to be achieving everything at once. What's more important is that we are doing the right things at the right time."
Course facilitators are drawn from experienced Māori practitioners all around the country and all have rated very strongly with participants. Shayne describes the finance session as "the most understandable financial education session our people have ever had."
While Māori governance entities are not new, the continued development of governance skills and best practise models for Māori in governance is a key issue for a growing number of iwi before and after their Treaty settlements. Twelve Māori entities from across the motu have participated in the governance training programme this year and the response from participants has been overwhelmingly positive. Shayne says they are looking to develop their learnings from the training further. "We want to ensure we are being authentic as leaders and in our dealings with others. Our focus is making good decisions for our people. Having the opportunity to explore what that means together has been invaluable."