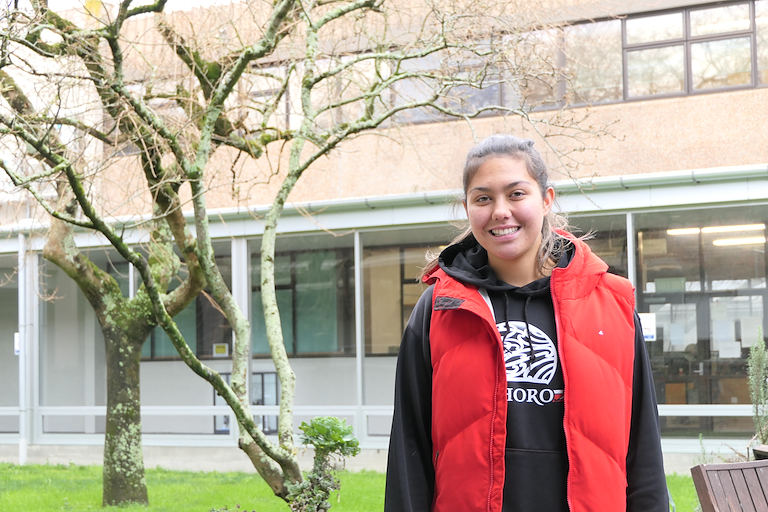 Pūhoro STEM Academy student, Meschka Seifritz was a key speaker at the Ka Hao te Rangatahi – STEM Futures Symposium held at Massey University recently. She spoke of the support Pūhoro had provided her.
"Pūhoro held my hand throughout NCEA Levels One, Two and Three. I didn't even think I was smart enough for science before Pūhoro, but last year I passed a lot more exams than I thought I would, or could".
Not only did Pūhoro provide her with academic support, they have invested in her future through connecting her with her passion. 
"Pūhoro has given me the greatest gift – they've helped me find my passion, and that's for the environment. I honestly can't see myself doing anything else".
Launched in 2016, the Pūhoro STEM Academy provides support for rangatahi in STEM subjects (science, technology, engineering and mathematics). The programme works directly with secondary school students and their whānau throughout the country, and was created in response to the low engagement of Māori students in STEM subjects.
Meschka was one of these disengaged Māori who felt out of place in a STEM environment.
"Being one of three Māori in the class is hard. None of my friends take STEM subjects. It's not easy."
Through the support offered by Pūhoro, Meschka found confidence and inner-strength. Her new passion has opened up many doors for her. Recently she was offered the opportunity to speak at the Our Land and Water Science Challenge symposium. 
"On the first day we heard from the adults, who had done great mahi for the environment they knew so much. It made me think about other youth and how little we know."
This thinking led Meschka to making a statement that has had extensive impact on Our Land and Water and their direction going forward.  
"Rangatahi make up 25 percent of our population, but 100 percent of our future. If we teach every age group to respect their land, to give back to Mother Nature, if they taught us these things they would become instilled in our culture."
Meschka's sentiment is reflected in the vision of the Pūhoro STEM Academy to "advance Māori leadership and capability". To advance Māori leadership is to invest in the lives of our future leaders – rangatahi Māori.
Meschka is one of these many future Māori leaders. She has already had an influence amongst current leaders and is trailblazing a pathway for her whānau and peers.
Programmes like the Pūhoro STEM Academy are investing into our rangatahi, and therefore, into our future. Te Puni Kōkiri are proud supporters of the Pūhoro STEM Academy and the outcomes it has produced for rangatahi throughout Aotearoa.
For more information on the initiative click the link below to visit the webpage.