Last updated: Wednesday, 6 July 2022 | Rāapa, 06 Hōngongoi, 2022
What's on this page?
Te Puni Kōkiri has put together case studies from across Aotearoa which highlight how different government agencies are developing good practice in working effectively with and for Māori.
The case study research has been carried out by our Monitoring Public Sector Effectiveness Team. Te Puni Kōkiri has a programme of monitoring to review the effectiveness of public service. The case studies focus on those areas where agencies are often working in partnership with Māori, iwi and hapū. They are intended as a resource for government agencies and policy makers to learn from and strengthen their effectiveness for Māori.
Te Puea case study
Since 2017, Te Puea Memorial Marae has implemented Manaaki Tangata e Rua, which still operates helping whānau and single parents into housing and providing wrap around support. Since 2016, over 50 whanau have been assisted/moved into affordable accommodation under Manaaki Tangata e Rua programme.
Te Puea Memorial Marae has built strong relationships with a range of government agencies, including MSD, which are now co-located at the marae.
Te Arawa case study
Te Arawa COVID-19 Response Hub was formed in March 2020 to support Māori with kai, information and essential services.  Set up within hours of the Level 4 lockdown being announced, over time more than 50 organisations joined the hub.
Oranga Tamariki case study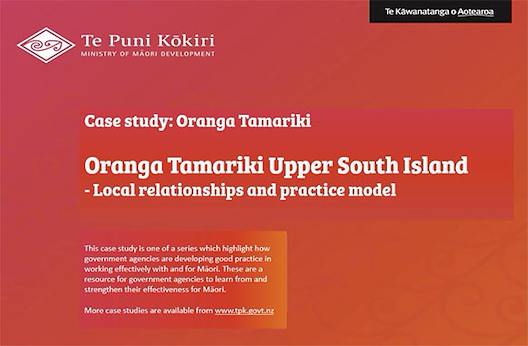 The Blenheim office of Oranga Tamariki is the focus for this case study, in particular the changes in practice introduced by Kaye MacDonald, the regional manager. She began to work with staff to change practices in 2007 when she first became the site manager. The model of care for tamariki and mokopuna developed, in partnership with Ngā Wāhine Toko i te Ora and Oranga Tamariki.