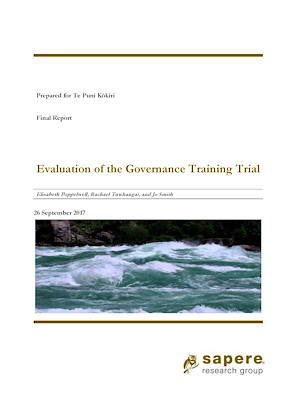 This report outlines key findings and recommendations from the evaluation of the 2016 governance training trial. The training was developed because governance skills, strategic planning, and financial literacy are becoming increasingly necessary for Iwi to undertake their responsibilities within a pre- and post-Treaty settlement environment.
Te Puni Kōkiri funded the training which was open to pre- and post-settlement Iwi trustees, board members, management staff, and rangatahi, and delivered by the Institute of Directors.
Te Puni Kōkiri commissioned Sapere Research Group, in partnership with Māori and Pasifika Support Services, to undertake an independent evaluation of the first year of its governance training trial.
The purpose of the evaluation is to assist with training improvement, and inform future investment decisions by Te Puni Kōkiri in governance skills and financial literacy training.
The evaluation examined the investment by Te Puni Kōkiri, the training trial reach, and early outcomes from the first year of the training.
The evaluation focused on implementation, with the aim of providing learnings from what is working, and identifying areas for improving the project's design and performance.