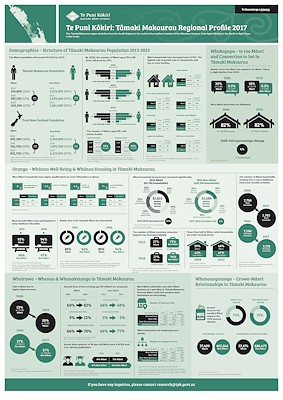 Te Puni Kōkiri measures a range of outcomes that fall within Whakapapa (te reo Māori and connection to iwi), Oranga (whānau well-being and whānau housing), Whairawa (whenua and whanaketanga), and Whanaungatanga (Crown-Māori relationships). This publication provides an insight into the growth and development of Māori within these outcomes in the Tāmaki Mākaurau region.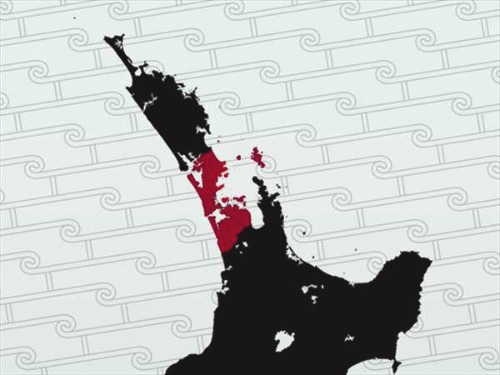 Te Puni Kōkiri has produced a Tāmaki Makaurau Regional Profile 2017 based on data sourced from Statistics NZ including Census and Subnational Ethnic Population Projections: 2013-2023, as well as data from Ministry of Education, Ministry for Social Development, Ministry of Health, and the Electoral Commission.
The number of Māori in Tāmaki Makaurau was 169,800 in 2013. It is expected to grow by 21% by 2023, compared to a growth rate of 20% nationally.  By 2023 the number of Māori aged 15 to 64 years is expected to grow by 23% to 129,700.
The Tāmaki Makaurau Regional Profile 2017 shows improvement in almost all of the measured outcomes.
There has been an increase in more Māori households with higher qualifications. More Māori 18 year olds have a NCEA level 2 (or above) qualification and there has been slight growth in tamariki Māori participating in early childhood education (93% to 94%).
Most tamariki Māori are immunised (89%) and there are fewer Māori within Tāmaki Makaurau living in highly deprived areas.
While fewer Māori (25,779 or 18% of all Māori) can speak te reo Māori in 2013, compared to 27,882 or 20% in 2006, more Maori know their iwi affiliations (132,123, up from 126,585 in 2006).
The number of Māori households has increased with the highest rate of growth being households with two or more families.  The number of Māori households needing two or more additional bedrooms remains unchanged, while more non-Māori households experience overcrowding. Furthermore, more Māori rental households are under housing stress, however this is comparable to non-Māori households.
Māori household incomes in Tāmaki Makaurau have increased by 23% from 2015 to 2016, more than that for non-Māori households (an increase of 6%).
More Māori authorities and other Māori businesses are operating in Tāmaki Makaurau and Māori businesses are employing more people.
If you have any enquiries about the data and the publication please email research@tpk.govt.nz.