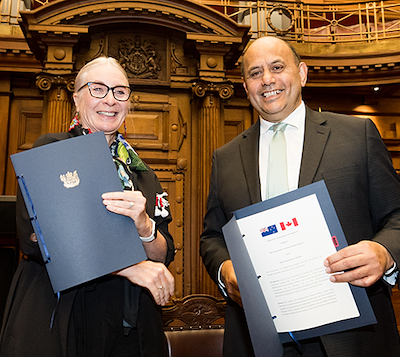 In August 2022, Minister for Māori Development Hon Willie Jackson and Canadian Minister of Indigenous Services Hon Patty Hajdu signed an Indigenous Collaboration Arrangement between the governments of Aotearoa-New Zealand and Canada.
The purpose of the arrangement is to promote and facilitate the economic, social, cultural, and environmental advancements of indigenous peoples through relationship development, improved knowledge sharing, and stronger collaboration.
It aims to enable better indigenous-to-indigenous connections between Māori and the First Nations, Métis, and Inuit peoples of Canada.
The Arrangement formalises the two governments working together and acknowledges a shared commitment to improving the lives and wellbeing of each countries indigenous peoples, who play a pivotal role in the prosperity and wellbeing of their communities, as well as the contribution they make to the national economy.
Minister Hajdu was accompanied by a delegation comprising representatives from the Canadian First Nations, Métis, and Inuit communities. While in New Zealand, the delegation took advantage of the opportunity to learn and gather as much knowledge as they could by meeting with government agencies, iwi, Māori groups and service providers.
Documents