Te Puni Kōkiri is working with rōpū across the motu to trial innovative approaches to assist whānau Māori into home ownership.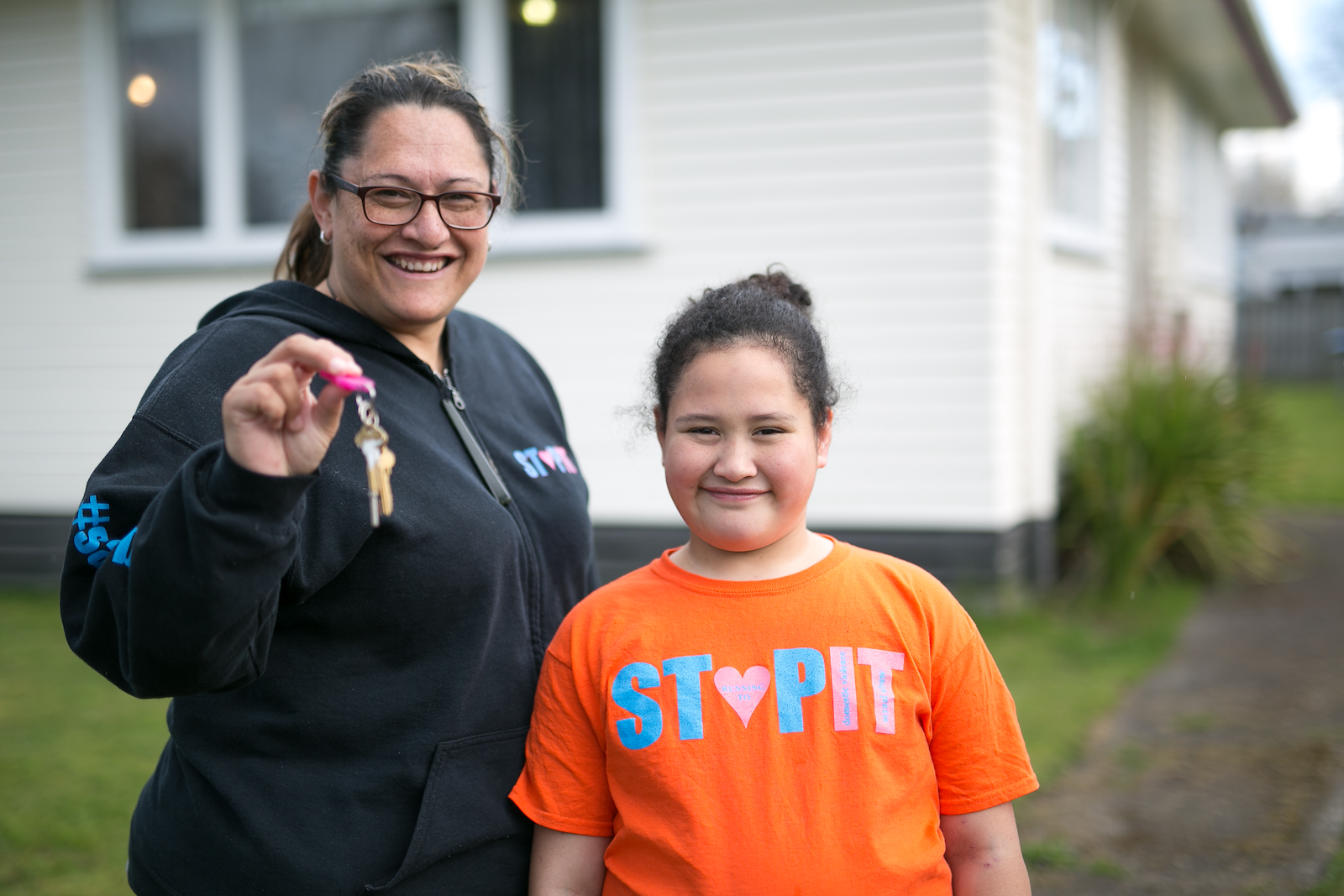 Assisting whānau into home ownership
Home ownership is an aspiration for many whānau Māori, but is out of reach for many. The 2013 census recorded that 28 percent of Māori adults owned their own home compared to 50 percent of the total adult population.
Te Ara Mauwhare – Pathways to Home Ownership aims to reverse this trend by finding innovative ways to support whānau Māori into home ownership.
Te Puni Kōkiri is working with rōpū across the motu to co-design innovative approaches to assist more whānau Māori to own their own homes. Rōpū who are partnering with Te Puni Kōkiri through Te Ara Mauwhare are focused on developing home ownership approaches that meet the housing needs and aspirations of whānau Māori with low to median incomes.
The Minister for Māori Development announced 1 June 2018 that the first trial to begin is with He Korowai Trust, a Māori service provider in Kaitāia.
"The Trust has an intimate knowledge and understanding of the real housing needs of their people coupled with a demonstrated commitment to get whānau into safe, healthy, secure homes. Initiatives like these are vital for the future development of whānau." the Minister said.
He Korowai Trust is testing an affordable rent-to-own home ownership model that enables whānau to not just put a roof over their heads, but eventually own it. This trial will help provide an economic base for whānau with which to grow further and engage more positively in the community and wider society.
The trial includes a perpetual right to occupy whenua in the Whare Ora papakāinga, owned by the Trust. The site is alcohol, drug and violence free. All whānau will complete a financial capability-building programme and will receive ongoing budgeting assistance, early childhood, medical care, counselling and other support.
Other trials will be announced later in the year.
Our Māori housing stories
He Korowai Trust
He Korowai Trust has been working to create innovative housing solutions for whānau and Māori communities within Te Tai Tokerau especially in Kaitāia. The Whare Ora papakāinga project is a dream that has been realised with the opening of 9 homes, with a plan to have up to 18 homes on the papakāinga, it most recently opened up a puna reo [early childhood centre]. He Korowai Trust also supports a 35-bed emergency accommodation unit, medical centre, community café and provide social services to whānau and Māori communities.
Who will benefit from the Te Ara Mauwhare – Pathways to Home Ownership initiative?
Te Ara Mauwhare - Pathways to Home Ownership aims to assist low to median income whānau who cannot purchase their own home using current purchase mechanisms.
Te Ara Mauwhare does this by working with rōpū to achieve their housing aspirations, and through that their wider community development aspirations. Stable housing also provides a stronger economic base for whanau,
What is Te Ara Mauwhare – Pathways to Home Ownership about?
Te Ara Mauwhare – Pathways to Home Ownership is an initiative to identify, trial, and evaluate innovative approaches to assist low to median income whānau to move towards home ownership.
Budget 2017 committed $9 million spread over three years to this initiative. Te Puni Kōkiri will work with and fund iwi and other rōpū to test innovative ways to assist whānau into home ownership.
The trials will be closely monitored and evaluated to see which models work effectively for whānau.
Te Puni Kōkiri received a wide range of proposals from rōpū across the motu. We have selected a smaller number of proposals to co-design the models to be trialled.
These include shared equity (ownership), rent-to-buy, and other innovative models in a papakāinga context; and we are exploring a way to help whānau currently receiving an Income Related Rent Subsidy for social housing.
Criteria for proposed models
 
 
Partnership

one or more Māori rōpū seeking to work with Te Puni Kōkiri
may involve other groups active in Māori housing
funds are provided only to the Māori rōpū

Whānau Centred

supports whānau with low to modest incomes into home ownership
builds financial capability to help them manage a mortgage and other home ownership commitments

Whenua

on Māori land, or on general land (whether collectively or individually owned)
land is ready for building on, in terms of accessibility and infrastructure

Sustainable

home ownership will be sustainable for whānau for the long term
addresses the complex issues preventing many whānau from owning homes
does not place whānau under increased financial stress

Community based

addresses the needs of a community
not focused on the circumstances of only one whānau or on one home

New houses

based on new builds to increase the supply of houses
houses may be built on site or relocatable

Co-investment

Te Puni Kōkiri's contribution is to be grant finance under a funding agreement
includes substantial co-investment by the partner(s)
does not involve Te Puni Kōkiri taking an equity interest (ownership) in the homes created by the trial
does not involve Te Puni Kōkiri providing loan finance

Collective impact

leverages resources across the housing system to achieve greater collective impact
uses a range of finance and resources to achieve greater collective impact
integrates government and other resources, products and services effectively; for example may include:

Kāinga Whenua loans, Welcome Home Loans, KiwiSaver Homestart grants, the Housing Corporation NZ FirstHome scheme, and links with other equity sharing programmes
some Māori Housing Network products, although with no presumption that a concurrent application will be approved

Innovation

proposal includes an innovative element such that it should be further assessed, although it does not comply with all of the other criteria above; for example, if it includes:

re-use or re-purposing of existing homes or buildings
a way of helping whānau receiving the Accommodation Supplement or Income Related Rent Subsidy (because this is a particularly challenging target group)

Value for money

for the whānau who will eventually own the homes
for the rōpū involved
the likelihood of public value for money, in terms of the outcomes identified in the strategies in the section above

Likely to deliver results

is unlikely to be used without government investment in the trial
has good potential to serve as a model for future housing development
has particular strategic or policy value
has potential to be scaled up if the trial is implemented successfully

Regulatory compliance

with the statutory/regulatory requirements in relation to land-use, housing construction, financial transactions
with relevant local government policies and plans and/or the intention to engage with local authorities to seek agreement to innovative practices
with the operational policy requirements of any government agencies whose products and services are part of the proposed model; and/or the intention to seek adjustments, that are worth exploring, to the operational policies of other government agencies
Can whānau apply to buy a house under this scheme?
The first step is for Te Puni Kōkiri to partner with rōpū to co-design an innovative model for the trial. It will take some time to build the houses.
Once the trials are in place, whānau will be selected by each rōpū. All whānau selected to participate in the trials will participate in a programme to build their financial capability ready for home ownership.
How many homes will be available?
This depends on the models being trialled, and the level of investment by potential partners.
Updates on Te Ara Mauwhare – Pathways to Home Ownership
If you would like to receive updates once the trials are underway email: MaoriHousing@tpk.govt.nz.
Media Releases
Events and Updates
Latest events and updates for this section are listed below.
Urban papakāinga built on foundation of manaakitanga

Fifty years ago, a Ngā Puhi hapū established a place of their own in the big smoke. Now the hapū is building homes for a new generation of whānau.

Papakāinga adopts COVID Tracer QR code

Concern for whānau health and safety has prompted a Hastings papakāinga to get their own NZ COVID Tracer QR code.

Living in Papakāinga benefits whānau during COVID-19

After the experience of the last few months, Hinewai Ormsby is more convinced than ever of the holistic benefits to Māori of living on their whenua and being closely connected to whānau

Being whānau in a changing world

When the Turner whānau (Waikato, Ngāti Aamaru) moved into their papakāinga in 2017 they didn't imagine it would become their sanctuary and lifeline during a pandemic.

National Māori Housing Conference 2020

Date: 30 April 2020 to 01 May 2020

A hui that aspires to put a roof over our heads and a floor under our feet surrounded by unbreachable walls just as our ancient iterations prescribed.

Registration required
Organiser: Te Taiwhenua o Heretaunga