Oranga Marae supports the physical and cultural revitalisation of marae, as centres of Māori identity and mātauranga.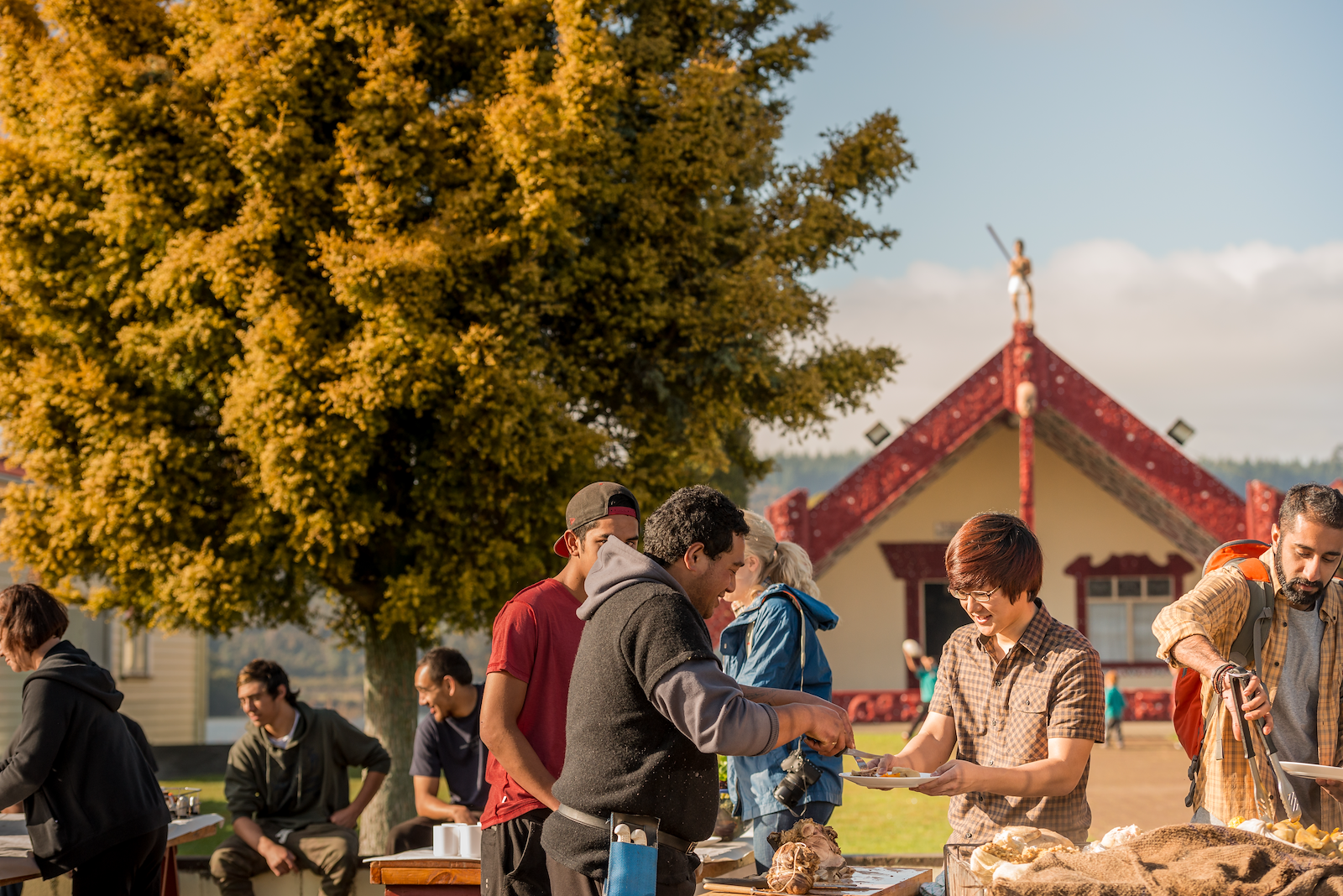 About Oranga Marae
Oranga Marae is a programme of support, advice and investment for marae. It gives whanau and hapū advice and support to help develop their marae and achieve their goals. This support may include building projects and activities to revitalise cultural knowledge.
A key goal of the programme is to strengthen the ability of marae to pass on their ancestral knowledge of whaikōrero, karanga and local mātauranga, tikanga and kawa to descendants.
Oranga Marae supports these outcomes:
marae are safe and healthy, contributing to the well-being of iwi, hapū and whānau
people are engaged on the marae and an increasing number of events and activitiesare held to ensure the transmission of mātauranga Māori
marae increasingly contribute to the revitalisation of te reo and tikanga Māori
whānau work together to develop the marae
Oranga Marae is provided by Te Puni Kōkiri and the Department of Internal Affairs. It replaces the Lottery Marae Heritage and Facilities Fund (LMHF), which has permanently closed.
Marae  
The marae is a sacred place where the Māori language is spoken and where customs can be explored and debated. A key feature of Māori society, the marae is a place where important ceremonies are performed such as welcoming visitors, meeting inter-tribal obligations or farewelling the dead. Read more
How does Oranga Marae work?
After a marae gets in touch, we appoint an advisor to work alongside the marae to achieve the goals of Oranga Marae.
The marae needs to create a Marae Development Plan to set out its development goals and the amount of investment it needs.
This plan outlines the vision of the marae, current state and proposed actions. The marae controls this process and the Oranga Marae Committee mainly wants to see that the whānau or hapu have worked together to plan for the sustainable future of their marae and that they will support the plan to make it happen.
Our advisors can help and advise with this plan. A guide to assist in developing the marae development plan can be found here in te reo Māori and in English.  If needed, a marae may request funding through Oranga Marae to help with marae development planning.
When the Marae Development Plan has been approved by whānau, hapū and trustees, the marae can ask for funding to carry out the actions set out in the plan.
What does Oranga Marae fund?
Oranga Marae can provide funding for: 
Marae development planning – A marae development plan is needed for all other Oranga Marae investment. If needed, an advisor can help a marae apply for financial support to create the plan. Requests for this support may be made at any time.
Technical or feasibility study support – For some capital (building) works, a marae may need to do a technical or feasibility study to show that the planned work is practical. Similarly, a resource or building consent may be required if major building upgrades are anticipated or a marae may need assistance in determining appropriate cultural development activities. If needed, an advisor can help the marae apply for appropriate funding. Requests for this support may be made at any time after a Marae Development Plan has been accepted.
Cultural revitalisation activities – A marae may apply for financial or other support for activities in the Marae Development Plan to help restore mātauranga Māori on the marae. Requests for funding may be made at any time after the development plan has been approved.
Capital works – An advisor may help a marae apply for funding or other support for the capital works identified in the Marae Development Plan. Marae are able to seek funding from other sources to assist in this as well as from Oranga Marae. Oranga Marae is a contestable fund with finite limits so there can be no guarantee that all applications will be fully funded. Marae are expected to use their own and other resources to assist in implementing their plan. 
Getting started
If you are looking for ways to develop your marae or your whānau and hapū, get in touch with us first to find out how Oranga Marae may be able to help.
Call your local Te Puni Kōkiri or Department of Internal Affairs office or:
Free phone:  0800 824 824
Email:  oranga.marae@dia.govt.nz
When is Oranga Marae available?
Marae can contact an advisor for information, advice and investment at any time and can make an online application for investment at any time.
Applications for marae development planning and technical/feasibility study support are usually made weekly. Applications need to be submitted before 5pm Wednesday to be considered the following week. Marae will be advised of the decision within three weeks of application.
Applications for cultural development activities and capital works are made quarterly (usually in March, June, September and December). Exact dates of decision meetings will be advised closer to the time. Marae will be advised of the decision within two weeks of the committee meeting.
What are the funding criteria?
To be eligible for Oranga Marae investment, marae must be one of the following:
traditional marae, owned traditionally by whānau, hapū and iwi and based on whakapapa
urban marae, established as places for whānau Māori living in urban settings
traditional and urban marae on marae reservation land gazetted as a marae
traditional and urban marae on general land gazetted as a marae.
Marae must have an appropriate governance and management structure, policies and processes to support the size and complexity of the project. Before making any investment decision, we will consider whether a marae has the capacity and capability for the planned project.
Applying for support 
You will need to log into the Department of Internal Affairs' online grants and client management system (GCMS) to create a profile and make requests for funding. The link is below.
Log in to the grants management system
If you have not signed into the grants and client management system before, you will need to set up a RealMe account.  You will be prompted to do this when you log in to the grants and client management system for the first time.
You can also set up a RealMe account on the RealMe website. Click here for further information about RealMe.
Extra support for marae
Te Puni Kōkiri provides facilitation and brokerage support for marae to access resources available from other private and public sector agencies and groups.
Online information and resources that marae may find useful have been grouped together under three key areas. Read more.
Events and Updates
Latest events and updates for this section are listed below.
Whakawhanaungatanga wānanga

Date: 23 December 2020 to 30 December 2021

Te reo me ōna tikanga, our connection to our whenua, marae kawa tikanga, waiata, karakia whānau connection hapū, iwi connection.

Registration required
Organiser: Paretai, Mau Rua whānau, however incorporating the other whanau, it becomes tō mātou whānau.

Oranga Marae Programme Presentation

Date: 30 October 2019
Time: 11am – 12

Oranga Marae - supporting the physical and cultural revitalisation of marae as centres of Māori identity and mātauranga.

Open to the public, no booking required
Organiser: Te Puni Kokiri - Tamaki Makaurau

Oranga Marae Programme Presentation

Date: 17 September 2019
Time: 11am – 12

Oranga Marae - supporting the physical and cultural revitalisation of marae as centres of Māori identity and mātauranga.

Open to the public, no booking required
Organiser: Te Puni Kokiri - Tamaki Makaurau

Oranga Marae Programme Presentation

Date: 26 June 2019
Time: 11am – 12

Oranga Marae - supporting the physical and cultural revitalisation of marae as centres of Māori identity and mātauranga.

Open to the public, no booking required
Organiser: Te Puni Kokiri - Tamaki Makaurau

Matariki / Stars of Aotea

Date: 07 June 2019 to 09 June 2019
Time: 7.30 pm Friday night – 10.00am Sunday Morning

newest product of Motairehe Marae Aotea..... Stars Of Aotea. Ara ki te rangi "pathway to the star's". Where..... Tuhinga ki mua "ridge of the heavens"

Registration required
Organiser: Motairehe Marae