On 18-19 July 2019 450 Māori Wardens from across 16 districts gathered at the National Māori Wardens Conference at Tūrangawaewae Marae to embark on a way forward.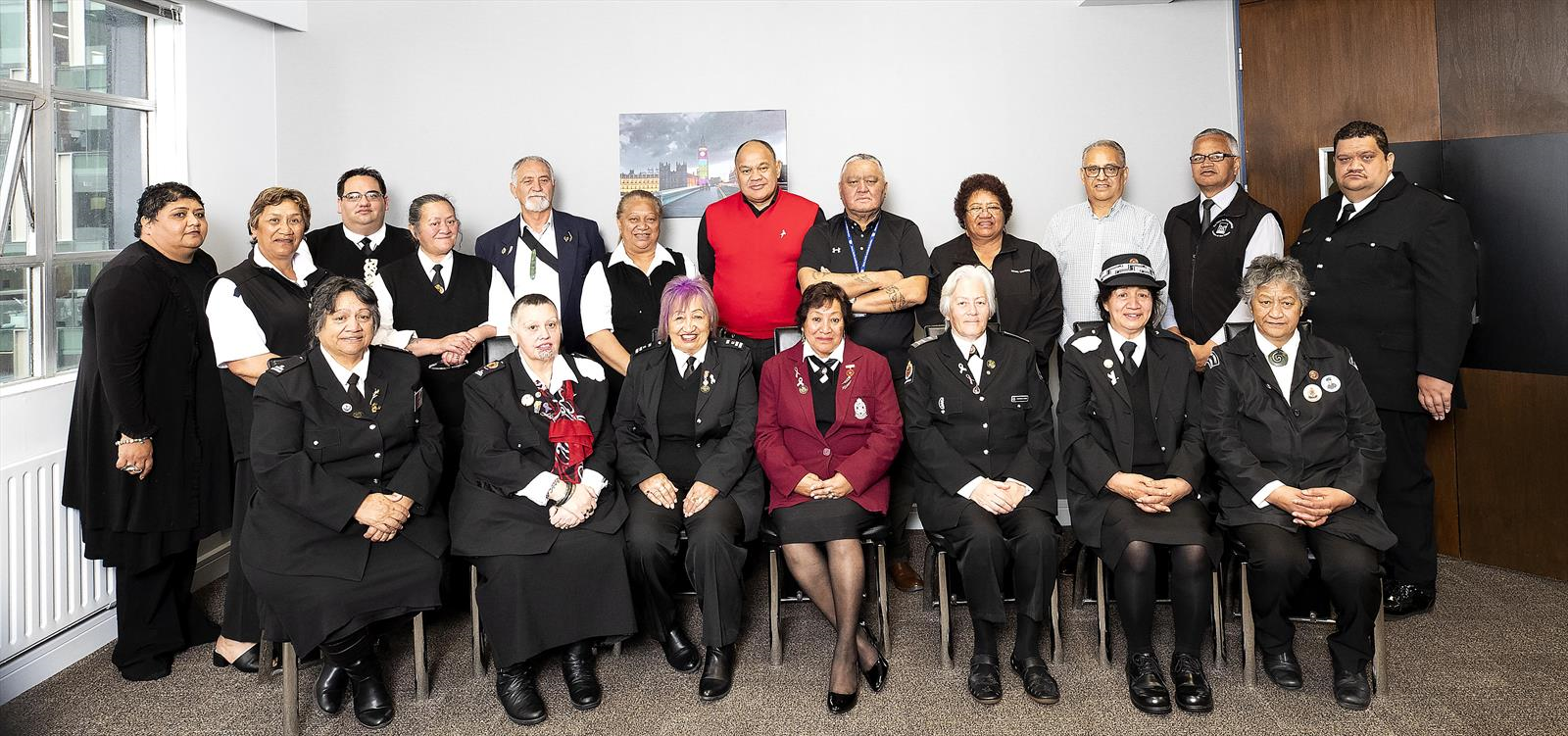 Background
At the 2019 Māori Wardens National Conference, each Māori Warden District voted on one of three preferred options regarding their future aspirations. Leading up to the National Conference, a series of workshops and hui were held with Māori Warden groups to listen to aspirations and discuss each of the options with a focus on moving forward.
The collective of Māori Wardens chose Option B: New Māori Wardens Act to better reflect Māori Wardens actual roles and functions and provide for greater operational control by Māori Wardens, with the intention of achieving Option C.
Māori Wardens were asked to elect one representative from their respective District, to sit on the Working Group that will oversee the development of key objectives.
Working Group
The Minister has essentially appointed the Working Group to provide her with advice on how the modernisation options selected by Māori Wardens at the National Conference in July this year can be implemented.
The Working Group will provide its main advice to the Minister in a written report by 13 December 2019. This is to ensure that changes that the Group recommends can be started to meet government process (e.g. legislative change) timeframes.
The Working Group is already too big by normal standards, and would not be able to have robust discussions within the required timeframes if there was more than one representative of each Wardens District.
The first Working Group hui was focused on laying the foundations for the future of Māori Wardens. This included thinking about what the Wardens would look like in 2025, and what was needed to be done to achieve that future.
The powers and roles of Māori Wardens were also discussed, and it was generally agreed that changes are required to better reflect what Wardens do now.
The next hui will focus on agreeing on specific changes that will be recommended to the Minister, and the timeframes within which these could be actioned.
Each Wardens District Representative have been sent home to discuss with Wardens these questions:
What will Māori Wardens look like in 2025?
What is different/modernised/new? Is it just the mix of voluntary and paid services? Is this bold enough?
What are the specific roles/services that Māori Wardens provide that others would pay for or invest in?
What would Wardens look like without Te Puni Kōkiri?
What would Wardens look like without the New Zealand Māori Council?
What would Wardens look like without NZ Police?
The following Māori Wardens have been elected to represent their respective District or are an official with no voting rights. 
Elected members
Pena Hikuwai (Māori Wardens Aotea District)
Susan Hana King (Māori Wardens Hauraki District)
Georgina Cribb (Māori Wardens Maniapoto District)
Noeline Smiler (Māori Wardens Pōneke District)
Jordan Winiata (Māori Wardens Raukawa District)
Owen Lloyd (Māori Wardens Tairāwhiti District)
Monica Watson (Māori Wardens Tākitimu District)
Taka Hei (Māori Wardens Taitokerau District)
Constance Hughes (Māori Wardens Tāmaki District)
Matarora Smith (Māori Wardens Tāmaki Ki Te Tonga District)
Sophie Te Moni (Māori Wardens Tauranga Moana District)
Verna Barrett (Māori Wardens Te Tau Ihu District)
Mandy Reti (Māori Wardens Te Waipounamu District)
Gloria Hughes (Māori Wardens Waiariki  District)
Tina Drummond (Māori Wardens Waikato District)
Non-voting official members
Henare Mason (New Zealand Māori Council, Deputy Chair)
Matt Tukaki (New Zealand Māori Council, Executive Director)
Wayne Panapa (NZ Police)
John Tangaere (NZ Police)
Te Rau Clarke (Te Puni Kōkiri)
Pareaute Panapa-Solomon (Te Puni Kōkiri)
More Information