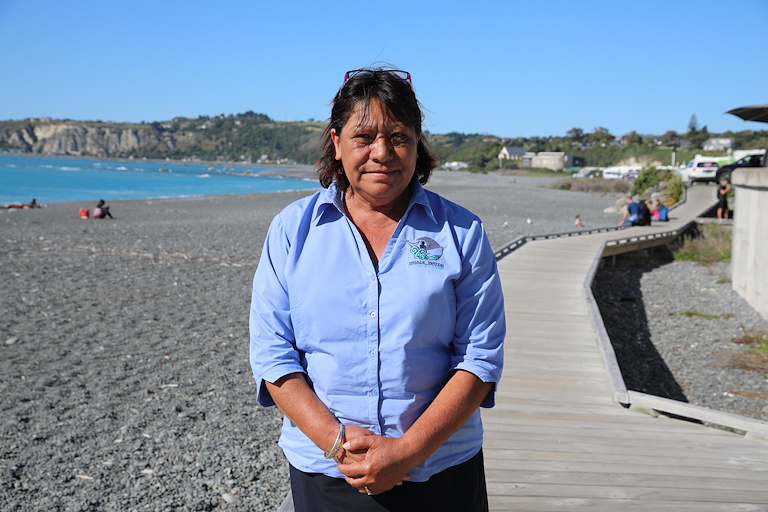 Kaikōura Māori Wardens and Red Cross members first worked together during the November 2016 earthquake that shook the town of Kaikōura.  The two groups started working together shortly after the earthquake struck and later on were paired together to door-knock in affected areas to check families were ok and to see if they needed any assistance. The relationship was a natural fit since the organisations have similar kaupapa.
Aroha Boyd is a Kaikōura Māori Wardens member and coordinator and is still concerned with Kaikōura rangatahi and elderly 18 months after the earthquake.
"Our rangatahi are a bit more anxious.  It's our rangatahi and our elderly that concerns me," says Aroha.
While the Kaikōura Māori Wardens provide daily support to whānau and the community, since their initial partnership the groups now have a permanent relationship to work together.
Red Cross Kaikōura Branch president Lorraine Diver agrees.
"It's just been great working together," she says. "We approach things in a similar way and can complement each other's strengths.  It makes so much sense."
The benefits were highlighted earlier this year when Cyclone Gita hit area.  The Kaikōura Māori Wardens and Red Cross worked together to open a welfare centre at Takahanga marae for tourists and whānau who needed a safe place to weather the storm.
Māori Wardens took the lead while Red Cross provided blankets, emergency supplies and extra people to lend a hand.
"It's really awesome to be able to do that.  That's what it's all about – supporting each other," says Aroha.
The two groups are looking at other ways they can work together to help strengthen and support their community.
"Collectively, it's good.  Together we will be stronger," Aroha says.
[Read the full NZ Red Cross story here]