Māori Business Growth Support is about helping Māori establish and grow their business. We do this by providing information, advice and brokering relationships.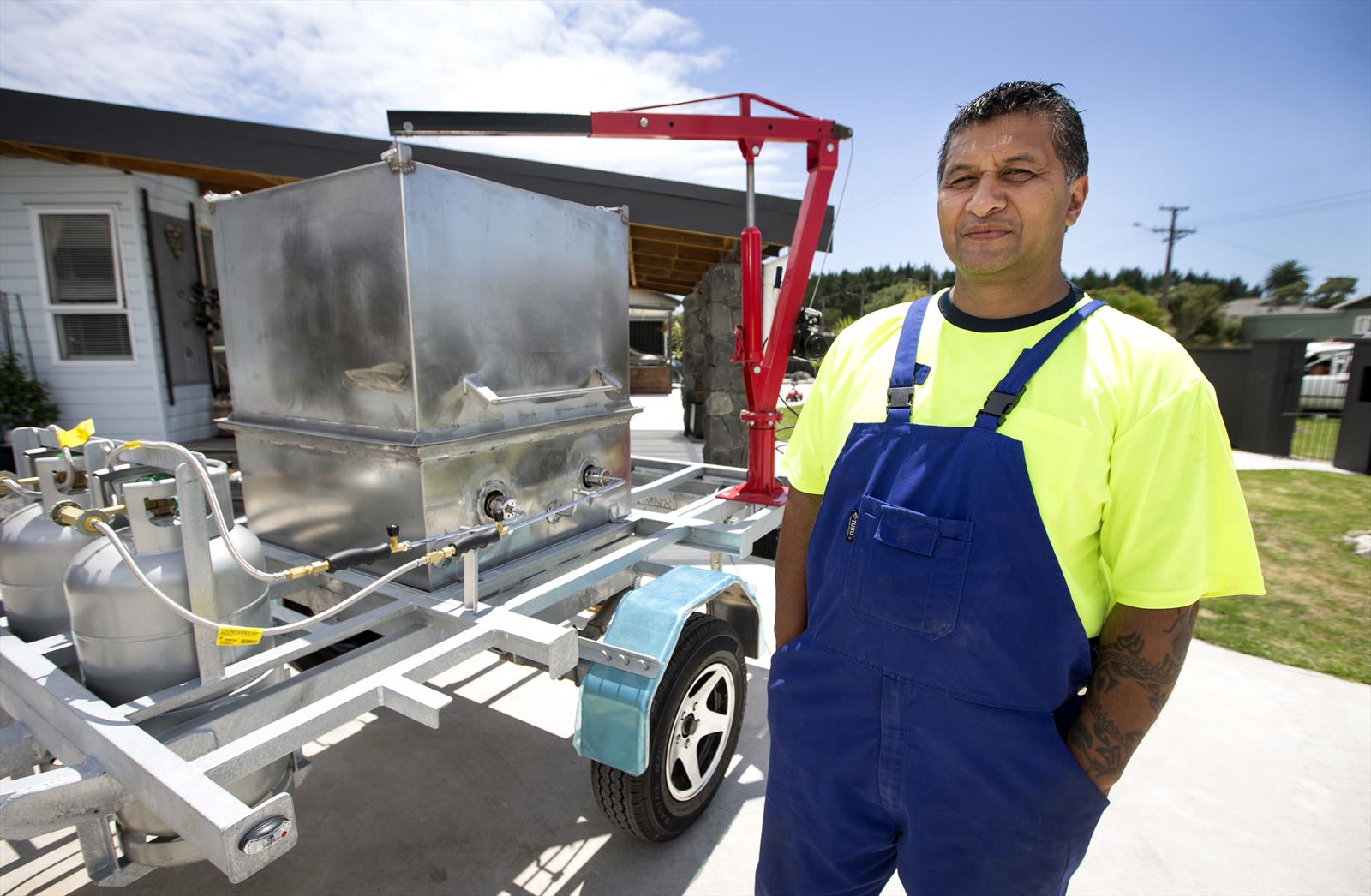 About Māori Business Growth Support
Māori Business Growth Support helps Māori businesses to become established and grow. We provide information to those who are interested in setting up a new business and support existing businesses to plan their business growth pathway. We connect you with other business growth agencies who will help you establish and grow your business. Māori Business Growth Support focuses primarily on Māori small to medium sized enterprises (SME's) that have a clear commercial focus. Our fundamental criteria is that the owner self-identifies as Māori and that the business is an independent entity based in New Zealand.
How we support Māori Businesses
The first step is to tell us a bit about you and your business or business idea. Completed registration forms can be emailed to your nearest regional office.
Te Puni Kōkiri supports Māori businesses through three channels:
Information provision and networking
Business growth assessment and planning
Business support services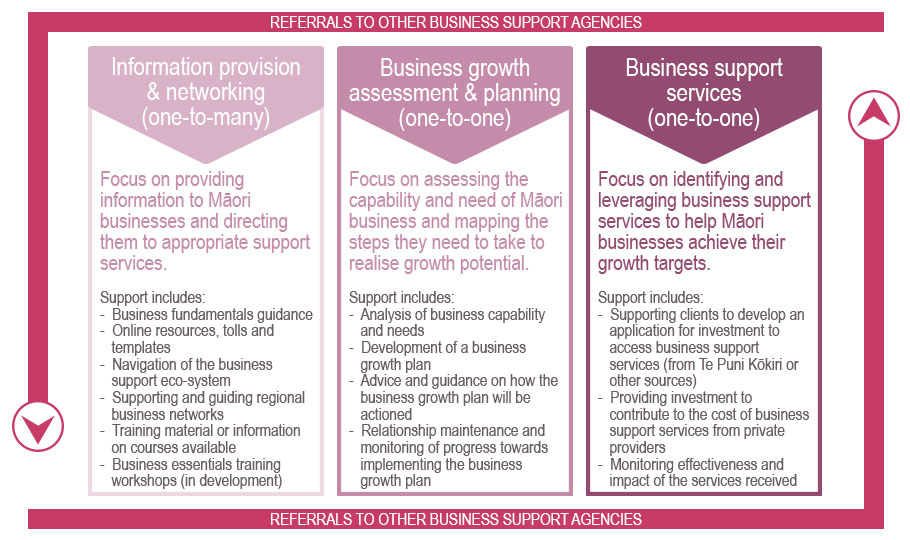 Information Resources
There are a range of information resources freely available from other government website to help you build your knowledge of what is involved in being in business. These links will take you to those websites.
Running a business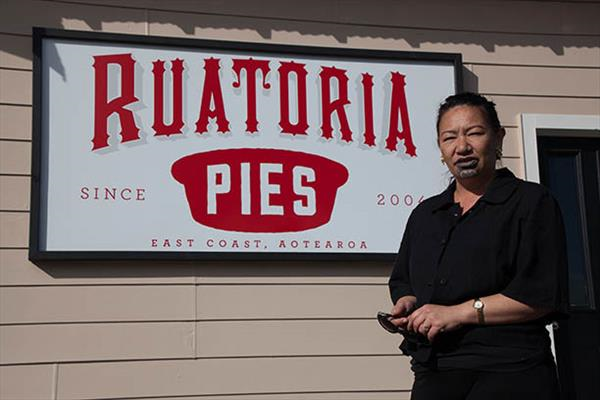 Buying an established business

Building and growing a business
Expanding, diversifying, innovating
Building and growing exporting
Strategic changes to your business
Business fundamentals
Protecting your Business Value
Gaining nationally recognised business qualifications
Other business support services available to Māori businesses
Te Puni Kōkiri works in partnership with other agencies that provide business support services specifically for Māori businesses or for any business. Te Puni Kōkiri can assist Māori businesses to access these business support services or you can approach them directly. Eligibility criteria can be found on the websites for each of the services listed under the headings below.
Capability development
Provides advisory support and investment for business investigation, business training and business growth.
Provide land management services and training programmes for Māori land trustees (eg, financial skills for Māori land trustees).
Nationally available advisory and referral service for capability development in business growth. Vouchers are available for training and services following assessment by a Regional Business Partner.
Exporting
Advisory service, guides, templates, tools, workshops for businesses that are starting, building or focusing on exporting.
Provides access to a range of products that help exporters mitigate repayment risk, secure export sales and access trade finance. An application fee applies.
Finance
Provides access to low-interest loans and a Timebank programme, which facilitates the exchange of skills, knowledge and time without money changing hands.
Provides access to finance for clients business start up costs.
Provides a short-term wage subsidy to businesses wanting to hire a WINZ-nominated candidate for a role.
Innovation
Access to expertise, services, facilities and funds in the fields of innovation (including a Māori Innovation Hub), technology and product development, research and development.
Funds for the development of skilled individuals and organisations in research and innovation through two schemes:
Placement: builds research capability to benefit the Māori organisation hosting the placement and the research organisation or individual
Connect: builds skills, networks and capacity of Māori organisations or individual researchers
The fund invests in initiatives that develop capability and contribute to achieving the goals and priorities in He Kai Kei Aku Ringa and the Business Growth Agenda for Māori collectives or coalitions of collectives through two schemes:
Commercial Advisor: professional business advice and mentoring to identify opportunities, begin new ventures or grow existing businesses and asset bases
Governance & Management Development Scheme: training in governance, management, strategic planning and other business skills
Tourism
Provides advisory services and general business information targeted to Māori tourism businesses.
There are a range of support services for initiatives in the primary sector. These are listed under the Whenua Māori Fund.
Māori business networks, and professional and industry associations
Active Māori business networks are listed below. If your local Māori business network is not included in the list, please contact your local Business Growth Advisor and provide details so the list can be updated.
Tāmaki Makaurau
Whāriki Māori Business Network

Waikato-Waiariki
Hamilton
Te Humeka
Tauranga
Tauranga Māori Business Network

Te Tai Hauāuru
Whanganui
Te Manu Atatu Incorporated
Kapiti & Horowhenua
Te Rōpū Pakihi
Wellington
Te Awe

Te Waipounamu
Otago/Southland
Te Kupeka Umaka Māori ki Araiteuru (KUMA)

The professional and industry associations listed below also provide formal and informal support for members.
Our Māori Business Growth Strategy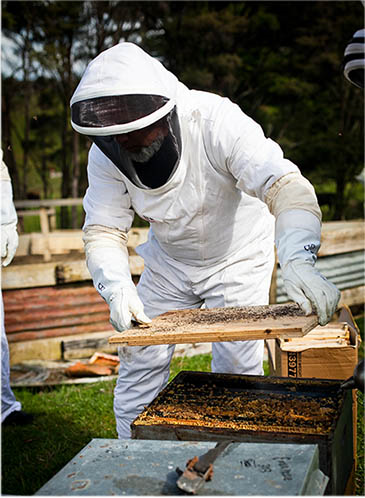 Te Puni Kōkiri will invest in developing your capability and capacity to strengthen and grow your business. This is done through support from our regional offices and through investment to address identified business needs.
Our three strategic priorities for 2017 – 2020:
Priority 1: Improve the core business capability among Māori
Priority 2: Improve the connectedness of Māori businesses
Priority 3: Increase the number of sustainable, and growing, Māori businesses

Te Puni Kōkiri does not invest in your business by providing capital or operating funds, but we can help identify potential services and provide guidance to help you develop a comprehensive application for investment.



He kai kei aku ringa
Te Puni Kōkiri support for Māori business growth helps to achieve the Whai Pakihi goals of He kai kei aku ringa - the Crown-Māori Economic Growth Partnership and strategy.
He kai kei aku ringa has five goals ('E rere'):
Employment – Whai Mahi - growing the future Māori workforce
Rangatahi – supporting Māori youth to define and lead their economic aspirations
Enterprise – Whai Pakihi - growing Māori enterprises - see He Tautoko I ngā Pakihi Māori : Support for Māori Business brochure
Regions – Rohe Tū Pakari - increasing Māori participation in regional economies
Education – Whai Matauranga - upskilling the Māori workforce
Visit E rere if you would like more information on He kai kei aku ringa and the five goals.
Getting in touch
Contact your regional Business Growth Advisor at the emails below:
To phone or visit a regional office click here.
Stories
Events and Updates
Latest events and updates for this section are listed below.
Te Hekenga III

Date: 14 February 2018 to 16 February 2018
Time: 14th Feb 5pm; 15 & 16 Feb: 8.30am – 14th Feb 8pm; 15 & 16 Feb 5pm

National Maori Business Networks Conference bringing together network members; Maori businesses and expert advisers. Targeting new or intending businesses to share experiences and build network contacts of like minded people.

Registration required
Organiser: Mana Taiao Events Limited in association with Tauranga Maori Business Association

Conservation Board Vacancies 2018

Date: 21 December 2017 to 02 February 2018

The Minister of Conservation is responsible for appointing members to Conservation Boards across Aotearoa New Zealand and is seeking nominations for membership.

Open to the public, no booking required
Organiser: Department of Conservation

MWDI Business Conference & Awards

Hine Mareikura is the MWDI Conference for Māori Business Women and their whānau.

Registration required
Organiser: Māori Women's Development Inc

Tūhonohono i ngā taonga ā-iwi

Date: 23 November 2017 to 24 November 2017

Tūhonohono i ngā taonga ā-iwi explores preservation of iwi cultural heritage and development of iwi cultural centres. Kaitiaki of taonga and those who have a general interest are welcome

Registration required
Organiser: Museum of New Zealand Te Papa Tongarewa

Rangatahi taking on big business

Māori secondary school students have shown off their flair for entrepreneurship in a series of successful workshops that have recently wrapped up.