This page has updated information on COVID-19 and the vaccine rollout, including information of particular interest to whānau and Māori communities.
COVID-19 update
Tāmaki Makaurau is at Alert Level 3.
Temporary Alert Level 3 restrictions apply to Upper Hauraki. The situation in Upper Hauraki will be reviewed daily.
The rest of Aotearoa remains at Alert Level 2.
The next Cabinet Alert Level review is on the 4th of October.
To ensure everyone stays safe, make sure you follow the Alert Level rules. For details on all Alert Level requirements, go to www.covid19.govt.nz.
Alert Level 2 has new limits on how many people can be in retail, supermarkets, bars and restaurants. Wear a mask and scan wherever you go whānau.
Alert Level guidelines for tangihanga are available on the Ministry of Health website.
For guidance on protecting yourself and your whānau from COVID-19 misinformation and scams, please visit the Unite Against COVID website.
For COVID-19 vaccine updates for tangata whaikaha and whānau, disabled people and their carers go to Taikura.
Māori whānau can contact their nearest Māori health provider to see what health and social services they provide. Hauora are also a trusted source of information on the vaccine and vaccine rollout.
COVID-19 2021 Whānau Recovery Fund
The Government has reprioritised up to $5 million to provide immediate relief to vulnerable whānau Māori and communities during the current COVID-19 outbreak focussing on Tāmaki Makaurau, Te Tai Tokerau and Northern Waikato, please contact the appropriate regional office for more information including how to apply.
Vaccine rollout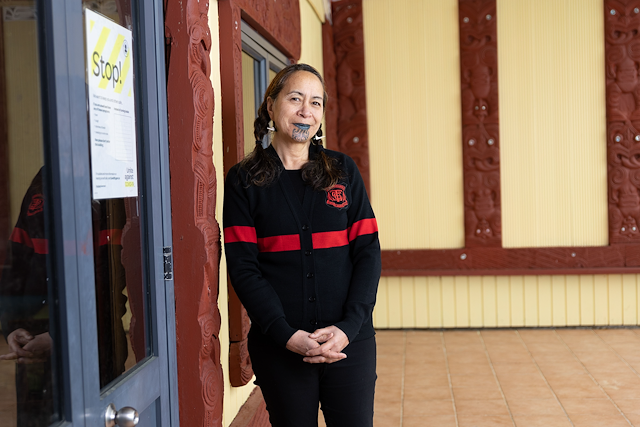 Everyone aged 12 and over is now eligible for a COVID-19 vaccine.
To make an individual booking, head to the Book My Vaccine website.
To make a whānau booking, call the COVID-19 Vaccination Healthline on 0800 28 29 26.
The Karawhiua website has a wealth of information about the Covid-19 vaccine for whānau and Māori communities. You can also find your nearest vaccination clinic on the website by using the mapping tool. 
If you're a Māori health provider, Iwi or Māori organisation you may also want to use the Karawhiua brand or resources to support your own communications. Find out how on the Karawhiua.nz website.
Protecting our pēpi and tamariki with their childhood immunisations is still important during all alert levels. It's free. Talk to your family doctor, nurse or contact a Māori health provider to find out more.
What's happening around the motu
This is a snapshot of what's happening around the motu. Please continue to register vaccine clinics with Healthline so they are available to everyone. 
We welcome timely, essential information for Māori. Email comms@tpk.govt.nz if you have upcoming services you want made public.
North Island - Te Ika a Maui
South Island - Te Wai Pounamu
Te Kotahi o Te Tauihu Charitable Trust is a collaboration of the eight iwi of Te Tauihu (top of the South). They're working to ensure as many Māori as possible receive the vaccine, check them out today.
Support for Māori Businesses
The Government is providing businesses with help in a range of ways. 
Support from Whānau Ora agencies
Whānau can access Whānau Ora services, such as food and essential services, during COVID-19 at the following commissioning agencies.
Each commissioning agency works with local partners, providers and navigators to deliver a coordinated service based around the needs and aspirations of your whānau.
Emergency support, housing & food
If you are in need of housing support, information is available on the Work and Income website.
The COVID-19 financial support tool on the Unite against COVID-19 website will tell you what financial help and support may be available to you, and where you can apply or find more information.
For information on accessing kai, please see the guidance on the Unite against COVID-19 website. This page provides information on accessing kai if you are sick or self-isolating, staying safe when getting food delivered, financial support to buy food, food banks, and the rules around fishing and whitebaiting.
If you need support for food costs get in touch with Work and Income (0800 559 009). 
Looking after your mental wellbeing
It is important to take care of all aspects of your hauora, and that of your whānau and friends. There are tips to help look after your mental wellbeing available on the Unite against COVID-19 website. If you are struggling and need to speak to a health professional, there are a number of helplines available that offer support and information. All services are available 24 hours a day, 7 days a week.
Schooling
Information for whānau Māori with children in the education system, and information about COVID-19 changes to education, can be found in the Ministry of Education's Kia Manawaroa pānui. 
There are some great resources available to help tamariki stay engaged in learning through Alert Level 4 and Alert Level 3:
As well as some advice to parents on how best to support them:
He kupu āwhina i ngā marae | Guidance for marae
This guide is designed to tautoko whānau, hapū and iwi in managing the COVID-19 safety of manuhiri and tangata whenua at the marae.
It provides an excellent summary of the different public health measures that are recommended for marae at different alert levels. This can help whether your role at the marae is front of the house as a speaker or caller (te amorangi ki mua) or at the back as cook or ringawera (te hāpai ō ki muri).
See the guidance on the COVID19 website, or you can download a handbook here.
Funding for iwi representative groups
Te Arawhiti is offering funding to iwi to support their COVID-19 response. Funding is intended for communications outreach, supporting vaccine uptake and response planning.
Before you submit a funding proposal using the application form read the guidance on making an application.