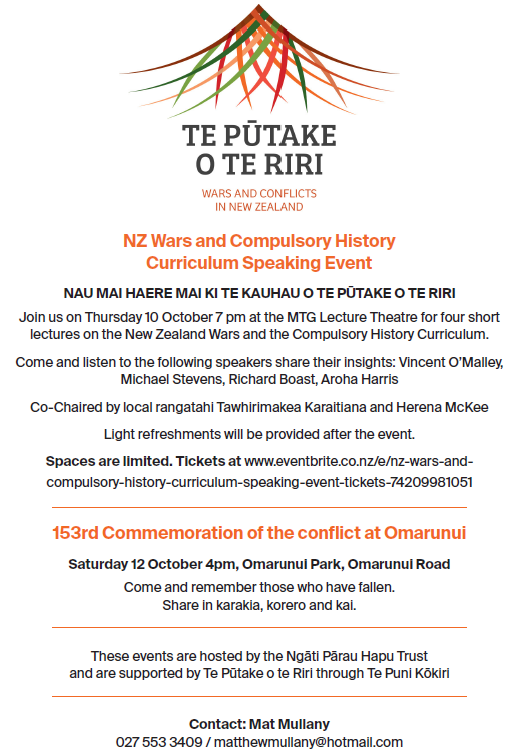 NAU MAI HAERE MAI KI TE KAUHAU O TE PŪTAKE O TE RIRI Join us on Thursday 10 October 7pm at the MTG Lecture Theatre
Description
NAU MAI HAERE MAI KI TE KAUHAU O TE PŪTAKE O TE RIRI Join us on Thursday 10 October 7pm at the MTG Lecture Theatre for four short lectures on the New Zealand Wars and the Compulsory History Curriculum. Come and listen to the following speakers share their insights: Vincent O'Malley, Michael Stevens, Richard Boast, Aroha Harris. Co-Chaired by local rangatahi Tawhirimakea Karaitiana and Herena McKee Light refreshments will be provided after the event.
This event is organised by Ngāti Pārau Hapū Trust and is sponsored by Te Puni Kōkiri.
Venue
MTG Lecture Theatre
65 Marine Parade, Napier 4110
Napie
Booking details
To book contact:
Contacts
To get in touch with the event organiser:
---
Disclaimer: Whilst best endeavours have been made to ensure the accuracy of this information it was submitted to Te Puni Kōkiri by the event organiser and they are responsible for its accuracy.