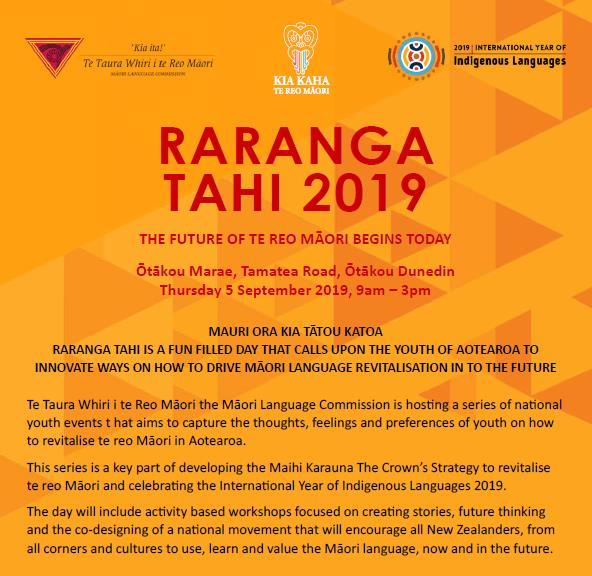 Raranga Tahi is a fun filled day that calls upon the youth of Aotearoa to innovate ways on how to drive Māori language revitalisation in to the future.
Description
Te Taura Whiri i te Reo Māori the Māori Language Commission is hosting a series of national youth events t hat aims to capture the thoughts, feelings and preferences of youth on how to revitalise te reo Māori in Aotearoa.
This series is a key part of developing the Maihi Karauna The Crown's Strategy to revitalise te reo Māori and celebrating the International Year of Indigenous Languages 2019.
The day will include activity based workshops focused on creating stories, future thinking and the co-designing of a national movement that will encourage all New Zealanders, from all corners and cultures to use, learn and value the Māori language, now and in the future.
This event is organised by Te Taura Whiri i te reo Māori.
Venue
Ōtākou Marae
Tamatea Road
Dunedin
Booking details
To book contact:
Contacts
To get in touch with the event organiser:
---
Disclaimer: Whilst best endeavours have been made to ensure the accuracy of this information it was submitted to Te Puni Kōkiri by the event organiser and they are responsible for its accuracy.