Our second video to illustrate how Māori businesses are succeeding through our Progressive Procurement Capability Uplift Programme is gaining excellent social media reach.
Published: Monday, 13 June 2022 | Rāhina, 13 Pipiri, 2022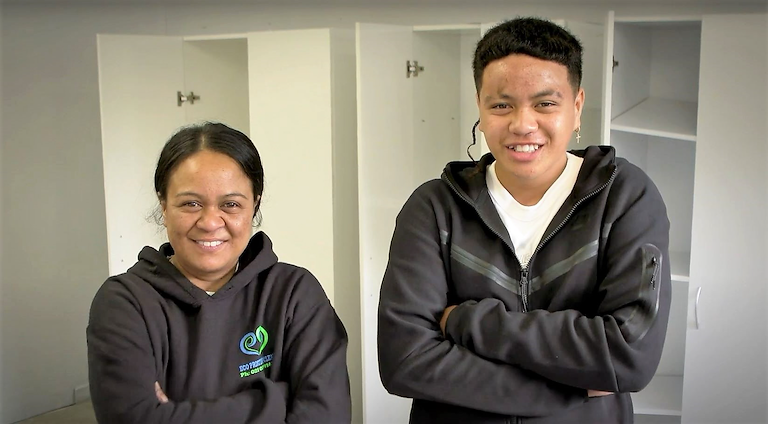 The story highlights how the Progressive Procurement kaupapa Te Puni Kōkiri leads with Ministry of Business, Innovation and Employment is helping Māori business grow their skills and have the tools they need to participate in government procurement opportunities.
It shows the journey of three Māori businesses in Auckland that have been part of the programme – Mahi Tahi Media, Evolution Scaffolding and Eco Pristine Clean.
"The tendering process for small businesses in general is pretty tough and it requires a lot of infrastructure and support just to respond to the opportunity. We felt an obligation to support our Māori whānau," says Height CEO Warner Cowin who has been providing capability uplift support to the businesses.
Mahi Tahi Media created the second video in the series and were also part of the Capability Uplift Programme.
"There were so many insightful lessons, tools, resources and just ways of thinking that helped us with our day-to-day business," Mahi Tahi owner Te Arahi Maipi said of being involved.
Evolution Scaffolding owner Wiremu says he wanted his company to have an identity that evolved around Māori and Height helped his business create a storyline of who they were.
"We tried to apply some tikanga and whakapapa into the quote as well. We've actually been able to use that as part of our tendering process for two projects," he said.
The Progressive Procurement initiative received a further $26 million investment over the next two years through Budget 2022. This enables a scale up of the action underway since 2020 to build Māori business capability and shift government agency buying practices to be more inclusive.
You can watch the full video and learn more on our website. Social media feedback has been positive with almost 16,000 people watching the video since it launched on Facebook. Another 2,000 people have seen it on LinkedIn and Instagram.
-Ends-
Photo caption: Eco Pristine Clean owner Aroha Nepia (pictured with her son) has been grateful for the programme's support. She worked as a cleaner for 15 years without a pay rise before starting her own business.