Summary Sheet of the Māori and Out of School Services' Research Report
Methodology
<p>Te Puni Kōkiri commissioned qualitative research to inform the future review of out of school services. These services are a key component of ensuring that families have better access to quality, affordable and age appropriate out of school services for their school age children.</p> <p>The purpose of the research was to find out how the out of school service sector is working for Māori. The research explored what is important to Māori in accessing out of school services for their children; and the choices that they have available to them when doing so. Opportunities, challenges and improvements were also considered necessary to meet and continue to meet Māori needs and priorities for this sector. </p> <p>The research focused on Māori with caring responsibilities for children who: </p> <ul> <li>Are between the ages of five and 13 years</li> <li>Attend out of school services before and after school and/or during the school holidays</li> <li>Attend out of school services either through service providers who have OSCAR approved programmes, private service providers who run their own programmes or are cared by whānau members or others out of school</li> <li>Live in a range of locations which include rural, provincial towns, cities and urban areas.</li> </ul>
Children, parents, caregivers, service providers and whānau (both as caregivers and carers) participated in the research. Other participants included representatives from rūnanga who have an interest in out of school services in their rohe and people from organisations who are involved with whānau. These participants have an understanding of issues relating to the provision of out of school services to Māori in their areas.
They participated through 50 individual interviews, 13 focus groups and 17 survey forms, which ran from late June to mid-August 2008. The number of participants in the focus groups ranged from four to 10. Twenty one OSCAR 1-approved and 12 non-OSCAR funded service providers were interviewed either individually or as part of a focus group. Fifty eight parents and caregivers were interviewed either individually or as part of a focus group. Overall, a total number of 92 participants participated in the research.
The interviews were held in Christchurch, Wellington, Wanganui, Wairarapa, Napier, Hastings, Gisborne, Rotorua, Hamilton, Tauranga, Kawerau, Auckland and Northland. Within these areas, participants came from a mix of city, urban, provincial towns and rural locations.
Parent and caregiver participants in the research were representative of both single parent and two parent whānau. Many of these were also part of extended whānau who also participated in the interviews and focus groups.
Service providers interviewed included OSCAR-approved by Child, Youth and Family. They deliver OSCAR programmes and access OSCAR funding. Their parents and caregivers can apply for Work and Income subsides. Other service providers were non-OSCAR funded. They develop their own programmes and do not access these funding streams and or subsidies for parents and caregivers.
Whānau carers are also participants in the out of school services sector. These include grandparents and other whānau members, friends/neighbours who provide care for mokopuna during out of school services time.
1 OSCAR – Out of School Care And Recreation programmes are before school, after school and school holiday programmes, including camps, for children aged 5 to 14. www.oscar.org.nz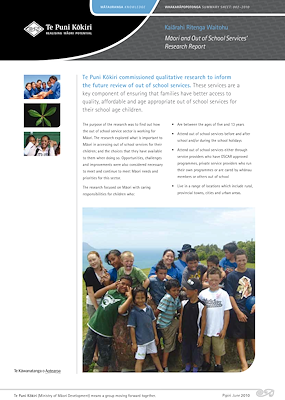 Table of contents
Summary Sheet of the Māori and Out of School Services' Research Report