Māori and the Out of School Services Sector
7. Out of School Services Sector - the Context for Māori
7.1. Overview
This section of the report highlights the context and backdrop of the out of school services sector from the perspective of parents and caregivers, service providers and whānau carers. It lays the foundation for a better understanding of the key drivers of parents and caregivers and what they look for in out of school services. And it presents an insight into the responsiveness of service providers and whānau carers to these drivers.
7.2 Context for Parents and Caregivers
Parents, caregivers and whānau have their own set of circumstances which are unique to them. They also share some common features and similarities with others. It is these sets of circumstances that impact on what parents and caregivers identify as their needs and priorities for their children's out of school services.
7.2.1 Whānau diversity
Parents and caregivers come from diverse backgrounds and describe themselves as:
Brought up within a Māori environment and are generally connected into their wider whānau and their marae. They practice their tikanga and they are likely to kōrero Māori at home. These parents and caregivers live in all areas covered by the research, many outside their rohe
Not brought up in a Māori environment. They maintain links with their whānau, practice their tikanga and they may or they may not kōrero Māori. These parents and caregivers live in all areas covered by the research, many outside their rohe.
7.2.2 Working arrangements
Parents and caregivers have a wide range of working situations. It makes a difference if they live and work in the same area; it becomes increasingly more difficult if they do not. Even within a city, where they live can pose problems, for example, in terms of transport.
In this research:
There are parents who work what they describe as regular hours. They work during the day and start and finish generally at the same time each day
There are those who do shift work in timber mills and meat works etc. These parents and caregivers may not necessarily know the shifts they are rostered on too far in advance of when they work them. There are also parents and caregivers from the same household, who are both shift workers at the same workplace and face the prospect of being rostered on the same shift
There are those who start work early and/ or finish late, outside the hours of service providers
There are seasonal workers who do not necessarily know whether they will work on any given day. Their work is generally weather dependent and they may need to travel some distance to and from work. Even when they get there, there is no guarantee that they will 'picked up' for work on that day
There are parents and caregivers who commute significant distances to and from work, such as those who live in the Wairarapa and commute daily to Wellington.
7.2.3 Access to partner and whānau support
Parents and caregivers in this research are a mix of single parents and two parent whānau. The availability and proximity of partner and whānau support also has an impact on out of school services for their children. For example, a two-parent whānau is more able to juggle care arrangements between them than a single parent. Many single parents described their arrangements as 'struggling and juggling' with reliance on whānau support, if available.
7.2.4 Income
Parents and caregivers have diverse incomes. They did not indicate their income levels but describe themselves as:
Being comfortable and receiving 'good' incomes
Being on the borderline and having to watch every dollar
With minimal incomes and struggling financially on a day to day basis.
7.3 Context for Whānau Carers
Whānau members (usually grandparents) also care for their mokopuna during out of school time. They have a huge impact on the ability of parents and caregivers to work. They often step in when out of school services are not available or accessible. Whānau alleviate parents and caregivers concerns about their children and go to great lengths to provide care. Where grandparents live in another area, their mokopuna may also regularly stay with them during the school holidays.
These carers do not provide structured programmes as such and typically provide an extension of the care given by parents and caregivers. They do not have set hours and they enable parents and caregivers to have more flexibility with their work arrangements at all times.
Our daughter starts work very early. So we give our mokopuna their breakfast and take them to school and are there waiting when they finish. Sometimes it's easier for them to sleep at our home so that they are not having to be out too early when it's dark and cold.

Whānau carer, Wairarapa
...we send the kids to grandparents every holiday because we didn't have any other option and then save our annual leave for the end of the year…

Parent, Auckland
7.4 Context for Service Providers
As there is diversity with parents and caregivers, this research highlights that diversity is also a core feature of the service providers who provide out of school services to Māori. Of the 33 service providers that participated in this research, 21 are OSCAR-approved. 12 are non-OSCAR funded and operate independently with their own programmes.
Figure 3 – Description of service providers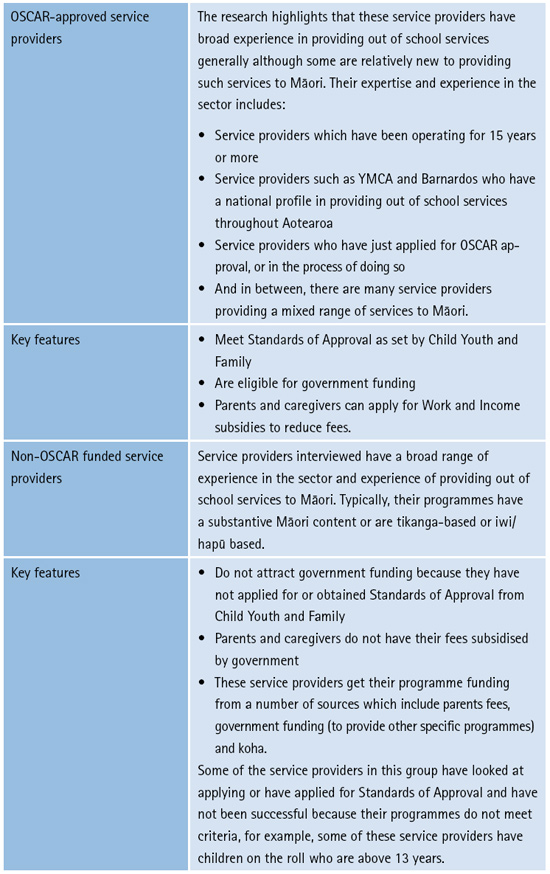 OSCAR-approved service providers
The research highlights that these service providers have broad experience in providing out of school services generally although some are relatively new to providing such services to Māori. Their expertise and experience in the sector includes: • Service providers which have been operating for 15 years or more • Service providers such as YMCA and Barnardos who have a national profile in providing out of school services throughout Aotearoa • Service providers who have just applied for OSCAR ap-proval, or in the process of doing so • And in between, there are many service providers providing a mixed range of services to Māori.
Key features
Meet Standards of Approval as set by Child Youth and Family
Are eligible for government funding
Parents and caregivers can apply for Work and Income subsidies to reduce fees.
Non-OSCAR funded service providers
Service providers interviewed have a broad range of experience in the sector and experience of providing out of school services to Māori. Typically, their programmes have a substantive Māori content or are tikanga-based or iwi/ hapū based.
Key features
Do not attract government funding because they have not applied for or obtained Standards of Approval from Child Youth and Family
Parents and caregivers do not have their fees subsidised by government
These service providers get their programme funding from a number of sources which include parents fees, government funding (to provide other specific programmes) and koha. Some of the service providers in this group have looked at applying or have applied for Standards of Approval and have not been successful because their programmes do not meet criteria, for example, some of these service providers have children on the roll who are above 13 years.
7.4.1 Different approaches to programme design and delivery to Māori
Within these two groups (Oscar-approved and non-Oscar funded), service providers can also be characterised according to the approach they take in designing and delivering their programmes to Māori.
7.4.1.1 Holistic approach
The research highlights that there are service providers who deliver their out of school services programmes to Māori as a component of a wider holistic programme. These services may be just one part of a package of services delivered to the child and whānau through the service provider. Service providers in these instances include community centres, church groups, Māori organisations or Māori social service organisations. They have a strong Māori content in their programmes or run tikanga-based programmes. The research also indicates that most of the service providers who adopt a holistic approach in the research describe themselves as Māori service providers. And they are a mix of OSCAR-approved and non-OSCAR funded service providers.
One example is the Merrivale Community Centre in Tauranga. It has a strong focus on whānau growth and wellbeing and sees it's out of school services as a key contributor to this outcome. It is able to access the whānau through it's out of school services and to deliver programmes and projects which meet its communities needs. These include budget advice, alcohol and drug services and counselling services.
There are other examples in South Auckland and Lower Hutt where out of school services are provided for children at risk. These Māori service providers are part of large social service organisations that also provide a range of other services, such as budgeting, life skills and health services to the whānau.
7.4.1.2 Single-focus approach
There are also service providers (the majority in this research) who provide only out of school services. Generally, they describe themselves as mainstream service providers and some call themselves Māori providers. While their services are accessed by a high proportion of Māori, some service providers are hesitant to describe themselves as Māori providers because they also have many non-Māori children on their rolls..
These service providers are a mix of OSCAR-approved and non-OSCAR funded service providers.
The research highlights that basic tikanga Māori is a core feature of many of the programmes delivered by these service providers. For example, karakia around kai and at the start and end of the day and there are accepted practices around tables and pillows. A few words of te reo Māori may be spoken or written to describe familiar objects.
We try to do everything to do with Māori, like karakia every morning, waiata every morning and then like we go to a marae to do like poi making, haka and taiaha displays and stuff. We try and provide what our parents and our kids want.

Service Provider, Rotorua
Where service providers are located within or near to Māori communities, there are more Māori on the rolls. These service providers are more likely to have Māori staff and the programmes are likely to have more Māori content:
Where our children learn they have an area which we call whāriki where they learn their karakia, their waiata, their mihimihi, each of our children are able to stand up and say where they're from, who they are, their maunga, awa, marae and associate themselves to their different hapū and iwi. They also learn tikanga, tikanga surrounding kaupapa Māori. As well as arts and crafts, we have weavers amongst our parents, carvers, kaiako, taiaha, Māori musical instruments. Parents come in and help out with that side of things.

Service Provider, Hastings
7.4.2 A snapshot
The following diagram provides an overview of the out of school services and care discussed in this section of the report. It presents the mix of services and care that are accessed by Māori, the standards that are applied by service providers and whānau carers, their approaches to the delivery of their services and the types of programmes offered with a focus on Māori content.
Figure 4 – Summary of the Out of School Services sector –service providers and whānau carers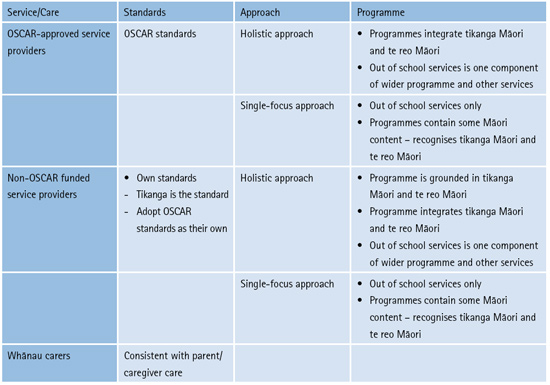 Service/Care
Standards
Approach
Programme
OSCAR-approved service providers
OSCAR standards
Holistic approach

Programmes integrate tikanga Māori and te reo Māori
Out of school services is one component of wider programme and other services

Single-focus approach

Out of school services only
Programmes contain some Māori content – recognises tikanga Māori and te reo Māori

Non-OSCAR funded service providers
Own standards

Tikanga is the standard
Adopt OSCAR standards as their own

Holistic approach

Programme is grounded in tikanga Māori and te reo Māori
Programme integrates tikanga Māori and te reo Māori
Out of school services is one component of wider programme and other services

Single-focus approach

Out of school services only
Programmes contain some Māori content – recognises tikanga Māori and te reo Māori

Whānau carers
Consistent with parent/ caregiver care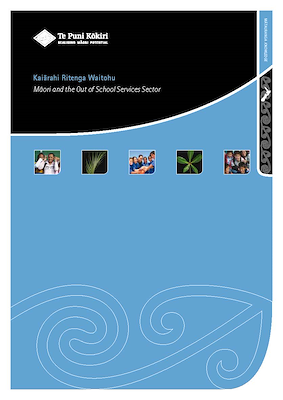 Table of contents
Māori and the Out of School Services Sector