Māori and the Out of School Services Sector
9. OSCAR Services and Programmes
9.1 Overview
Most of the service providers interviewed in this research are OSCAR-approved. They have their programmes approved by Child Youth and Family and operate as part of the broad out of school services sector for Māori. Within the OSCAR framework, these service providers adopt a mix of holistic and singular approaches to their services. They deliver programmes which have integrated Māori content as well as those which recognise te reo Māori and tikanga Māori. OSCAR-approved service providers describe themselves either as Māori service providers or mainstream service providers.
The majority of parents and caregivers in this research send their children to OSCAR-approved service providers throughout the country. When they are looking for out of school services, the research indicates that parents and caregivers do not make their decisions solely based on whether service providers are OSCAR-approved. Their focus is on finding an out of school service that has a safe environment and which meets their core needs and priorities. In the end, however, as a result of their enquiries, they may well access an OSCAR approved service provider.
9.2 Becoming OSCAR Approved
Service providers say that becoming OSCAR-approved for them, means that:
Parents and caregivers know that they have safety standards and procedures in place that work to keep their children safe
Parents and caregivers can apply for Work and Income subsidies to reduce fees. Many service providers say that they became OSCAR-approved so that their parents and caregivers could apply for/access Work and Income subsidies
They are assessed every two years to ensure that they continue to comply with and update their standards and procedures. Parents and caregivers know that these procedures are current and that they continue to be improved
They can access the OSCAR support system for training staff. The support also includes advice and information from OSCAR advisers
There is a national network of service providers who is connected into the OSCAR framework which provide opportunities to collaborate and share information especially within the regions.
Generally, service providers indicate that the requirements for obtaining OSCAR approval are clear. They have mixed responses to the processes they go through and the time and work needed to prepare their policies and procedures to get the approval. It also makes a difference, they say, to the have OSCAR advisors who can assist them with this process:
For those experienced in the Child, Youth and Family approval process (such as setting up further sites), they found the processes relatively straight forward. These service providers say that already having knowledge and experience means that they are able to present better applications without the need, generally, to supply further information
For those with less/no experience in the approval process (such as applying for the first time), the processes can be a challenge. Many service providers indicate that they have successfully worked through the application process and that it was especially important that they took their time to fully consider the content of their policies and procedures
One service provider said that it took her two years (working in the evenings) to prepare her policies and procedures from scratch. Other service providers tap into their networks and get help from those who have experience in the process and who are already approved
For others, the process has been a barrier. Māori service providers in Hastings, Northland, and West Auckland indicated that the process was too long and the paperwork became too arduous so they withdrew from the process. They continue to operate as non-OSCAR funded service providers
Three Māori service providers completed the process but were declined approval because they did not meet OSCAR criteria. In all cases they had children who are 13+ accessing their services.
9.3 Key Considerations Going Forward
Throughout the research both parents and caregivers and service providers have put forward their views about OSCAR. These have been noted throughout this report and are consolidated in this section. In making comments participants suggest how OSCAR services can be improved so that it can meet the needs and priorities of Māori.
9.3.1 Māori content, whānau environment
In this research, there are more OSCAR-approved providers than non-OSCAR funded providers delivering out of school services to Māori. This presents a challenge for OSCAR-approved service providers to continue to meet the expectations of parents and caregivers and provide a whānau environment and programmes with Māori content. Alongside these expectations, parents and caregivers want these service providers to have a good understanding of te ao Māori so that they can confidently develop and deliver these programmes.
The research suggests that a core aspect of training for OSCAR-approved service providers and their staff is to build and increase their understanding and awareness of these matters and identify how these can be appropriately reflected into their programmes and their delivery.
9.3.2 Extending the range of those eligible for Work and Income subsidies
Research participants consider that the focus of the Work and Income subsidies should be on access to out of school service and needs of the child rather than the financial circumstances of the parent(s). They suggest that Work and Income subsidies are available to all parents; who stay at home and look after their children, who receive the Domestic Purposes Benefit and who exceed the Work and Income income threshold for subsidies. They also consider that non-OSCAR funded service providers and whānau carers should get funding to the same extent as OSCAR-approved providers.
9.3.3 Extending the criteria to 13+
The age range for out of school services run by OSCAR-approved service providers is five to 13 years. Work and Income subsidies recipients are no longer eligible once their children are 13 years+.
All research participants suggest that these subsidies should continue for children in this age range. Their main concern is that they want children to continue to have access to supervised programmes (which are age appropriate) to keep them safe, stimulated and occupied out of school hours.
Children over 13 years old are also a barrier for some service providers. They say that in small Māori communities, it makes sense to include the older children – they support the younger children through tuakana/teina relationships and also reflect the role of the whānau within these services.
Some service providers do have older children in their programmes. This has meant that they have been ineligible to apply for/obtain OSCAR approval and access OSCAR funds and Work and Income subsidies for parents and caregivers.
9.3.4 Work and Income subsidies
Parents and caregivers recognise that an advantage of accessing an OSCAR-approved service provider is that they can apply for the Work and Income subsidies to reduce their fees. There are some parents and caregivers who get the subsidies but who still have difficulty in affording fees, because their incomes are low and there are competing demands or higher priorities for their income.
There are some parents and caregivers who do not qualify for Work and Income subsidies who say that the income level threshold is too low (and they earn above the threshold) and they also have difficulty in affording fees.
Seasonal workers face difficulties with their Work and Income subsidies. Because they work irregular hours the amount they earn may fluctuate so they have to provide their pay slips to Work and Income every week. Workers in this situation say their income levels may rise and fall and as a result they may not always qualify for the subsidies. In rural areas, such as Raetihi, Work and Income does not operate a full-time office in the area, so there can be time delays between processing applications and service providers receiving the subsidy.
9.3.5 Access to information including OSCAR information
Parents and caregivers want to have all information on all relevant websites to be clear and transparent. While information is there, some struggled to navigate their way around the Work and Income website in particular to find out key information about fees and subsidies. One example relates to finding out about fees for special needs children. They also want staff on 0800 numbers to provide correct information consistent with that on the websites.
Knowing about OSCAR-approved service providers, their safety standards and potential access to Work and Income subsidies can be an influencing factor for parents and caregivers. Parents and caregivers who had this information indicate that this did help their decision making about after school services for their children.
There are many parents and caregivers in this research who at the time of seeking, were unaware of OSCAR-approved service providers and what this may mean for them. For some of these parents and caregivers, having this information they say would have made a difference, particularly in relation to the Work and Income subsidies.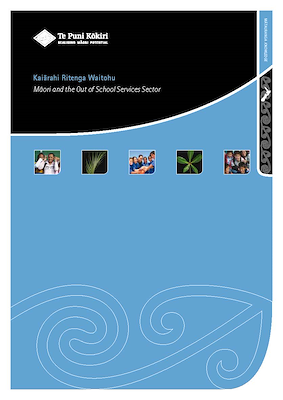 Table of contents
Māori and the Out of School Services Sector