Māori designed, developed and delivered initiatives to reduce Māori offending and re-offending
Consultancy Advocacy & Research Trust (CART)
PRESENTED BY DENIS O'REILLY, ROY DUNN, EDGE TE WHAITI, LAURENCE O'REILLY.
The Need
The work involves initiatives aimed at the Hard to Reach communities – including youth gangs in South Auckland, mediation efforts in Murupara and elsewhere, leadership development with gang whānau, and the effort to overcome methamphetamine addiction, led by the Notorious Chapter of the Mongrel Mob.
CART also works in Wellington on He Taumata Toa ('Growing Champions') project, the Achievement Gym and the CART Whānau Ora programme. It has also been involved in mediation work with the FBI (Full Blooded Islanders) & Darksider groups.
The term 'The Tribe of Ngā Mōkai' describes the lost and lonely, the addicted, the alienated, the brothers and sisters in jail and in mental institutions, and young people in the gangs. It is a phrase that arose from the last wave of the rural to urban migration in the late 1960s and 1970s. Just as seen in the demographic profile of jails, Ngā Mōkai are disproportionately Māori.
Ngā Mōkai are effectively 'tribeless' and these groupings and congregations, 'gangs', are a substitution for whānau, for hapū, and for iwi.
Māori middle class and many Māori leaders have become embarrassed by the behaviour of Ngā Mōkai and want to disown them, deny them entry to marae and exclude them from access to help and assistance. This is also the prevailing view of the majority of the current government's Ministers, just as it was with the last
By the 1990s the Government's formal engagement with Ngā Mōkai had ceased. Access to assistance was denied and a policy of suppression was implemented through the criminal justice system. It has culminated in the recently introduced 'three strikes' legislation, reversal of the presumption of innocence, introduction of differential penalties for group membership and denial of access to services such as State housing.
The tribe of Ngā Mōkai are excluded from the rights and benefits of citizenship.
The Approach
Noted Māori academic Professor Ranginui Walker wrote some thirty years back about a gang convention hosted at Waiohiki Marae in the Hawke's Bay. He said "by inviting them to the marae, responsible Māori leaders were fulfilling a social obligation by integrating these alienated Māori youths into conventional society."
The common denominators in these projects is that both CART and Te Ara Tika start with a process that consults with the target community, assumes potential, and applies Māori models and concepts to move forward.
In early 2008, there were a series of 'tit-for-tat' incidents of violence between groups of youth in the south eastern suburbs of Wellington. One group was associated with the Full Blooded Islanders (FBI) and the other with the Darksiders, who were loosely affiliated with Black Power. One incident in particular brought the groups to the verge of what might be called youth gang warfare. With facilitation by CART and working in tandem with the Police (particularly the Iwi Liaison Officer), local government, health and social agencies, we were able to establish dialogue between the groups and enable mediation.
To some degree CART was already engaged with the Darksiders but the FBI were a less well known community to CART. The project commenced with CART facilitators meeting with senior members of the FBI group. These leaders concluded that the core problem was, in their own words, "the deceptive trend and input of Afro-American culture, hip hop and gangsta lifestyles". The desired response was to counter these negative influences by responding 'with positivism and potential'.
Their aspirations were for an enhanced relationship with the community and authorities; the elimination of actual and potential offending by group members; all youth members to be in recognised education, work experience or employment programmes; the establishment of an effective network dedicated to the wellbeing and focus of the family; and the promotion of a healthier lifestyle.
The original trigger for intervention was a request from the Police to help resolve a worrying spate of violence and street crime involving the young people of this community.
CART's existing relationship with this cluster of Ngā Mōkai laid a platform for the intervention. Initially the work was undertaken with the rangatahi causing concern. CART used Consensus Cardsort technique to consult with the young people. The rangatahi told them that they wanted jobs, to have fun, and wanted to be able to do things together.
The Results
With the help of the Police Pou Takawaenga, a building was secured and the Green Gloves boxing gym established. The biggest achievement was that inter-group violence stopped. There was still enmity between individuals within the respective groups but mitigation measures were put in place to deal with trouble and minimise harm.
Work with the Darksiders and rangatahi in Wellington South, who were identified by Police as getting into trouble, led to the establishment of courses related to work in the construction industry.
A labour hire company called Wellington Workforce and a roofing company called Prolong Roofing were established to provide real work opportunities. A programme, Hip Hop 101, was established to engage the youth.
Sports teams were started. A kick boxing class was initiated. Kai o te Ata, a breakfast programme where the youth made sure that they and their younger siblings had a morning meal regardless of where their parents were, was introduced. The consequence was an increase in physical activity and involvement in sport for individuals and whānau. It became cool amongst the rangatahi to be active and involved in sport.
Drug and alcohol consumption among the rangatahi decreased. Crime and nuisance incidents decreased. Employment among the rangatahi increased. Enrolling in educational courses increased. Physical activity and good nutrition among whānau improved. Community events increased.
Interaction and integration into the wider community increased. The ethos was to be non-judgmental, that these whānau were full of 'promise' -that is, positive potential, and that all CART had to do was to release that potential and remove barriers so it can flow.
Again, Consensus Cardsort was used as a consultation technique, this time in the form of Whānau Future Narrative, whereby the whānau members were asked to spell out their desired future.
Currently CART works with 70 hard to reach families, taking a holistic approach to achieving whānau ora including advocating and facilitating whānau to access health, social, legal and housing services.
To facilitate employment, CART has developed partnerships with employers such as Wellington Workforce, Downer EDI Works and Prolong Roofing. To facilitate whānau into housing, CART has developed a relationship with Housing NZ Corporation and Inner City Project.
A programme, He Taumata Toa – Growing Champions, was established and an 'achievement gym' targeting youth and adults from low income families, has been set up.
A programme, Ngā Mōkai Whakaata aiming to teach all Ngā Mōkai tamariki, between the age of 4 and 10, how to swim has been put in place. Three free holiday programmes per year for Ngā Mōkai tamariki aged between 5 and 12 were initiated.
The Hard to Reach Youth Project in South Auckland
The Need
Five years ago a very worrying situation developed in South Auckland with a large number of so-called 'colour gangs', clusters of youth who were mimicking North American urban street behaviours. Despite the fact that the Police had for some time established a gang suppression unit, there were eight youth gang related murders.
The Approach
Following a meeting between the leadership of Police and Te Puni Kōkiri, it was decided to try aMāori designed approach based on the efforts of a group of leaders drawn from the Mongrel Mob and Black Power.
With Te Ara Tika o Te Whānau Trust, a team headed by Roy Dunn set out to identify who the groups were and what it was that ailed them.
Using whakapapa as a conduit, Roy, Edge and their team established rapport and invited the youth to a series of marae-based hui.
As in the CART process, the process used by Edge and Roy started off with the provision of 'awhi'. This is a philosophy of non-judgmental and unconditional support. The situation required a period of stabilisation to resolve a dispute. With the situation stabilised, meaningful developmental engagement could occur with individuals, assisting them to work through a process for envisioning a better future. Roy describes this as 'Evaluation for Transformation'.
The first stage is what might be called "getting to know you." It is the process of relationship building, forging trust and getting past the defensive barriers, to create an honest and open dialogue. This then moves to an 'Individual Plan' for each person. The Individual Plan enables a journey of self discovery.
Using this taxonomy the individuals are encouraged to identify their own skills and strengths. This enables them to develop a sense of self-confidence and improved self-esteem. They are talked through situations that they encounter in life and offered alternative strategies to crime and violence. Sport and cultural activities are used to establish an awareness of and experience in interpersonal relationships and empathy.
The Results
It is a matter of record, attested to in independent and diverse evaluations, that this intervention was highly effective. The trouble stopped. This is not to suggest that the work of Roy and Edge's team was the only reason because there were a number of other significant contributions including the efforts of the Police and the contribution of the Ministry of Social Development who funded a comprehensive set of investments into youth work and youth workers.
The team persevered, finding small pockets of resource to get previously conflicting groups doing positive things together, playing competitive sport, going to Waitangi to learn about themselves as Māori and the Treaty as a taonga.
Since then Roy and Edge, working with other leaders such as Eugene Ryder, have run a number of initiatives. They took the sons of Mongrel Mob leaders and Black Power leaders on a horse trek deep into the Tūrangi bush. Senior policemen went with them and, away from the distractions of the city, this disparate group had to learn to work with and alongside each other.
This process, promoting pro-social leadership, has been repeated through a series of dive courses held at Matiu Island in Poneke and in Kaikoura. Again dads and sons of the two groups were brought together and put into situations where their very survival depended on mutual trust and co-operation. These programmes were run in wānanga format with a daily ritual of karakia, waiata and kapa haka. The young people (and their mātua) learnt about Tangaroa, about gathering kai, but most importantly about themselves as Māori.
Mediation
At the same time as these proactive efforts have been staged, an eye has also been kept on potential trouble at a street level. Interventions have been made as far south as Dunedin right through to the North. A notable effort has been in Murupara where a sad and complex situation has been moved closer to resolution.
Māori Designed and Led Methamphetamine Treatment & Recovery Initiative
Roy, Edge and their team have worked with the Salvation Army to pioneer a whānau based programme to counter methamphetamine. Last year 12 whānau from the Mongrel Mob Notorious group successfully undertook a seven-week residential recovery programme. A further programme is due to start next month.
They put the youth through an EFT programme – Evaluation For Transformation, a workshop designed by Sam Chapman from Otara.
Key Points
While these projects are Māori designed and delivered they are open to and utilised by other New Zealanders particularly those of Pacific Islands descent.
The challenges facing the rangatahi are intertwined with the problems facing their overall whānau. This is a population predominantly comprised of Māori who suffer from severe social and economic disadvantages and who fall into a number of high-risk groups for poor health and nutrition statistics.
The team became very frustrated by the lack of available resources to keep momentum going, to occupy the young people in positive activities and get them into employment. The decision makers in Government seem unable to look past the fact Roy and Edge are themselves members of a gang and are unable to see the woods of success for the trees of prejudice.
Media don't report the good things they do.
They work through dialogue, intervention and offering another way through violence.
"We know best about our situation and we are the best people to sort it out, only we can do it."
Edge Te Whaiti and Roy Dunn spoke briefly about their experience leading a range of initiatives with the Notorious chapter of the Mongrel Mob, including the South Auckland youth project referred to above, gang mediation, the methamphetamine treatment programme and other whānau health and whānau development initiatives.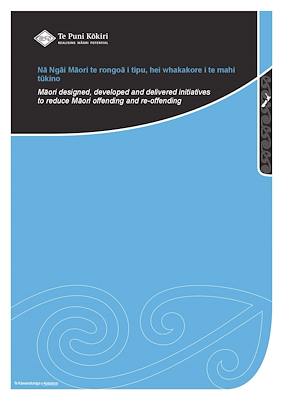 Table of contents
Māori designed, developed and delivered initiatives to reduce Māori offending and re-offending