Māori Export Competitiveness
The Government is there to help
As increasing exports is a focus of the Government, it is useful to look into how it can help before a firm plunges into a new market.12 The New Zealand Government has two agencies that have a direct role in developing New Zealand's international trade. They are:
New Zealand Trade and Enterprise (NZTE).
Ministry of Foreign Affairs and Trade (MFAT).
New Zealand Trade and Enterprise
NZTE focuses on supporting exporting firms through its trade promotion role.13 NZTE has a mountain of information about preparing to export and offers a range of programmes to help businesses develop and succeed globally. Some of these programmes may include some funding to help eligible businesses get ready to export.
Along with these programmes, NZTE holds a large amount of information about global export markets. This information is generated from NZTE's network of 37 international offices. Businesses are able to receive these market reports from NZTE electronic distribution list.14
New Zealand businesses have the opportunity to use NZTE as a resource before they decide to start exporting. NZTE is able to offer advice to make sure exporting is successful.
Ministry of Foreign Affairs and Trade
MFAT focuses on improving New Zealand's access to foreign markets through its role as a negotiator of Free Trade Agreements (FTAs) and in the World Trade Organisation (WTO).15 New Zealand's trade negotiators are highly-rated and have had recent success in completing FTAs with a number of countries.16
The FTAs that MFAT negotiates are designed to make things easier for New Zealand businesses to trade with foreign countries. Businesses play a role in these agreements by telling MFAT of any issues they have with a country so they can be resolved.
MFAT publishes BusinessLink, a regular electronic magazine that provides updates on progress in trade negotiations and any potential negotiations.17 The contact details provided in BusinessLink gives businesses the opportunity to get involved in the trade negotiating process and to make sure that any agreement meets their needs.
12 Future research may want to highlight specific cases of how government agencies have helped Māori businesses become better engaged with the global economy.
13 More information is available at https://www.nzte.govt.nz/en/export/
14 Businesses can sign up for these reports at: http://www.nzte.govt.nz/Register-for-Updates/Pages/Register-for-Updates.aspx
 15 More information is available at www.mfat.govt.nz
16 These countries include Australia, the 10 members of ASEAN, Chile, China, and Hong Kong. MFAT is also currently negotiating with South Korea, India, Russia, and the 8 negotiating partners in the Trans-Pacific Strategic Partnership (TPP), which includes the United States and Peru.
17 More information on BusinessLink, including how to join the mailing list, can be found at http://www.mfat.govt.nz/ Media-and-publications/Publications/Businesslink.php
Conclusions
New Zealand's export sector needs a step-change in performance if it is to meet the Government's goal of increasing the value of New Zealand's exports to 40 percent of GDP by 2025.
There are excellent export opportunities for New Zealand in global high-growth sectors. New Zealand already has had export success in these sectors. Māori businesses can take advantage of these opportunities by expanding or applying innovative production methods to these products.
Māori businesses entering export markets will face many risks. The competitive nature of a product market is one of these risks and is a significant factor of long-term success. Developing strategies to respond to all of the competitive aspects of a market will be an important part of Māori firms' preparation for exporting. There are considerable government resources available to assist Māori firms that are thinking about exporting.
References
Ballingall, J., and Briggs, P (2002), A look at New Zealand's comparative advantage: Updating the Porter Study's analysis of exports, Working Paper 2002/04, New Zealand Institute of Economic Research
Business and Economic Research Limited (BERL) (2008), Māori participation in the Auckland and New Zealand economies 2006, Report to Te Puni Kōkiri
Business and Economic Research Limited (BERL) (2011), The asset base, income, expenditure and GDP of the 2010 Māori economy, Report to The Māori Economic Taskforce
Fabling, R., Sanderson, L., (2009), Exporting and performance: The impact of destination characteristics on learning effects, Draft prepared for presentation at NZAE 2009, Reserve Bank Discussion Paper Series
Māori Economic Development Taskforce. (2011). Increasing exports. MET Discussion Paper. [http://www.tpk.govt.nz/_documents/taskforce/met-increaseexport-2011.pdf]
National (2008), Trade Policy, available at https://www.national.org.nz/docs/default-source/PDF/2014/policy/trade.pdf
Nesbit, S (2011), An Updated Look at New Zealand's Comparative Advantage, Ministry of Economic Development Discussion Paper
New Zealand Institute of Economic Research (NZIER) (2003), Māori Economic Development: Te Ohanga Whanaketanga Māori, Report to Te Puni Kōkiri
New Zealand Institute of Economic Research (NZIER) (2007), Māori participation in the New Zealand economy, Report to Te Puni Kōkiri
New Zealand Institute of Economic Research (NZIER) and Te Puni Kōkiri (2007), Te wa o te ao hurihuri ki te ōhanga Whanaketanga Māori: a time for change in Māori economic development, Discussion document for Te Puni Kōkiri
New Zealand Treasury (2009), International Connections and Productivity: Making Globalisation Work for New Zealand, New Zealand Treasury Productivity Paper 09/01
OECD (2010), Trade, policy and the economic crisis, OECD report.
Porter, M (1979), How competitive forces shape strategy, Harvard Business Review, March-April 1979.
Saravanaperumal, M., Charteris, A. (2010), New Zealand Commercial Service Exporters: First evidence from the prototype longitudinal business database, Economic Division, Ministry of Foreign Affairs and Trade
About NZIER
NZIER is a specialist consulting firm that uses applied economic research and analysis to provide a wide range of strategic advice to clients in the public and private sectors, throughout New Zealand and Australia, and further afield.
NZIER is also known for its long-established Quarterly Survey of Business Opinion and Quarterly Predictions.
Our aim is to be the premier centre of applied economic research in New Zealand. We pride ourselves on our reputation for independence and delivering quality analysis in the right form, and at the right time, for our clients. We ensure quality through teamwork on individual projects, critical review at internal seminars, and by peer review at various stages through a project by a senior staff member otherwise not involved in the project.
NZIER was established in 1958.
8 Halswell St, Thorndon
P O Box 3479,
Wellington
Tel: +64 4 472 1880
Fax: +64 4 472 1211
econ@nzier.org.nz
www.nzier.org.nz
NZIER's standard terms of engagement for contract research can be found at www.nzier.org.nz. While NZIER will use all reasonable endeavours in undertaking contract research and producing reports to ensure the information is as accurate as practicable, the Institute, its contributors, employees, and Board shall not be liable (whether in contract, tort (including negligence), equity or on any other basis) for any loss or damage sustained by any person relying on such work whatever the cause of such loss or damage.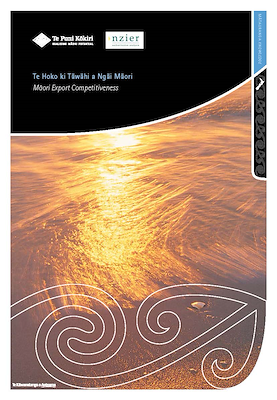 Table of contents
Māori Export Competitiveness