Māori: Demographics for Economic Return
Section Two: Demographics
The Demographic Dividend
In its present formulation the demographic dividend refers to two consecutive periods which occur during demographic transition, an historical process along which the Māori population is well advanced (see Appendix A for underlying trends in fertility and mortality).
The first [potential] dividend arises as fertility levels fall and the proportion of the population that is at the youngest ages (0-14 years) reduces. Concomitantly, the proportion in key working ages (15-64 years) increases. During these years – which may last two to three decades - the working age / primary income-earning population grows at a much faster rate than the total population, increasing the 'potential support ratio' (the ratio of those at working age to those notionally dependent at 0-14 and 65+ years). During these years the potential exists for significant economic advancement at population level, as the majority of the population is in the income-earning age groups. However, the potential gains can be realised only if employment opportunities expand as rapidly as the number of persons seeking new jobs and there is proactive investment in human capital, particularly education (Ogawa, Chawla and Matsukura 2010: 114).
As will be shown below, the first potential dividend period for Māori may have already passed, and with it many of the opportunities it offered. Of importance to this paper, however, is that the issue has not yet been explored in much detail, and thus the proposition [that it has already passed] is inconclusive; more definitive research is required (Jackson forthcoming).
The second dividend begins – or has the potential to begin - when prime working age adults, who anticipate longer life expectancy, save more to provide for their forthcoming retirement (Ogawa et al. 2010: 103, 114). This stage, intrinsically linked to the level of investment in the first dividend- is characterised by an increase in the share of individuals who are reaching the end of their income-generating years – and also the years when they have completed most of their childbearing responsibilities. During this phase, a greater proportion of the working age population moves through the (potentially) higher income earning and/or saving age groups. The phase occurs approximately from the point that the maximum proportion of the population in the working ages is reached, but significant proportions have not yet arrived at the oldest ages where they are notionally dependent – and/or begin to use their accumulated savings. As with the first dividend period, the potential economic gains of the second dividend do not emerge in and of themselves, but rather require a policy environment which facilitates productivity and saving – and not least, adequate incomes from which to save. Of utmost importance it builds on the investments made in the first demographic dividend period, so failure to invest in the first dividend can mean that the second dividend is also 'squandered' (Pool 2007).
In the following section it will be proposed that the Māori population is now entering the second dividend stage, but that failure to invest in the first dividend will, in all likelihood, render the second window of opportunity, mute. Additionally it should be noted that the magnitude (monetary value) of the second demographic dividend may be compromised in a pay-as-you-go type of welfare state. Ogawa et al. (2010: 115) show that the magnitude differs markedly among the Asian countries they examined, because the choice of financing method [for income support in old age] affects the accumulation of capital available to be utilized.
Thus as argued by Ogawa et al. (2010) and many others, the two demographic dividend periods have to be understood as defining a number of possibilities, but their outcome is heavily dependent on non-demographic factors, most pertinently the creation of an appropriate investment and policy environment via which to capitalise on the opportunities (Ogawa et al. 2010; see also Birdsall, Kelly and Sinding 2001; Bloom and Canning 2003; Mason 2003; Jackson and Felmingham 2004; Pool 2007; Bloom and Williamson 1998).
Jackson (2011b), however, argues that a third interpretation, not previously spelled out in existing literature, may exist for Māori. This is a collateral demographic dividend which has the potential to emerge from opportunities arising where a structurally younger population co-exists alongside a much older population – the case of Māori and European-origin New Zealanders. These opportunities will now be accelerated by the retirement of the Baby Boom generation. For example, as each successively larger Baby Boom cohort retires, as it will do from this year, it will be replaced by a successively smaller cohort at labour market entry age (Jackson 2011a). This situation will usher in a demographically-tight labour market, in which youthful cohorts will be in short supply and great demand – notably among them Māori youth who currently comprise one in five young New Zealanders, by comparison with one in seven across all ages. A further characteristic of the total New Zealand age structure that will ensure this labour market tightness is the existence of a 'bite' out of the age structure between the two groups, across ages 25-39 (Jackson 2011a). The three circumstances will together generate a vacuum in the labour market which will draw in younger and older workers alike. I will return to this issue below.
Three important caveats to these arguments exist. The first is that the classification 'Māori' has been subject to many changes over New Zealand's history and is presently based on a multiple ethnic origin count. This means that a sizeable proportion of the current and projected Māori population is included in both the Māori and non- Māori populations – and vice versa. This does not greatly affect the relative age structures of each population, nor the arguments presented herein, but it does to some extent compromise the rigor of longitudinal analysis (see Pool 1991: 11-25). Second, the concept of the demographic dividend has typically been conceptualised as occurring for 'nations' – that is, at national level. However it is surely relevant for a sub population group such as Māori which is relatively large and is at a markedly different stage of its demographic transition to the national population of which it is part (see also Jackson 2008: 9 on Australia). Third, the comments regarding the fact that the dividend exists as a window of opportunity, and not as a fait accompli, should not be taken lightly, as it is only with the onset of the first dividend period in today's developing countries that the developed world has become aware of what has, for them, already passed, despite it having delivered to them empirically verifiable economic benefits (Mason 2003, Jackson 2003). As a result, many countries such as New Zealand 'squandered' their first dividend years by not assisting their large baby boom 'echo' cohorts born around 1970 into the labour market – for example during the high structural unemployment of the early 1990s (Pool 2007).
The Demographic Transition and Māori
Differences in the timing and speed of demographic transition2 between the Māori and Europeanorigin populations have led to significant differences in age structure. In 2006 the median age of the Māori population was just 23 years; that is, 50% of the Māori population was aged less than 23 years. By comparison the median age for the European / New Zealander / Other population (hereafter European) was 38 years.3
Projected data for 2011 illustrate these enormous disparities (Figure 1), along with those for the Pacific Island and Asian populations (see Appendix B for assumptions). The relative youth of the Māori population means that the proportion in the key working age groups 15-64 years (61% in 2011) is somewhat lower than for European (65%), because a considerably greater proportion of Māori has yet to reach that age. As Figure 1 also shows, the disparity continues throughout the working age groups because the bulk of working age Māori are also much younger than their European counterparts. While these disparities have a number of negative implications, for example disproportionately exposing young Māori to the risk of unemployment (Jackson 2002), they also have many positive implications as the overall labour supply dwindles – a situation that is not confined to New Zealand.
2 Alongside the historical factors that have caused these differences (Pool 1991).
3 The caveat regarding multiple count ethnicity noted above should be recalled here. It means that some Maori are counted among the non-Maori populations, and vice-versa. However as is clear from the relative shape of the European and Asian age structures, the impact on the Maori age structure is relatively small.
As indicated, these disparities convert into significantly different proportions of the total population accounted for by Māori at different ages, compared with their 14 % national share. At 0-14 years Māori account for approximately 21% of all 0-14 year olds (one in five), and at 15-24 years, for 18% of all 15-24 year olds (Table 1). By comparison they account for less than 5% of those aged 65+ years, that is, only one in every 20. Due to their relative youth, Māori comprise a smaller proportion of the total working age population (13%) than their total share.
Figure 1: Age-sex structure by major ethnic group* (2011 on 2006 Base)
*Based on multiple count ethnicity (Series 6 – see Appendix B)Table 1: Population Share (percentage) by Ethnic Group* and Broad Age Group, Projected 2011
Māori
European / New Zealand
Pacific Island
Asian
Total
0-14 years
21
58
11
9
100
15-24 years
18
61
9
13
100
25-54 years
13
68
6
13
100
55-64 years
9
80
4
7
100
65+ years
5
87
2
5
100
Total
14
69
7
10
100
Working Age
13
69
7
12
100
Source: Statistics New Zealand (2006) Projected Ethnic Population of New Zealand, by Age and Sex, 2006 base - 2026 Update (*Based on multiple count ethnicity; Series 6 – see Appendix B)
Of related import is the relatively youthful age of the Pacific Island population, which, while only half the size of the present Māori population, closely resembles the latter in structure, and the predominantly 'young adult' structure of the Asian population, which is closer in size to the Māori population but exhibits a relative deficit of children. As is shown below, these differences will generate an element of competition in the future labour market.

Figure 2 and Table 2 show the projected changes by 2026. The Māori age structure will have 'aged', but not significantly, due to the assumption of the birth rate continuing at a relatively high level (2.5 births per woman, compared with 1.85 for European), combined with a large proportion of the population in the key reproductive age groups. Under the accompanying medium assumption of life expectancy increasing to approximately 75.4 years for males and 79.2 years for females (from 70.8 and 75.6 years respectively in 2007), the proportion aged 65+ years will have almost doubled, to 8.5%. Due to this increase at older ages, the proportion at the youngest ages (0-14 years) will have fallen from its present 34.2%, to 31.9%, and in the key working age groups, from 61.0 to 60.0% – a proportion which will by then be identical for the Māori, European, and Pacific Island populations. However as Figure 2 clearly shows, the similarity is superficial only, with the bulk of Māori still to enter the working age population, while for European the bulk will by then be close to, or in, retirement (again the issue of multiple count ethnicity, which sees a proportion of Māori counted in both populations, should be recalled). By 2026 (under these projection and classification assumptions) the median age for Māori is projected to be 25.4 years, compared with its current 23 years. The difference portends well for the opportunities indicated above, as the European population ages and the Māori population retains its relative youth. However before developing this point further it should be noted that concomitant changes (projected) for the New Zealand Asian population will, as indicated above, present an element of competition.

By 2026 – under these projection assumptions - the Māori population will account for 15 % of the total population and 14% of the working age population, while the Asian population will account for 14% of the total and 16% of the working age population, and most will be older than – and occupationally senior to - Māori (Table 2). The proportion of the population that is of Pacific Island origin will have changed very little – increasing from 7 to 9% of the total, and from 7 to 8% of the working age population. The remaining sections focus on how these trends relate to the proposed collateral demographic dividend
Figure 2: Age-sex structure by major ethnic group* (2026 on 2006 Base)
*Based on multiple count ethnicity (Series 6) – see Appendix B
Table 2: Population Share (percentage) by Ethnic Group* and Broad Age Group, Projected 2026
Māori
European /
New Zealand
Pacific Island
Asian
Total
0-14 years
22
51
14
14
100
15-24 years
19
54
12
15
100
25-54 years
14
61
8
18
100
55-64 years
11
72
5
12
100
65+ years
7
81
3
9
100
Total
15
16
9
14
100
Working Age
14
61
8
16
100
Source: Statistics New Zealand (2006) Projected Ethnic Population of New Zealand, by Age and Sex, 2006 base - 2026 Update (*based on multiple count ethnicity; series 6 - see Appendix B)
The demographic dividend and māori
As outlined above, the demographic differences between the Māori and Total populations have very positive implications for Māori economic aspirations (NZIER 2011) – as long as the opportunities are appropriately prepared for and then strategically capitalised on. A range of indices for estimating the magnitude and length of each of the two currently articulated dividends is given in Ogawa et al. (2010) but it is not the purpose of this paper to apply them here – that work needs to be carried out by a research team which includes both economists and demographers. For the present purposes, I simply refer to background work which suggests that for Māori it is the third interpretation – the collateral dividend outlined above - which presents Māori with the greatest opportunities and which must be urgently engaged with.
According to Jackson (2011b), the first demographic dividend for Māori began around 1961 and ended around 2006 – its precise onset and end varying depending on which index is used for its estimation. The onset of the first dividend period was certainly underway by 1964 when Māori fertility rates began to fall and did so dramatically, from above 6.0 births per woman to below 3.0 in just 13 years – and from 5.0 to 2.8 over the five years 1973-1978 - making it one of the world's most rapid reproductive revolutions (Pool 1991: 170). Concomitantly, between 1966 and 2006, the proportion at the youngest ages (0-14 years) fell from 50.3% to 35%, while that for the working age population increased from 48% to over 60% (Statistics New Zealand Subnational Population Estimates).4 The proportion at working age is now projected to slowly decline, falling below 60% by 2026 (Jackson 2011b). When considered in terms of the Potential Support Ratio (the ratio of those at working age to those notionally dependent) it is clear that the working age population is currently at its maximum and the proportion notionally dependent at its lowest. Presently 'dependency' at older ages (65+ years) is relatively low because the major gains in life expectancy are yet to work through the age structure.
The first demographic dividend period for Māori was thus relatively brief, and would appear to correlate with the rapidity of Māori fertility decline in the 1960s and '70s: the more rapid the decline, the more rapid the pace of structural ageing, and the more rapid the loss of the first dividend years.
By definition, the ending of the first dividend period heralds the onset of the second dividend – the period during which an increasing proportion of the working age population is moving towards and into the ostensibly higher income earning and saving age groups. However, from a broad range of perspectives, it is difficult to see how the second demographic dividend for Māori is likely to be realised, since the critically important prior investment in social capital over the first dividend years did not take place. Instead, an untimely regime of political economic changes saw unemployment rates soar across the 1980s and '90s (Jackson 1998) and remain relatively high. This is not to say that there has been no increase in the proportion of young Māori gaining higher educational qualifications (Jackson 2002) or being employed, but rather that the policies that would prioritise full employment for all, or appropriately remunerate those qualifications – that is, proactively capitalise on the demographic dividend period - have been lamentably absent. The comments apply equally to the first demographic dividend period of non-Māori New Zealanders, which unfolded across a similar timeframe, but because of different demographic drivers which are not the topic of this paper. 4 It should be noted that changes in the classification of Māori over the period under discussion introduce an unknown but unavoidable element of error. The trends are, nevertheless, a valid approximation.
While the first demographic dividend may have passed for Māori, and I reiterate that this proposition remains inconclusive, its opportunities for economic advancement remain in another form – that of the potential collateral dividend proposed above. As the data in Figures 1 and 2 show very clearly, the Māori population will remain extremely youthful for the foreseeable future, and that ever larger cohorts will enter the working ages for many years yet, while the total population and workforce will undergo pronounced structural ageing.
Māori and the collateral
Demographic Dividend
The potential for a collateral demographic dividend arises from the coincidence of the structurally youthful Māori population living alongside the larger non-Māori, predominantly European-origin population which is significantly further advanced in the structural ageing process. To illustrate this argument I turn first to a brief overview of New Zealand's 'unique' experience of population ageing, then to regional differences across New Zealand, and finally to age structural data for a small selection of industries. The data and arguments below are drawn almost directly from Jackson 2011a.
New Zealand's structural ageing is not [only] of the conventional kind. Rather, it is being accelerated through a migration-driven bite in the age structure at young adult ages which is causing the median age to increase at a faster rate than would otherwise be expected given New Zealand's relatively high birth rate. This bite – which in many sub-national areas is taking on a pronounced hour-glass shape - ushers in a very profound problem for the labour market. The baby boomers start entering the retirement zone en masse this year: who will be there to replace them?
Figure 3 illustrates the scenario that is unfolding. As the first large baby boom cohort retires it will be more than replaced by the cohorts currently aged 20-29 years and the even larger 15-19 year old 'blip' that was born around 1991 (1989-1993). However the deep bite above those cohorts will also move north in the age structure, in all likelihood creating a vacuum that will reinforce an already demographically tight labour market.
Thereafter, as each successively larger wave of boomers retires, it will be 'replaced' by a successively smaller cohort. There will be little excess labour supply. If realised, the assumption of a net international migration gain of 10,000 per year in Statistics New Zealand's medium case projections will to some extent offset these dynamics at the national level, the numbers of 'entrants' to 'exits' not expected to reach one for one until the mid 2020s. But it may scarcely be noticed in the non-urban areas, where – as will be outlined below - more than 40% of New Zealand's Territorial Authorities (TA's) already have fewer labour market entrants than exits.
Figure 3: Age-Sex Structure, New Zealand, 2010
In the interim, the forthcoming youth deficit - as smaller cohorts replace the currently larger 15-19 year old cohort – has profound implications. If just a small proportion of the current 15-19 year cohort leaves New Zealand and doesn't return, New Zealand employers will be faced with a labour shortage of crisis proportions. We are not talking about 20 years hence when new technology may require fewer workers (a scenario often proposed when this story is outlined), but rather, a situation that has already begun, is significant outside of the main centres, and will become painfully evident within the next five years. The smaller cohorts following the 1991 Baby Blip – the labour market entrants of 2016-2026 - can only be enlarged by strong positive family-stream migration. It is 15 years before the next large cohort5 (that currently being born) arrives at labour market entry age.
Accompanying – or in essence driving these changes – is that the young will be in ever shorter supply and ever-greater demand. Their relative deficit will increase competition for them – between industries (including between the labour market and the educational institutions), and between regions and countries – most obviously across the Tasman where more than half of Australia's local government areas (LGA's) already have similar hour glass age structures and already have fewer labour market entrants than exits (Jackson 2009). As competition increases it is not difficult to imagine that labour costs will go up, and if labour costs go up, so too will the cost of services and consumption items. of related importance is that the trends are strongly associated with a slowing and in most cases arguably permanent ending of growth in severely affected regions. Between 2006 and 2010, 15 of New Zealand's Territorial Authorities (22%) either stopped growing or declined in size (Jackson 2011a – see Appendix B). Several of these regions have high proportions of Māori and should thus be of particular interest for the economic opportunities they may offer.
I have elsewhere termed this generation 'Gen TGyH' ('Thank God you're Here') – Jackson 2011.
It should also be remembered that, on a daily basis, labour supply is needed locally, not nationally. The following section illustrates that population ageing is unfolding most unevenly across the country, and that current arguments such as the importing of health care workers from the Philippines is a reflection of 'jobs that New Zealanders don't want' (Tv 3, The Nation, May 2011), may instead reflect a lack of New Zealanders where many such jobs are.
Figure 4 gives data for nine of the country's 67 Territorial Authorities (TA's)6. Reading from left to right compares a selection of relatively 'young' to relatively 'old' age structures (Matamata-Piako being around the middle, and Thames-Coromandel being one of the oldest). In each case the data are compared with that for total New Zealand (shown by unshaded bars). As argued above the hour-glass shape of these age structures is very important, in most cases reflecting the net migration loss of young adults but in some (for example Thames-Coromandel) also reflecting the in-migration of older retirees. There, one finds less than six people at labour market entry age (15-24 years) for every ten in the retirement zone (55-64 years), compared with 13.2 for every ten at national level. The underlying loss of people of reproductive age has particularly profound implications, as even a high birth rate cannot offset the lack of people to have those children. In all case the TAs now experiencing the decline or zero growth noted above have proportions at the key reproductive ages lower than Total New Zealand (Appendix C).
Until 2010 there were 73 Territorial Authorities – the number being reduced with the recent amalgamation of Auckland and six TA's surrounding the city into one.
Figure 4: Age-Sex Structure, Selected Territorial Authorities compared with Total New Zealand, 2010
By contrast, the major cities and urban areas are the recipients of most young immigrants, whether internal or international, and their age structures differ markedly, that for Auckland for example exhibiting a beehive shape, and that for Wellington resembling a Christmas tree. The differences by region can be summarised through the use of various 'ageing indices'. Figure 5 shows the proportion of New Zealand's Territorial Authorities with fewer people at labour market entry age (again 15-24 years) to those in the retirement zone (55-64 years). In 1996, only 5% of New Zealand's TA's had fewer people at labour market entry than exit age. By 2001 that had increased to 21% and by 2006 to 25%. By 2010, 42 % of TA's had fewer entrants than exits. If we shift attention to an older 'entry/exit' ratio, that between entrants aged 20-29 and exits aged 60-69 years and thereby capture the desired increase in labour market participation of older workers (which is definitely occurring), we find that the picture is the same but the proportions are greater: increasing from 4% in 1996 to almost 50% in 2010. In all cases the incremental or sequentially unfolding nature of the shift is observable. The end to excess labour supply in the non-urban regions is spreading inexorably and is unlikely to reverse. This is a major opportunity for Māori who may wish to further explore the situation with regard to particular industries.
Figure 5: Towards the end of excess labour supply: percentage of TA's with fewer people at labour market entry than exit age, by differing age bands, 1996-2010
Source: Jackson 2011a / Statistics New Zealand (various years), Sub-National Population Estimates
These trends have major implications for the different industries that comprise each region's economic base – and of course to some extent will also reflect past changes in those industries. It is impossible here to illustrate the argument for more than a few, but Figure 6 does this with 2006 Census data for Hospitals and Nursing Homes, and Grain, Sheep and Beef Cattle Farming. In the former case data are shown for the Auckland and Southland Regions, and in the latter, for the Bay of Plenty and Southland Regions. It should be noted that these data are now five years old and that all five year age bands will now have moved up one age group, making the following ratios conservative.
Figure 6 indicates that in the Auckland Region in 2006 there were 11.4 people aged 15-29 years employed in the Hospital and Nursing Home industry, for every ten in the retirement zone (here 55+ years), while in Southland there were only six for every ten. These disparities point to opportunities for Māori in health and community services where Māori productivity is high (NZIER 2011: 7).
Similarly if we look at the Grain, Sheep and Beef industry we find in the Bay of Plenty Region fewer than four people at labour market entry age for every ten in the retirement zone (55+ years), while in Southland the ratio is closer to five to ten. In neither case are these ratios anywhere near one for one, and they raise many questions, for example who will buy (or inherit) the farms as their older owners relinquish them? When disaggregated by employment status (self employed, employer, paid worker etc., not shown here), it is clear that a crisis of succession is facing New Zealand's farming industries.
Figure 6: Age-Sex Structures for Selected Industries and Regions, 2006 Census
Source: Jackson 2011a /Statistics NZ Customised Census Database, Industry (ANZSIC96 V4.1) and Status in Employment by Age Group and Sex Note: Different scales on X-Axis
Māori and education - converting demographic dividends to economic dividends
This section concludes the paper with a few brief comments on age-related opportunities by considering the proportions of Māori and all New Zealanders with each highest qualification by age and sex (Figures 7 and 8).
As is well documented, Māori are more likely to receive training in non-professional industries, such as building and construction, engineering or forestry (NZIER 2011), and this can be seen in the higher proportions of Māori than the total population with an 'other Tertiary' qualification. often these qualifications are perceived to have negative implications for attaining higher incomes. However, as the foregoing discussion has been arguing, there will be many opportunities for Māori as the older (predominantly European-origin) population retires and is replaced by ever-smaller cohorts. A key need for Māori will be to identify those opportunities and to ensure that Māori (of all ages) are trained appropriately. This will be particularly important in areas of significant social, cultural and economic importance to Māori, such as agriculture and other primary industry, and certain regions.
It is also important to note that work in industries such as agriculture and many trades is increasingly skilled work. Alongside the high proportions of Māori with 'other Tertiary' qualifications, the relatively high proportions with High School qualifications shown in Figure 7 provides a sound basis for the gaining of additional qualifications. It is also clear that the highest proportions with no qualifications are – as would be expected - those in the youngest and oldest age groups, a situation that is common to both populations. While it can be expected that relatively few older people will seek new qualifications, it should at all times be remembered that the Māori population is disproportionately at the ages where most qualifications are yet to be gained (Jackson 2002). This demographic difference disproportionately exposes Māori to significant potential to achieve its economic aspirations, but, as has been cautioned throughout this paper, just having a demographic dividend will not in and of itself convert to an economic dividend: that must be strategically planned for.
Figure 7: Highest Educational Qualification by Age and Sex, 2006 Census, Māori*
Notes* Multiple count ethnicity
Figure 8: Highest Educational Qualification by Age and Sex, 2006 Census, Total Population
Summary
The Māori population is disproportionately youthful, and, while it too is 'ageing', its relative youth will continue for many decades yet.
A key concept for Māori to engage with is the demographic dividend arising from its relative youth and the many economic opportunities it affords. Three potential demographic dividends have been outlined here, the first arising as the proportion in the working ages rises vis-à-vis the proportion that is notionally dependent (0-14 and 65+ years), the second as that proportion falls but increasing proportions of older workers pass through the (potentially) higher income age groups, and the third (serendipitously) from being a relatively youthful population at the same time as the total population is ageing. It appears that the period of the first demographic dividend has already passed, although more refined analyses incorporating both demographic and economic data may show otherwise. If the first dividend has passed, the second is already compromised, as it is the investments in the first which flow through to generate the dividends of the second. Nevertheless, there remain many opportunities to ensure that the second window of opportunity is opened, with the development of appropriate policy. Most importantly, the third interpretation, that of a potential collateral demographic dividend, is readily available and awaiting engagement.
These opportunities will accelerate as the older total population ages. young New Zealanders, disproportionately Māori, will be in ever-shorter supply and ever-greater demand, as each successively larger cohort of baby boomers retires and is replaced by a successively smaller cohort of labour market entrants. A 'bite' in the age structure between the two broad age groups will see increasing competition for labour market participants (both here and globally) that will arguably result in higher wages – and also higher costs that need to be factored in. This situation is already pronounced in the non-urban areas where Māori have a high level of social, cultural and economic interest, and will provide Māori with many opportunities. Already 42% of New Zealand Territorial Authorities have fewer people at labour market entry than exit age.
In addition to historical factors not covered here, the demographic trends both reflect past changes in, and have significant implications for, industry, as many industrial age structures are significantly older than that of the total labour force, especially in 'older' regions. The farming industry, for example, has a particularly old age structure, raising questions about who will buy the farms as the older owners relinquish them. This situation again presents Māori with many unique opportunities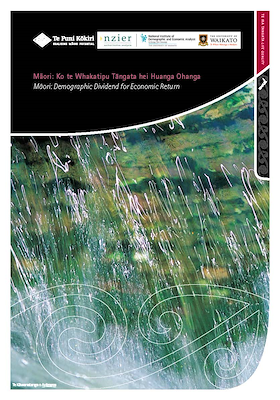 Table of contents
Māori: Demographics for Economic Return