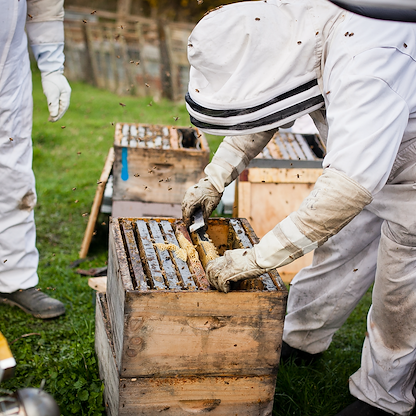 Te Puni Kōkiri works for Māori economic wealth to thrive through high performing people, assets and enterprises.
A thriving Māori economy will result in benefits for the wider New Zealand economy, including greater employment opportunities, higher incomes, and an expanded tax base.
Our work includes ways to unlock the potential of Māori assets and build economies of scale in primary production.
Māori land is administered under Te Ture Whenua Māori Act 1993 and Te Puni Kōkiri works on ways to maximise the use of land under that system.
A report He kai kei aku ringa – The Crown-Māori Economic Growth Partnership (November 2012) outlined a vision for Māori Economic Development including six goals to achieve that vision. Te Puni Kōkiri works with Māori and other government agencies to implement that vision.
He kai kei aku ringa literally means to provide the food you need with your own hands. This sentiment guides our approach to support Māori develop and grow their resources.
Events and Updates
Latest events and updates for this section are listed below.
Tairāwhiti Māori Economic Development Report

On February 28, at a launch held in Tūranga two Tairāwhiti economic development reports were unveiled. The Tairāwhiti report funded by Te Puni Kōkiri, was written by Te Whare Wānanga o Awanuiārangi. The report explores the economic opportunities available within the region for Māori, whānau, hapū and iwi. The second is the Regional Economic Action Plan which highlights the strategic priorities for the region over the next five years.

Changes proposed to the care and protection of children

A major transformational programme is underway to deliver a new child-centred operating model for vulnerable children and young people. This includes the establishment of the Ministry for Vulnerable Children, Oranga Tamariki, which will be operational on 1 April 2017. The new Ministry will focus on five core service areas: prevention, intensive intervention, care support, youth justice and transition support.

Meeting Strengthens Cooperation Between Indigenous Peoples

Te Puni Kōkiri, the Ministry of Māori Development, met with the Council of Indigenous Peoples, their counterparts from the Separate Customs Territory of Taiwan, Penghu, Kinmen and Matsu on September 5 in Wellington, to advance cooperation between both sides.

Hemi Rolleston: Looking into the unknown

Interim Chief Executive at Callaghan Innovation, Hemi Rolleston, discusses the need to support Māori business leaders to pursue innovation and entrepreneurship.

Hāngī Cooker set for success in Australasia

Hone Tipene has adapted the traditional earth oven for a modern lifestyle. He now has a successful business with an expected growth of 150%.