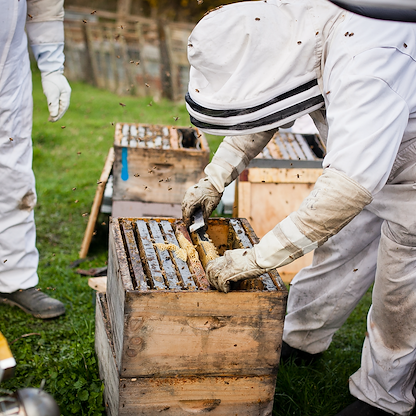 Te Puni Kōkiri works for Māori economic wealth to thrive through high performing people, assets and enterprises.
A thriving Māori economy will result in benefits for the wider New Zealand economy, including greater employment opportunities, higher incomes, and an expanded tax base.
Our work includes ways to unlock the potential of Māori assets and build economies of scale in primary production.
Māori land is administered under Te Ture Whenua Māori Act 1993 and Te Puni Kōkiri works on ways to maximise the use of land under that system.
A report He kai kei aku ringa – The Crown-Māori Economic Growth Partnership (November 2012) outlined a vision for Māori Economic Development including six goals to achieve that vision. Te Puni Kōkiri works with Māori and other government agencies to implement that vision.
He kai kei aku ringa literally means to provide the food you need with your own hands. This sentiment guides our approach to support Māori develop and grow their resources.
Events and Updates
Latest events and updates for this section are listed below.
Whareponga Papakāinga - The Legacy of Materoa

It has been a long journey for Whareponga whānau but it is all worth it. A new papakāinga development is paving the way to bring life back to their homeland.

Rangatahi taking on big business

Māori secondary school students have shown off their flair for entrepreneurship in a series of successful workshops that have recently wrapped up.

Iwi steer waka to White Island

How Ngāti Awa bought an iconic tourism business in Eastern Bay of Plenty and its plans to make the boat tours more Māori than ever.

Te Puni Kōkiri: Te Waipounamu Regional Profile 2017

Te Puni Kōkiri measures a range of outcomes that fall within Whakapapa (te reo Māori and connection to iwi), Oranga (whānau well-being and whānau housing), Whairawa (whenua and whanaketanga), and Whanaungatanga (Crown-Māori relationships).

This publication provides an insight into the growth and development of Māori within Te Waipounamu and within these outcomes.

Rotorua programme helps whānau buy homes

Inez White founded Indigenuity Limited, which is giving first homebuyers and whānau the help they need to own their own homes in Rotorua.