The Maihi Karauna is the Crown's Strategy for Māori Language Revitalisation 2018 – 2023.
What is the Maihi Karauna?
The Maihi Karauna sets out a vision for te reo Māori in the future.  It outlines what the Crown will do to support a strong, healthy, thriving Māori language in New Zealand; Kia māhorahora te reo – everywhere, everyway, for everyone, every day.
Download the Maihi Karauna strategy in te reo Māori or English.
Public consultation
Public consultation on the Maihi Karauna strategy closed on 30 September 2018. We received more than 2000 responses in English and Māori.
The nature of public feedback showed a strong passion and interest in te reo Māori and its place in the national identity of Aotearoa.
Feedback informed the finalisation of the strategy. Helpful suggestions were made to ensure implementation of the Maihi Karauna would achieve its vision, goals, and priorities.
You can read the full report on public feedback here.
What are the goals of the Maihi Karauna?
The Maihi Karauna sets three challenging goals to achieve in 2040;
85% of New Zealanders (or more) will value te reo Māori as a key part of national identity.
One million New Zealanders can speak at least basic te reo Māori.
150,000 Māori aged 15 and over will use te reo Māori as much as English.
Who is the Maihi Karauna for, and why?
The Maihi Karauna is for all New Zealanders. Everyone can support the revitalisation of te reo Maori, whether you speak the language or not.
The strategy addresses the revitalisation of the language by including a broad range of New Zealanders while also acknowledging the need to protect the integrity of te reo and recognise its kaitiakitanga (guardianship) by iwi and Māori.
There are also three groups in particular the strategy focuses on:
Tamariki and rangatahi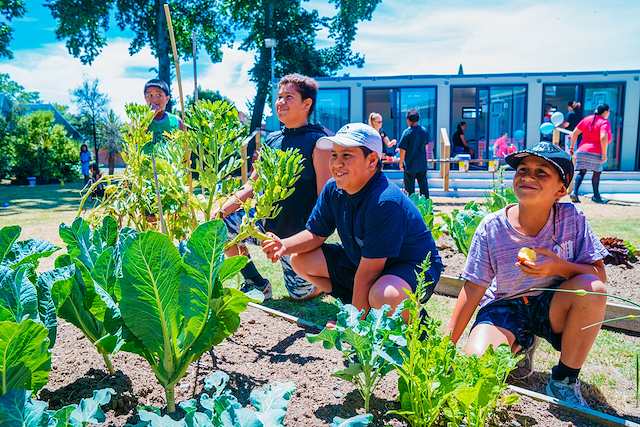 All young people in New Zealand up to 24 years old. Young people are the future of te reo Māori.
Tāngata matatau ki te reo (fluent speakers)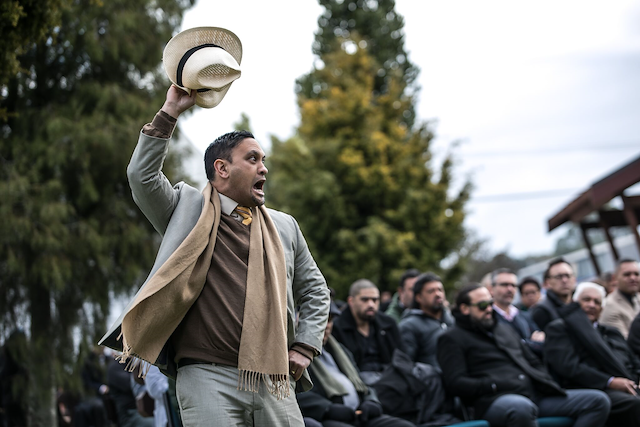 These are the expert speakers of te reo Māori. They are the Māori language teachers to the next generation, in homes and in the education system. They are also the upholders of the quality and integrity of mātauranga Māori (Māori knowledge).
Public servants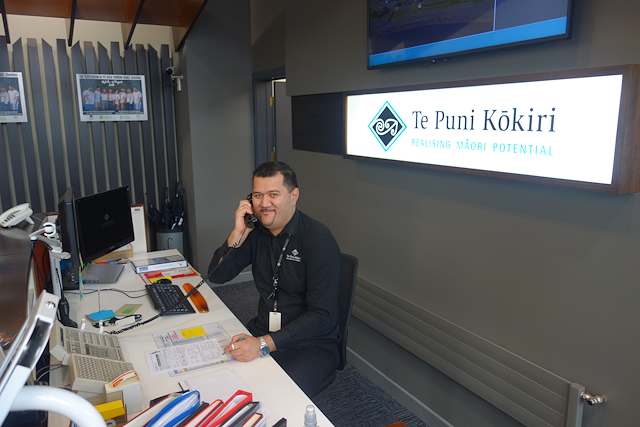 People who work in the public sector, are often on the front line, face to face, delivering services. In order for the Crown to recognise the value of the Māori language, to actively protect it and reflect the people of New Zealand, the Crown and its staff need to 'speak' the language itself.
Where does the Crown want to get to?
The Crown has three key outcomes:
Aotearoatanga - te reo Māori is valued by Aotearoa whānui as a central part of national identity.
Mātauranga - Aotearoa whānui has increased levels of knowledge, skill and proficiency in te reo Māori.
Hononga - Aotearoa whānui is able to engage with te reo Māori.
Maihi Karauna and Maihi Māori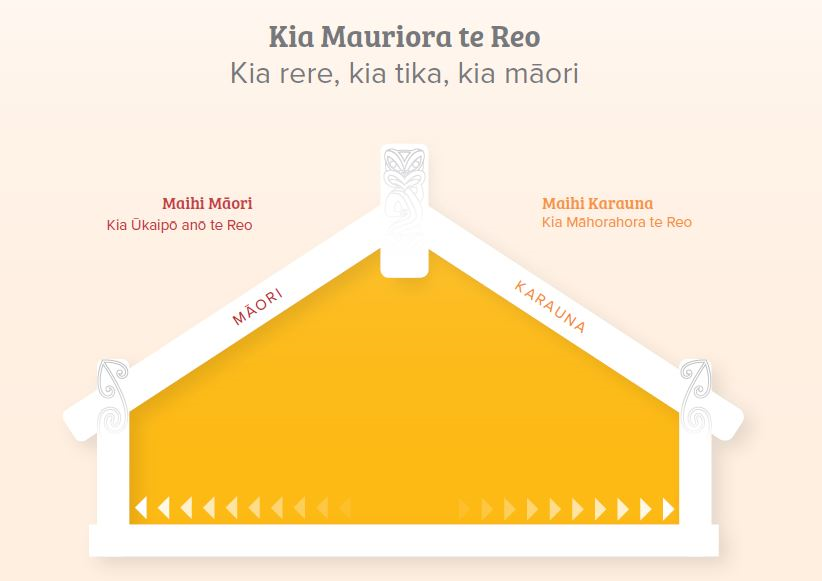 Te Ture mō te Reo Māori 2016 (the Māori language Act 2016) created a new way of approaching language revitalisation.
The Act established a partnership between the Crown and iwi and Māori, who are represented by Te Mātāwai.
Te Mātāwai focuses on homes, communities and the nurturing of Māori children as first language speakers of te reo Māori.
The Crown focuses on creating a New Zealand society where te reo Māori is valued, learned and used by developing policies and services that support language revitalisation.
This is the first time the Crown and Māori, represeted by Te Mātāwai, have entered into an active, planned partnership for revitalisation. Together they are working towards a shared vision, kia mauriora te reo.
When that vision is achieved it is expected that;
Kia rere: Māori language is shared and used in daily life.
Kia tika: Māori language is fit for purpose.
Kia Māori: Māori language is a first language and shared.
Watch this video that explains Te Whare o te Reo Mauriora and the relationship between the Maihi Māori and the Maihi Karauna.
Who has developed the Maihi Karauna?
The Maihi Karauna has been developed by Te Puni Kōkiri, Te Taura Whiri i te reo Māori, Te Māngai Pāhō, the Māori Television Service, Ministry of Education, Department of Internal Affairs and Manatū Taonga, the Ministry for Culture and Heritage.
Measurement and Evaluation Framework
Te Puni Kōkiri, supported by Te Taura Whiri i Te Reo Māori, developed a monitoring and evaluation framework for the Maihi Karauna.
The monitoring component of this framework will allow us to track strategy implementation and progress towards achieving the goals, outcomes and priorities of the Maihi Karauna.
The evaluation component will focus on if and how the Maihi Karauna is effective in achieving its objectives, and where improvements can be made.
Events and Updates
Latest events and updates for this section are listed below.
Whakawhanaungatanga wānanga

Date: 23 December 2020 to 30 December 2021

Te reo me ōna tikanga, our connection to our whenua, marae kawa tikanga, waiata, karakia whānau connection hapū, iwi connection.

Registration required
Organiser: Paretai, Mau Rua whānau, however incorporating the other whanau, it becomes tō mātou whānau.

New Zealand Biosecurity Awards 2019

Date: 18 June 2019 to 24 July 2019

Entries now open for the 2019 NZ Biosecurity Awards

Registration required
Organiser: Ministry for Primary Industries

Investing in the continued revitalisation of te reo Māori

$33.84 million over four years has been secured in Budget 2019 for the continued revitalisation of te reo Māori.

This funding will support the aspirations of Te Whare o Te Reo Mauriora, a partnership model developed as part of Te Ture mō Te Reo Māori 2016. This whare acknowledges that both Crown and Māori have a part to play in revitalising te reo Māori - sustainable change can only be achieved in partnership with iwi and communities. 

Place name proposals open for submissions

Date: 20 May 2019 to 20 August 2019

Make a submission on proposals to dual name 16 sounds and inlets in Fiordland, to alter the position of Disaster Burn, and to make Terror Reef an official name.

Open to the public, no booking required
Organiser: New Zealand Geographic Board Ngā Pou Taunaha o Aotearoa

Rangatahi reo initiatives announced today

Te Puni Kōkiri, Te Māngai Pāho and Te Taura Whiri i te Reo Māori (Māori Language Commission) have signed a Memorandum of Understanding today to launch a series of rangatahi-focused reo initiatives.