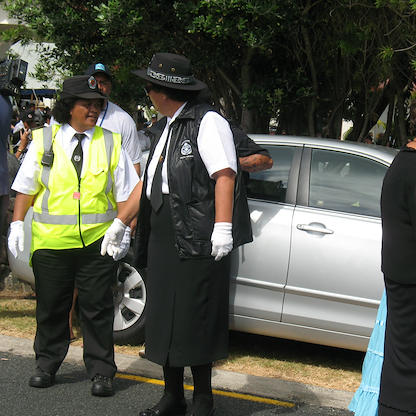 "Aroha ki te tangata / For the love of the people"
He toka tū moana, ka tū, ka tū, ka tū ahakoa i āwhātia mai e te rangi, i whakapākākātia e te whitinga o te rā;
He toka tū moana, tū tonu, tū tonu! Tīhei Mauri ora!
Māori Wardens help make our communities safer, assist rangatahi and support whānau. 
Māori Wardens are not police, but they have legal responsibilities established in law under the Māori Community Development Act 1962. They have been volunteering their services for many years all around the motu, providing support, security, traffic and crowd control, first aid, and other services.
Since 2007, with the support of Te Puni Kōkiri, the number of Māori Wardens has grown along with their level of knowledge and skills.
The Māori Wardens guiding principle is expressed in many ways such as respect, awhi, aroha and whanaungatanga.
It is the key value that underpins Māori Wardens relationships with each other and others throughout our communities.
Other values that Māori Wardens uphold when they carry out their duties are:
Rangimarie / Peace
Manaaki
 / Kindness
Kōrero / Talking
Whakaiti / Humility
Tautoko / Support
Pono / Honesty
How Māori Wardens help you
"One of the strengths of Māori Wardens is their intimate knowledge of, and close connection to their local communities."   Parekura Horomia, former Minister of Maori Affairs (2007)
The late Parekura Horomia was an avid supporter of Māori Wardens all his life. In fact, he became one at the age of 18 years. He knew that they played an important role in communities all over Aotearoa New Zealand.
Whenever you see Māori Wardens at events helping with crowd and/or traffic control or patrolling urban streets or keeping an eye on activities on marae, they are:
helping to create safer communities;
encouraging and assisting rangatahi; and
supporting whanau.
Māori warden stories
Anyone who regularly goes to iwi celebrations, festivals and tangihanga is familiar with Māori Wardens. Now, more New Zealanders and overseas visitors know Wardens too thanks to their high profile work during the Rugby World Cup 2011 and their compassionate support after the Christchurch earthquake.
Veteran Māori Warden Ray Coffin is a wonderful example of how you as a Māori Warden can "walk the talk" of these values. He shares his experiences in Talking and listening are key