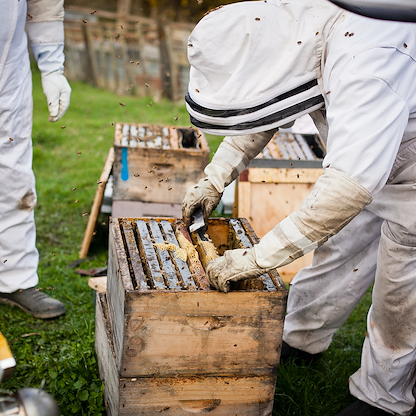 Te Puni Kōkiri works for Māori economic wealth to thrive through high performing people, assets and enterprises.
A thriving Māori economy will result in benefits for the wider New Zealand economy, including greater employment opportunities, higher incomes, and an expanded tax base.
Our work includes ways to unlock the potential of Māori assets and build economies of scale in primary production.
Māori land is administered under Te Ture Whenua Māori Act 1993 and Te Puni Kōkiri works on ways to maximise the use of land under that system.
A report He kai kei aku ringa – The Crown-Māori Economic Growth Partnership (November 2012) outlined a vision for Māori Economic Development including six goals to achieve that vision. Te Puni Kōkiri works with Māori and other government agencies to implement that vision.
He kai kei aku ringa literally means to provide the food you need with your own hands. This sentiment guides our approach to support Māori develop and grow their resources.
Events and Updates
Latest events and updates for this section are listed below.
More jobs in Māori tourism and regions

Māori tourism operators will be able to create new employment opportunities for whānau with $10 million of operating funding over four years in this year's Budget, Māori Development Minister Te Ururoa Flavell says.

Rewarewa D investigates options for their whenua

The Whenua Māori Fund is supporting another land initiative with Te Puni Kōkiri in Te Taitokerau having just signed an agreement with Rewarewa D. The significance of the event and the signing was not lost on either rōpū.

Whenua Māori Fund

The Whenua Māori Fund is a $12.8 million four year fund.

We are in our second year and so far more than $4.4 million has been allocated to 40 projects across the motu. In the latest funding round over 50 applications were received. 

Funded projects to date cover apiculture, forestry, energy, horticulture, agriculture, tourism, and funding feasibility studies to explore and identify development options.

Māori Land Service

To date more than 1,000 Māori land owners, including large incorporations and trusts, have taken part in consultation on the Māori Land Service.  To read more about each hui and Māori land owners' views, click here.

Removing long standing barriers

Many land owners have raised long standing issues about barriers to the use and retention of their land.  These were mainly to do with rating, rating valuations, the application of the Public Works Act, landlocked land and paper roads.